Nikesh, my roommate and I were planning to go out for a vacation from sometime but were not able to finalize on a location. From Europe, Pondicherry to Thailand, everything came into our mind. One day all of a sudden on a weekend I asked – Nikya chal Kedarnath jaate hai (Nikya, let's go to kedarnath– The song Namo Namo shankara was also an inspiration in choosing the location).
Opened MS excel and made the travel plan. We both informed our respective managers about our leave plan which was followed by flight and train booking.We didn't book any accommodation as the plan gets restricted and we would have to reach the location at the right time. While making the itinerary, we kept in mind about keeping buffer days in between.  There are chances of heavy rains and landslides in Sept- Oct in Uttarakhand.
Day 1- Pune to Delhi to Haridwar
Finally the D-date arrived – 27th September. We were eagerly waiting for this date. Not an exaggeration but we used to discuss the countdown everyday – just 15 days to go.. just 14 days to go.. just 8 hours to go. 😉 We fuelled ourselves with some Dosa before boarding the flight as we had a long wait in Delhi airport before moving to our next journey. Left from Pune around 9 at night and reached Delhi around 1145PM. Flight was a bit late and pilot showed us his skills by manoeuvring flight in all directions.
Our train from New Delhi was next day morning at 650. So we spent the night at airport to wait for the 1st metro. We were hardly able to sleep and the infra had nothing to do with it. It was sheer excitement of starting the trip. We took the metro and reached New Delhi station. After an hour or so we got our train to Haridwar. Best part of Shatabdi is the food and ever smiling folks who serve the food.
It's interesting the way Shatabdi runs. From New Delhi to Sahranpur junction it moves in 1 direction and then from Sahranpur it moves in reverse direction to Dehradun via Haridwar. We reached Haridwar around 11am and we headed to the bus stand.
Day 2 – Har Har Gange at Rishikesh
Haridwar's bus stand is huge and pretty confusing. There were buses to Rajasthan, Haryana, Delhi and UP.
On enquiring with few locals we got to know where to board the bus for Rishikesh. Bus came in about 15 mins and we had to channel our inner Mumbaikar boarding a Local train instinct out to board the bus and we were able to find a seat. Be mindful that these buses work as a shuttle and they generally don't allow any passenger standing in the bus, so you will have to make way for yourself. Smart thing one of the passengers did was to throw his bag from window to reserve a seat. You can steal someone's car if there are keys present but you cannot do that with the world famous way of booking a seat.
On our way to Rishikesh, we got our first glance of the majestic Ganga tath of Haridwar. It is a view which should not be missed. Reached Rishikesh in 2 hours (some roadwork is in progress or else it does not more than an hour) On reaching Rishikesh before hunting for a hotel we enquired for bus to Kedarnath and did the booking. There is only bus which goes from Rishikesh to Sonparayag (you will have to take shared cab service from Sonprayag to continue your journey) which leave at 5 am.
Checked into a hotel opposite to bus stand as we didn't want to be dependent on rickshaws in the morning to drop us to the bus stand. Had lunch and left for Ram Jhula for some local shopping and Ganga aarti. Ram Jhula is a suspended bridge on Ganga River and is one of the busy area in Rishikesh with many hotels in the area.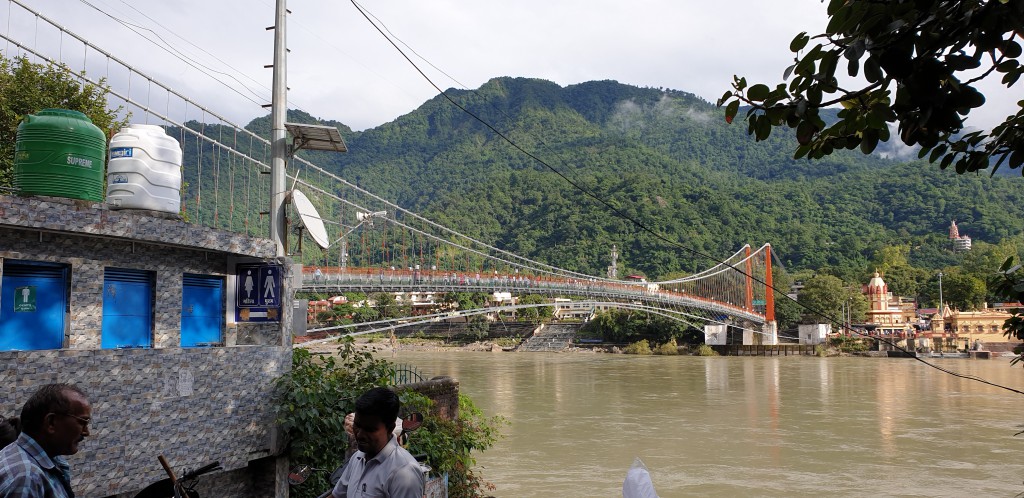 We bought few kurtas with "om namah shivay" printed on them and one of the shopkeeper advised us to watch aarti at Triveni Ghat and not at Ramjhula. So we left for Triveni ghat in a sharing cab. Road to Triveni ghat takes you through busy Rishikesh market with smell of freshly made jalebis on one side and shopping on other side.
Reached Triveni ghat and there was a sense of calmness in all the chaos. A big shout out to the volunteers who clean the steps, spread out carpets so that the Yatris have no problem in having a pleasant viewing experience of aarti.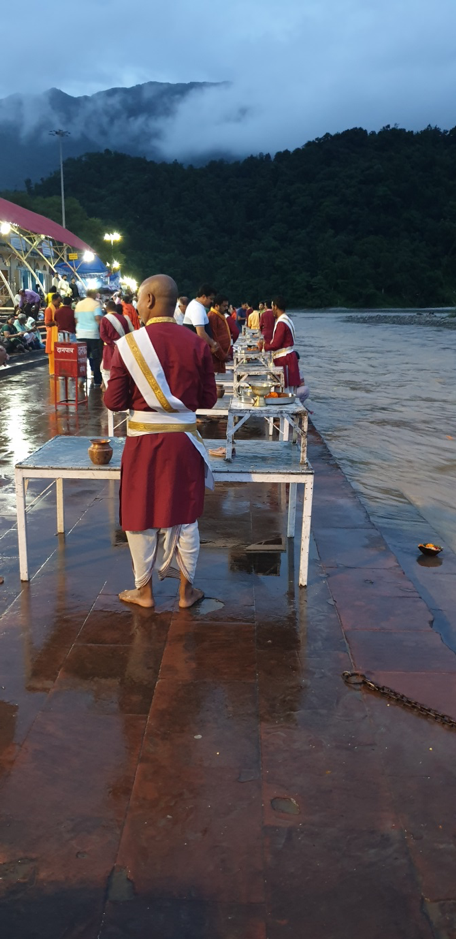 Ganga Aarti– This setup was possible only because of some superb coordination between the volunteers and the Mandir mandal
Setup was done and we were waiting for the pandits to come. Suddenly around 20 pandits arrived and they all made sure that every Pooja samagri is in place.
Around 6.40PM, aarti started. Nikesh and I were spell bound with the aarti.
It took around 20 mins and was pure goosebumps watching the Ganga aarti. On our way back to the room we had Rabdi jalebi and some light dinner near Rishikesh bus stand. Were early to bed as we had to getup at 330 in morning to catch the bus.
Day 3 – Rishikesh – Gaurikund
Reached the bus stand at 430 am and occupied our seats and bus left around 515 am. Nearly all the seats were filled( including 6 people in drivers cabin) with 2 passengers supposed to board the bus from Lakshman jhula.
In an ideal scenario, one should reach Sonprayag by 12-1PM, but the conductor didn't give us any false hopes and said that be happy if the bus reaches by 5PM.
"Jai kedar""har har mahadev" and bus started. Outside bus stop few Telugu folks stopped the bus and they were with a Tamil lady. Apparently the lady was lost and her group had left for Kedarnath.
Conductor allowed her to onboard the bus.As expected driver and conductor forgot to pickup people from Lakshman Jhula.
We had our 1st halt for breakfast at Devprayag – Devprayag is sangam for Bhagirathi and Alaknanda River which together form Ganga.
After 10 mins we left and the journey began. Driver kept filling in people in the bus and there was no stopping him.(He also missed picking up people who had taken a loo break and started the bus :-P)
After a tedious travel, we reached  Sonprayag by 4.30PM. From Sonprayag, we took a sharing cab till Gaurikund (Personal vehicles/cabs/buses are not allowed post Sonprayag) .
At Gaurikund, we first witnessed the majestic Mandakini river. We stayed at a lodge – Sunil lodge. It was a small place but is situated at good location – Opposite to Mandakini river.
It was pretty cold at Gaurikund and we had to start the trek by morning 5am so we slept at 730 with many thoughts on how will the next day be.
Day 4 – The Trek – Jai Kedar – 17+Kms of pure endurance test
We took bath and left from our lodge at 5.15 am (We were not aware of Kund available just next to mandakini river and opposite our room, whoever is planning for Kedarnath, don't miss taking bath over here). Initial 2 kms were not that difficult and we were able to cover it in around 45 mins. We were pretty sure that we will reach Kedarnath by maximum 11.30am, and were ascending at the same pace.
Nikesh was clear in his mind that he will keep walking slowly although he started feeling heavy in his breathing. We kept taking short breaks wherever possible and were gaining back the energy. Around 8am we reached a point called as Bheembali – it was around 5.5kms from Gaurikund. We had some nice Pakodas and Paratha and met few yatris who had started their descend.
Their 1st reaction was – Why are you carrying your luggages? You should have kept them in cloak room in Gaurikund. So there is an option to just carry essentials with you and keep other luggage at Gaurikund. But we were sure of carrying luggage with us. They apprised us that this will be the last kilometer or so which will comfortable. Post that it is continuous steep incline for 7kms atleast.  It took them around 11 hours to complete the journey and we were also given a reality check and were no longer thinking to complete the trek by 11-12-1-2-3. 😀
We filled our bottles and prepared ourselves and started the next part. We reached the part where in the inclination started and to top it all, it started raining and we met many folks who were equally struggling so it motivated us more to complete the trek. One of our motivators was Sachin Singh who had come from Bijnor and had booked Chopper. He however had to trek due to bad weather.
Around 2kms to go we got the first glance of the Temple and was the best view that we witnessed from the time we started our journey. It took us another 1 hour to finally reach the temple – 1:45 PM. Kept our luggage, took a pooja thali and completed the darshan. There was hardly any crowd so we were able to perform darshan in 5 mins & had a walk around the temple.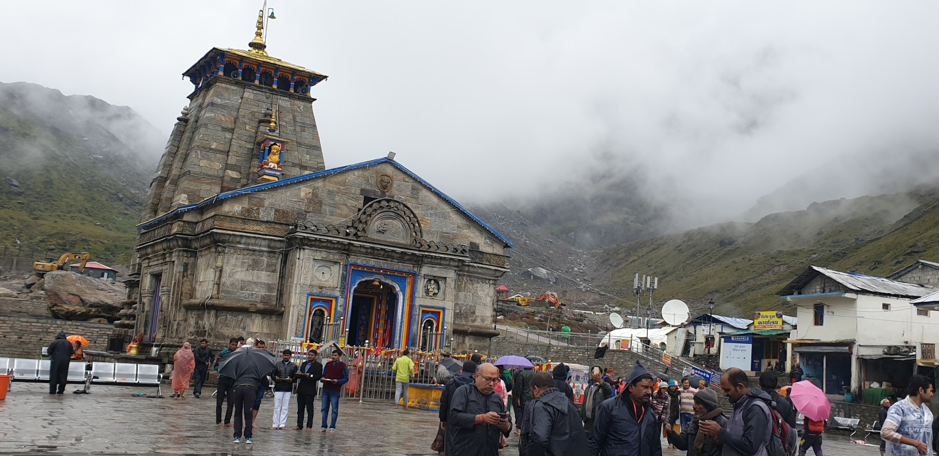 Majestic Kedarnath Temple
One of the interesting facts is about Bheem Shila. — This rock prevented the temple to be impacted by 2013 floods. Took a room next to temple and took rest for sometime. Around 630PM it started to get very cold and we thought of taking rest at room. But on taking a look outside from the room I was not able to resist to go out so convinced Nikesh to go out and we didn't regret even 1%. We witnessed Aarti of Shri Kedarnath and maa Parvathi and had a peaceful sleep.
Day 5 – Trek downhill
Woke up the next day and visited Kedarnath temple again, and it was no longer the same. There was nice snow coverage on the mountain and it was the best thing ever witnessed by me.We started our descent with a Telugu couple whom we met during our cab ride from Sonprayag to Gaurikund. They were planning for Dehradun -Mussoorie next but after listening to our trip, they also got interested to visit Badrinath.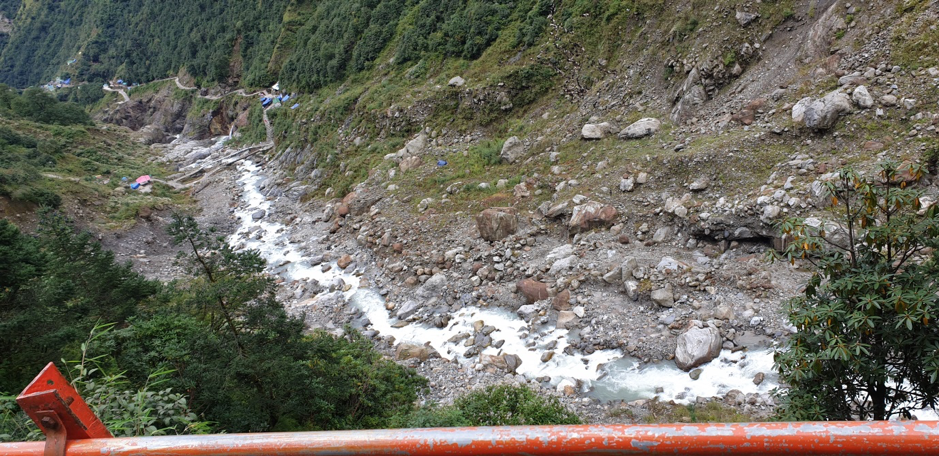 Mandakini river
Trek downhill is more challenging if you have a bad knee or calfs are weak. It gets bit slippery as well. We were lucky to not witness much of rain till we reach Bheemballi. We had breakfast at the same spot and reached Gaurikund by 12.45PM & followed the same path to Sonprayag.
We planned to leave Sonprayag the same day and do a cab hopping (Sonprayag-Guptakashi-Rudraprayag-Joshimath) and reach Joshimath by night, but there were hardly any cabs by the time we reached Sonprayag. So we stayed back at Sonprayag and waited for the 1st bus which would leave Sonprayag by morning 5.30am.
Interesting fact about rooms in Sonprayag – During offseason the rate for a triple bed stay is 800rs while during season (May-June) they charge around 6000-7000 :-O
Day 6 – On way to Badrinath
Started at 5.30 am after having some nice Tea. Route from Sonprayag to Badrinath was the most scenic of any trips that I have done till today. Truly witnessed why Uttarakhand is called Devbhoomi – Not only because of the high number of temples present in Uttarakhand, but also because the view lets you believe that you are indeed in heaven!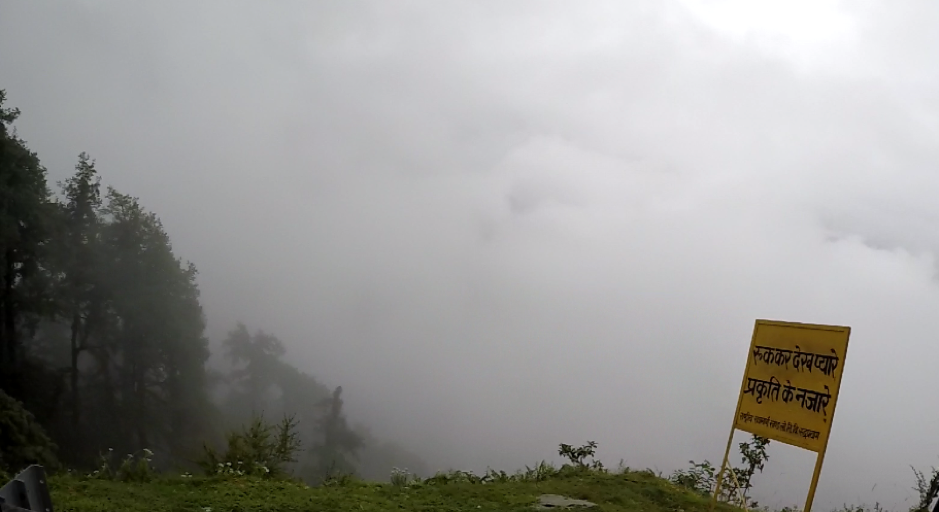 Our initial Itinerary was to stay back at Joshimath and visit Kalpavruksha (A 1200+ year old tree which as per belief has never shed any leaf on its own), but due to the hectic journey and the inclement weather we dropped the plan and if time permitted we thought we will do a short visit and go back to Badrinath.
En route to Badrinath, there are 2 other famous destinations that can be planned for — Hemkund Sahib and Valley of flowers. If anyone planning for Badrinath trip, do make sure to visit these 2 points as well. Reached Badrinath around 4PM and were relieved as there was no trekking and we quickly checked in to a room which was halfway from temple and also the bus stand.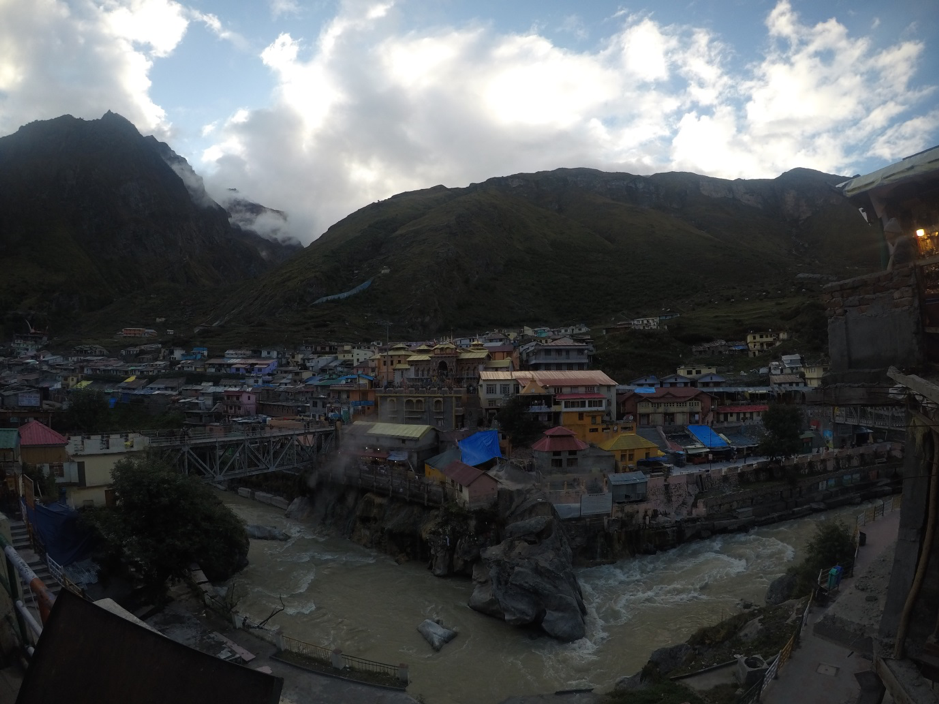 Badrinath temple 1st glance with Alakananda river
Quickly got freshened up and visited the Temple and had a good darshan. One of the Yatris advised us to take a dip in the Holy Tapt Kund. The Tapt Kund, a group of hot Sulphur springs just below the temple, are considered to be medicinal; many pilgrims consider it a requirement to bathe in the springs before visiting the temple. The springs have a year-round temperature of 55 °C (131 °F).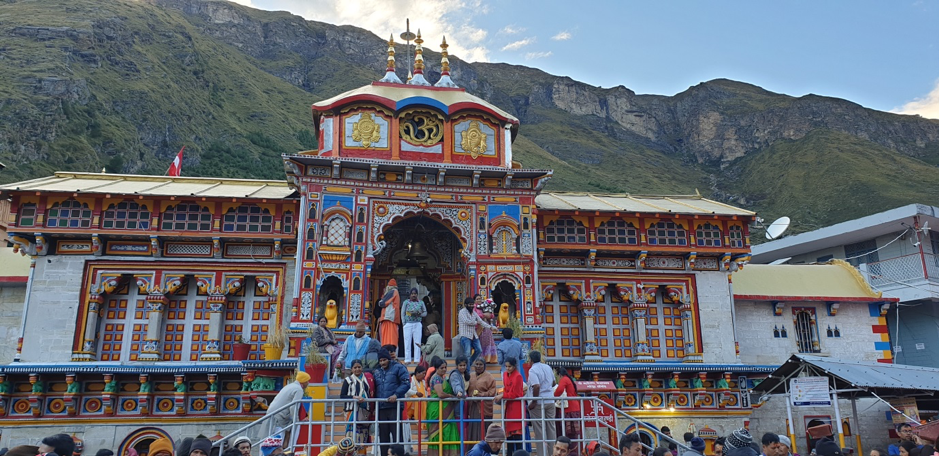 Badrinath Temple
Couple who were with us got bored of having Parathas and all were pleasantly surprised by seeing a South Indian hotel where they hogged some Masala Dosas.
Day 7 – Taptkund and Last village of India – Mana
After a good sleep of 9 hours, for the 1st time from starting the trip, we started for the temple with extra clothes so that we can change after taking a dip at Tapt Kund. Tapt kund has separate partition for Gents and Ladies. I took the 1st dip and Nikesh was apprehensive and scared to move further into Tapt Kund. I had to literally pull him and there was no turning back. He started to enjoy it more and we took dip 3 times and after 10 minutes we came out. We were no longer feeling any pain in legs or any cold whatsover. We changed and visited the temple and bought some prasads to take back home.
Started our way to Mana village. Its at a 3 KM distance from Badrinath and one can either walk or take full cabs to and fro from Mana. We booked a to and fro cab for to and fro and reached Mana village in 15 mins.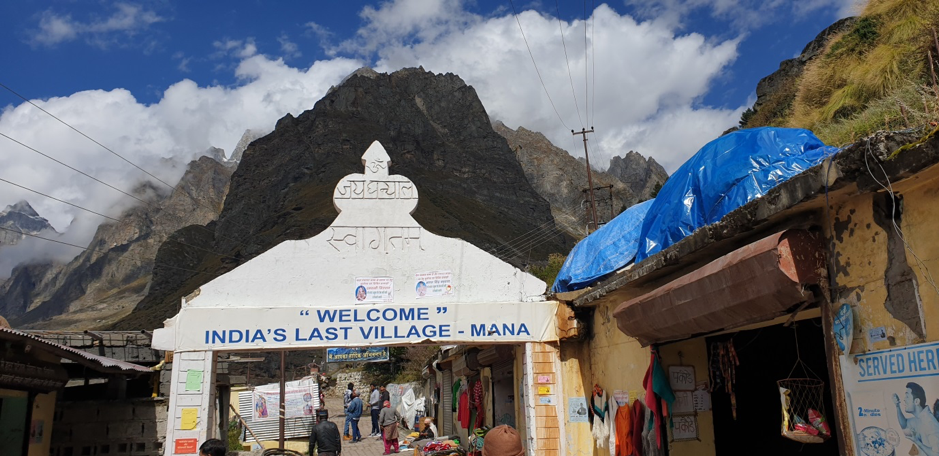 India's Last Village – Mana
You can clearly witness the cultural difference and welcoming nature once you put your foot down in Mana. While we were loitering around and clicking pics, we saw an elderly couple and they told us about the Mythological importance of Mana village. This was the route from where Pandavas had started their path to visit Swarg (heaven).
We went past the Mana village and crossed a temple where we were told that after 5kms there is a Waterfall known as Vasudhara falls. They mentioned that the significance of this falls – if someone takes bath in this fall, they get to listen all 4 vedas at once. It got me interested and started my solo walk (Solo because Nikesh thought I was joking and he said he won't be coming with me :P). Slowly we both started our trek to Vasudhara falls.
This was not as easy as I thought but also the path was more picturesque than what I thought. We were able to witness Lush green, Snow laden as well as mountains covered in Clouds.
Some views are best experienced
As we were close to 2-3 KMs to reach the point, Nikesh ended up with a severe headache (AMS had kicked in) as it was at an altitude and the air was getting thin.We thought of heading back, but Nikesh said lets complete the trek and we can then relax.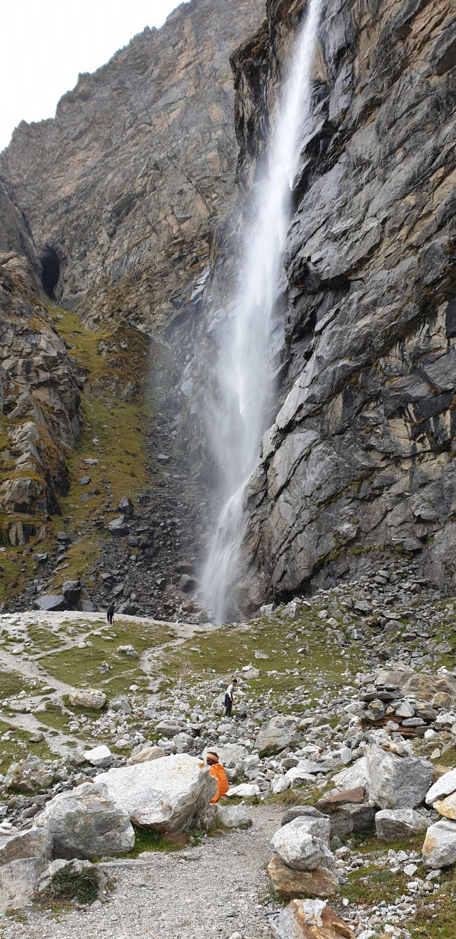 Vasudhara Falls
After total 2.5 hours we completed the trek and felt relaxed. We trekked back to the base of Mana village without any breaks and had the best Maggie at the place which goes by the name — India's Last Hotel 😉
Day 8 – Badrinath to back
For every trip, there has to be some roadblocks or else that trip is never complete. On reaching Badrinath bus stand, we realised that there were landslides in the Valley due to which the traffic has been stopped from yesterday evening (This is a common picture in Badrinath, so plan for an extra day whenever such trips are planned). There were 2 options – Either to wait for 5-6 hours for the bus to arrive at bus stand and then hope that the bus will leave today or start from Badrinath and do a cab hopping to reach Rishikesh or Haridwar.
We met few Sardarjis who were also planning for the same thing, so together we took a sharing cab and reached a point after which we were told that there will be cabs available to either Joshimath or Rudraprayag. After this point we walked/trekked/offroading walk for 500m to the point and to mine and Nikesh's surprise there were no cabs. After 5-6kms, we reached Govindghat taxi stand and none of the cabs were ready to come. Finally we took a cab and after few breaks at a Gurudwara for Langar and for some tea break we finally reached Rishikesh at 1130PM and Haridwar at 12.
Day 9 – Trip ends
We witnessed many interesting characters – Tamilian Amma in Kedarnath, Telugu couple, all the bus conductors, Sardarji family and our cab driver to name a few. These things cannot be planned and are hard to witness when you join a group or when you plan everything to the T. It always helps if you do a trip on your own with very few people. You learn a lot, you know how to push yourself – 5 years back, neither me nor Nikesh would have thought of doing 2 treks at such an altitude. It helps if you are with like minded people. Thanks to Nikya to joining me in the trip and for more such trips in future.
Author Info: Adarsh Dharmavarapu
Instagram – Guyon.2pedals
Picture Credits: Adarsh Dharmavarapu