My sister and Jiju always make fun of me for running away to Himalayas and I always say mountains are calling. Some experiences can be life changing. Suddenly thought came in my mind I need some break from random stuff of day to day life. With those thoughts I planned for the trek. All of sudden I asked my trekmate and he said yes…I had to push myself a little bit more in order to make the trek happen.. last year I couldn't make it. This is how I finalised the Chanderkhani Pass Trek! Chanderkhani at an altitude of 12190ft is beautiful pass in the gorgeous precincts of KulluValley in Himalayan mountain I have been to! Out of all places I visited in Himachal, this one had some hitches and glitches.
It offers some jaw-dropping views of snow-laden peaks, green and flowering meadows and tall coniferous trees.
We reached 15Miles base camp. 15 miles is small village is about 14hrs of drive from Delhi. This is where our trek had to begin. We started our journey with early morning exercise and acclimatization walk next day. Since the trek was in group, we met around 48 folks who were travelling with us. Beautiful valley, snow capped peaks, healthy breakfast and chai at base camp welcomed us.
The best part of YHAI is fire fire camp fire in which every group get chance to host it and folks show their talent fortunately I got chance to sing a song "Teri Diwani"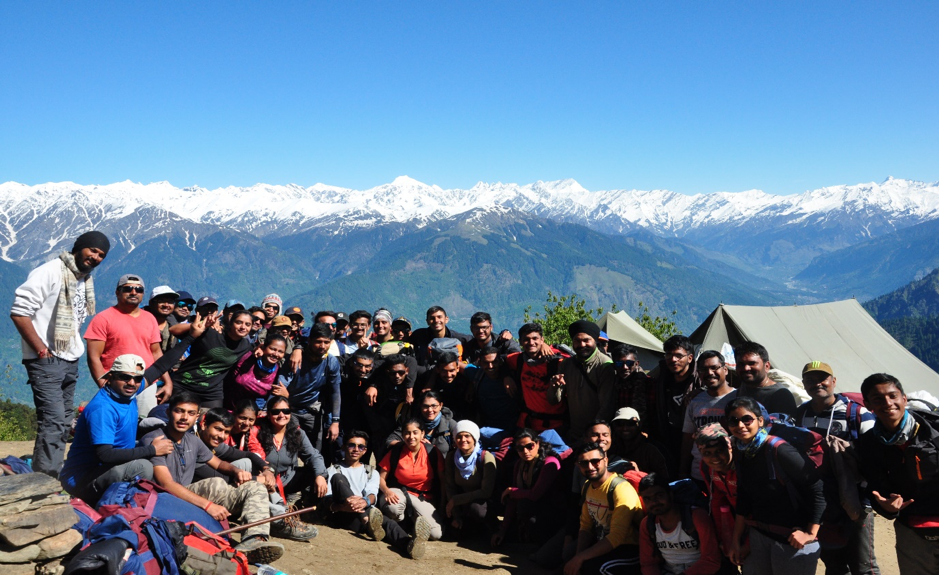 Acclimatization Walk and campfire planning
Day 4: Chansari Village to Sola Tanki
All along the way until Bijlimahadev it was only ascend.  With that ascend you can already feel that you are out of breath and that 5-6 kgs of backpacks feels heavy. No flat path to walk…day 1 can be difficult for everyone and I was waiting for every single break it could be waiting for trek mates, stopping at chai points or gazing at scenery. This day it was Anniversary for Bhakti and Prashant, as we had less options available with us we used peanut chikki and chocolates as cake to surprise them. After lunch at Bijlimahadev we moved to Sola Tanki which is approx 4hrs trek 7930ft. Sola Tanki hire camp is surrounded by dense forest of deodar trees. It's in very peaceful area and offer panoramic view of KulluValley. We were going to stay here for a night and it is magical land.

Bijlimahadev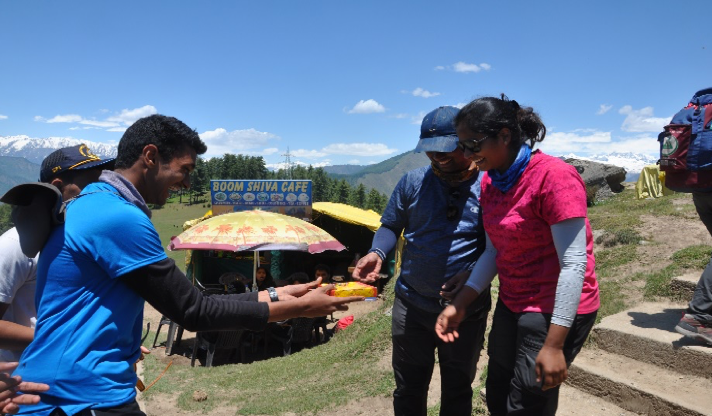 Happy Anniversary Bhakti & Prashant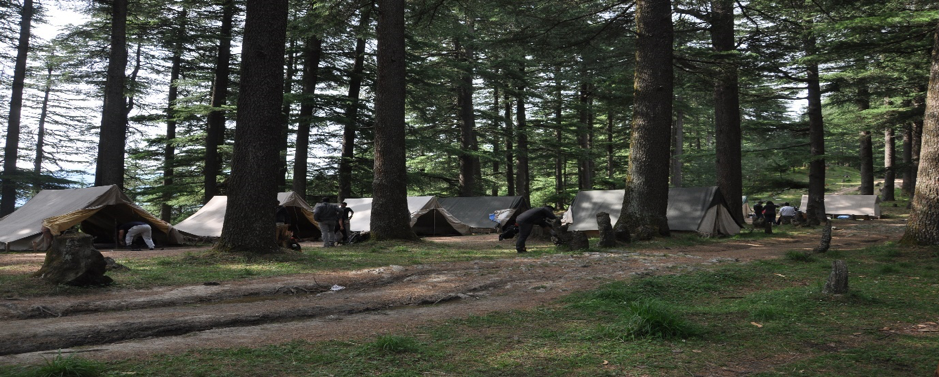 Sola Tanki Campsite
Day 5:  SolaTanki to Mountinag
On 5th day, we woke up to a bright sunny morning and after finishing up with breakfast, we started ascending towards the next camp Mountinag. This campsite is situated at an altitude of 9187ft providing you with pleasing views of the Beas valley. After a 6 hr climb of 7 km we reached the camp at 3.30 pm. Through the journey, we rested at Bhringa top 7273 ft for lunch. Mountinag also comprises of a small temple of Mountinag Devta. The camp stretches over an open area from where you can have a glimpse of giant Himalayas and also, you can get to see a few Himalayan birds. The blowing cold breeze gives soothing effect to the tired trekkers. The best part …there was no camp leader at this campsite (3 cheers for no camp leader ) and here UNO came into picture with lots of love stories. After dinner and bournvita, ghosts were trying to capture star trails. Dozen of bacchas from SPI Aurangabad made trek more memorable. SPI group is fully timepass with lots of bakwaas. In the midst of all this, there was Dhruval observing everyone silently and weaving tunes to suit every situation in his head…On requests and on his mood he sometimes let his creativity out in the form of sweet tunes which came out of his flute. There were times when all group was tuned to his flute and forgot the rest of the world.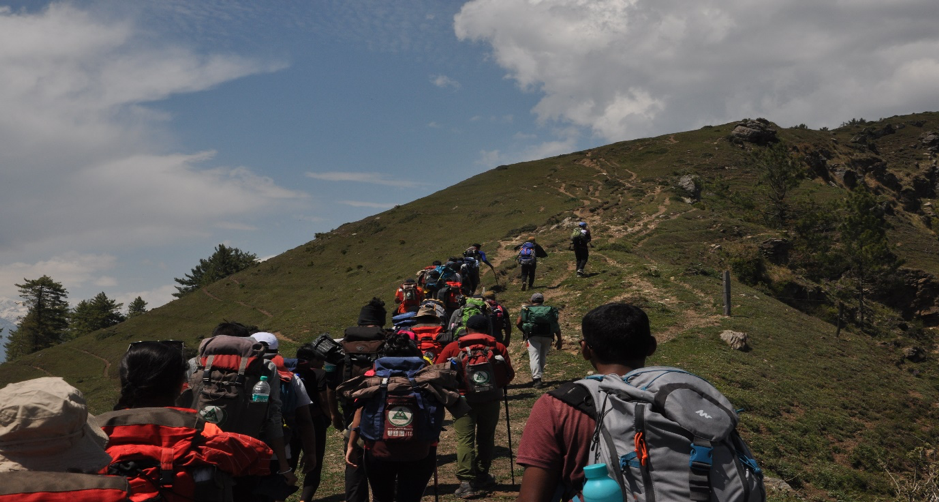 Bhringa Top
Day 6: Mountinag to Ubla Thach
Our third camp was at Ubla Thach at a height of about 9793 ft to Ubla Thach offers you a mesmerizing view of Parvati valley on one side and the Beas river on the other. Here you also come across see the livestock grazing and interact with the local people and see their life-style. We had a bad experience at campsite as the camp leader was arrogant. We experience first rain fall and sudden drop in climate at this base camp and some of us experienced roller coaster slipper rides to
washrooms. I dozed off to sleep and missed a few shots. Tried to make up for it in the late evening. One of the things that I like about trekking are the pleasant surprises. After toiling through tough terrains, all of a sudden you see the huge mountains with the snow capped peaks in right in front of you. It takes away all the fatigue.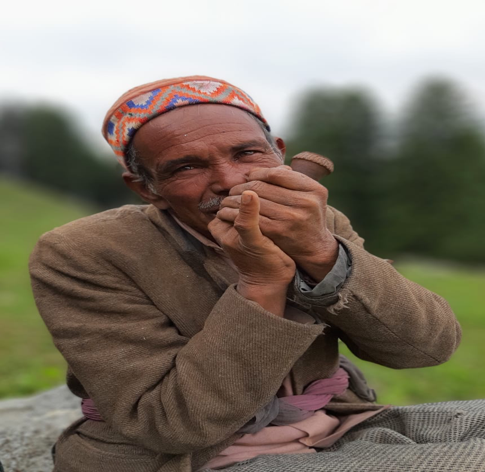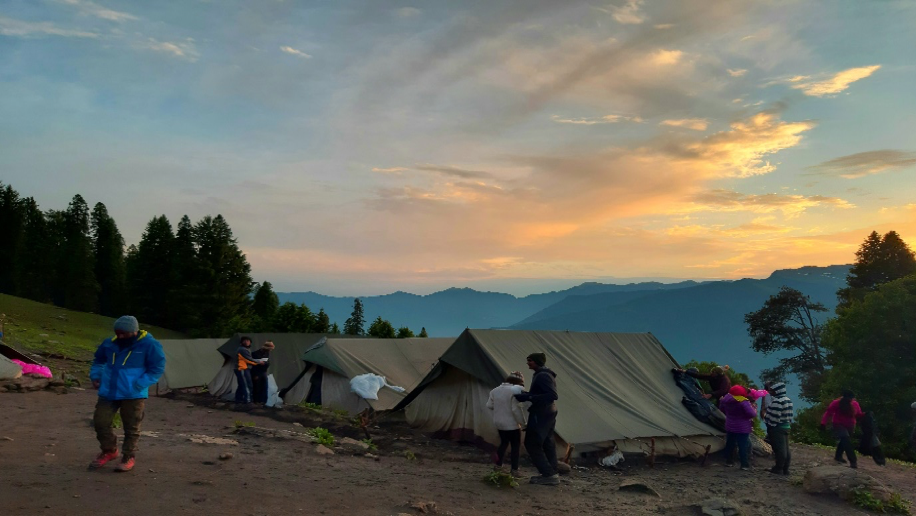 Ubla Thach Campsite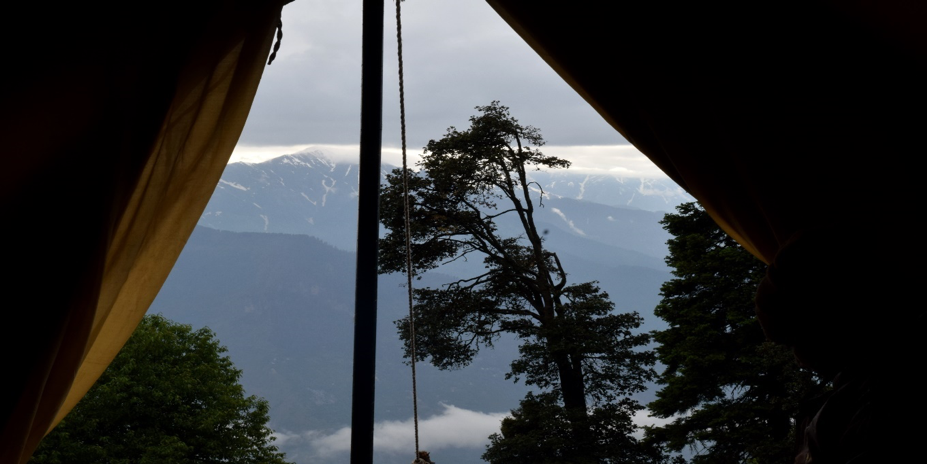 View from tent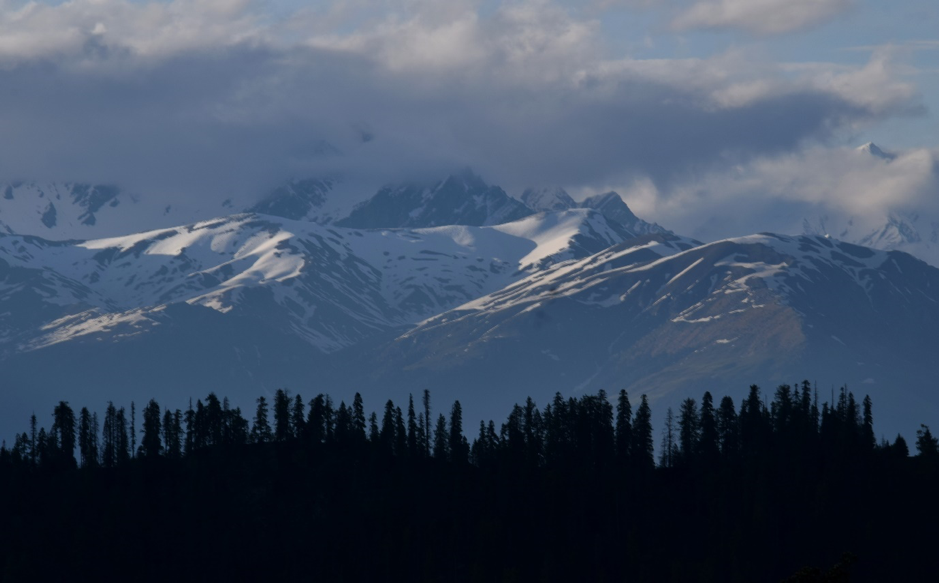 Day 7: Ubla Thach to Dohra Nala 
We prepared us through morning chores and followed by packed lunch. Everyone including camp leader was waiting for clear weather as trek further was quite tricky and could be fatal.
Dohra Nala is situated at 10792ft above the sea level. This was our next and the last higher camp. This place is exquisitely surrounded by lush green bushes and a river which flows adjacent to the camp. It took us 6 hrs to cover a distance of 8 km and reach Dohra Nala. This was the best campsite for me as the forest is bounded by deep silences. Only, a blissful sound of the flowing waters can be witnessed. By the time we reached there, it started raining. So, we fed on hot snacks and soup to feel warm inside as it was freezing cold outside and blessed with strict campleader who doesn't allow to share plates (tiffin box) but gulab jamun is like Jo Tera hai wo mera hai. At this camp we finally came across a bit of a bad weather, it was raining and the pathway was all slippery. We were asked to get up by 3 am and be ready to leave by 4 am.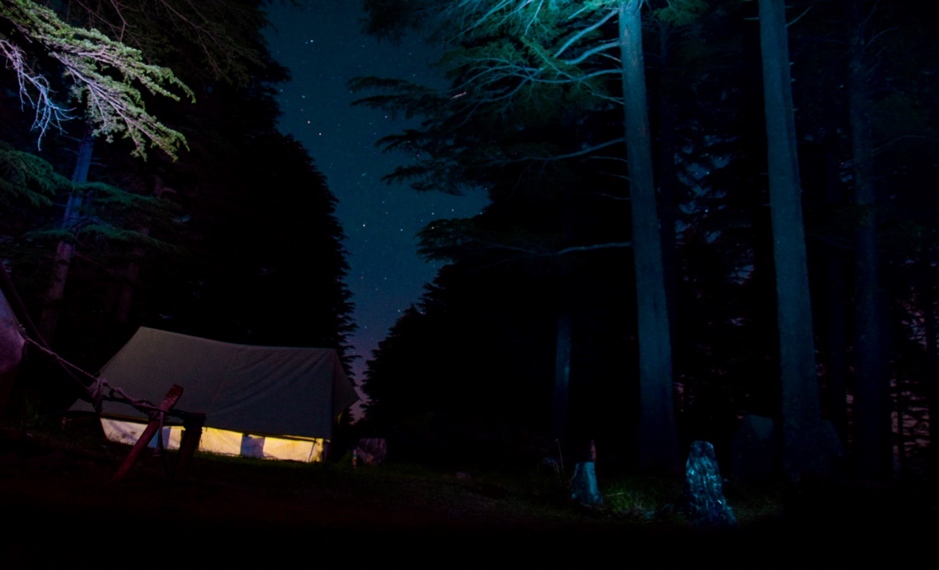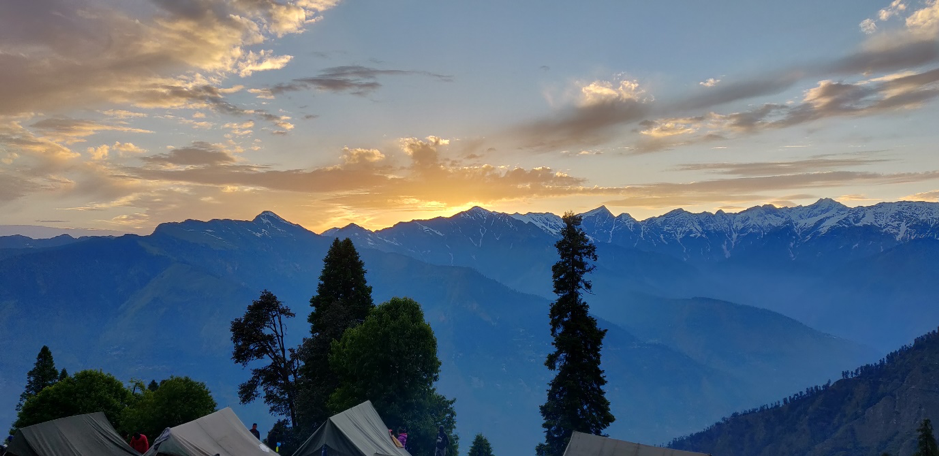 Day 8 : Dohra Nala  to Naya Tapru
This is the longest and most enchanting trek of this route with undulating terrain.  The distance is 14km which take approx 7hrs of trekking. This route will pass through the Chandrakhani Pass 12190ft. Snow might look beautiful in a picture, but can be a real pain to walk on. It becomes very slippery and sometimes can get into your shoes, more so if you dont wear a high ankle one. Laughing and having fun in the tough times, makes the going easy. What I saw with my eyes was absolutely incredible. The various shades of green with the snow peaks in the background. I slipped and fell down a couple of times, but thats the part of the fun and adventure. It was time for a steep descent. We had enough of snow-walking and happy to walk on earth. I was experiencing a love affair with these mountains. We also experienced hailstorm here, tiny ice balls falling from the sky and rolling down on the earth.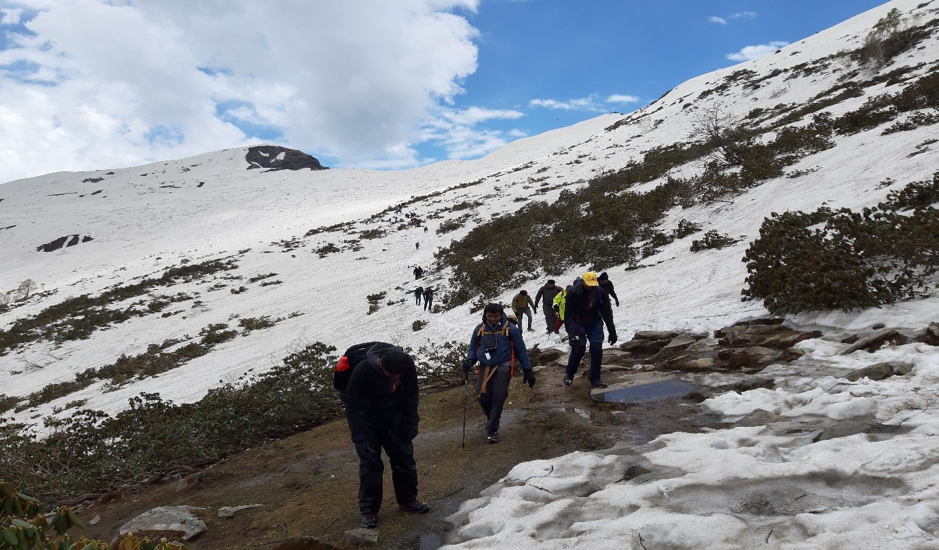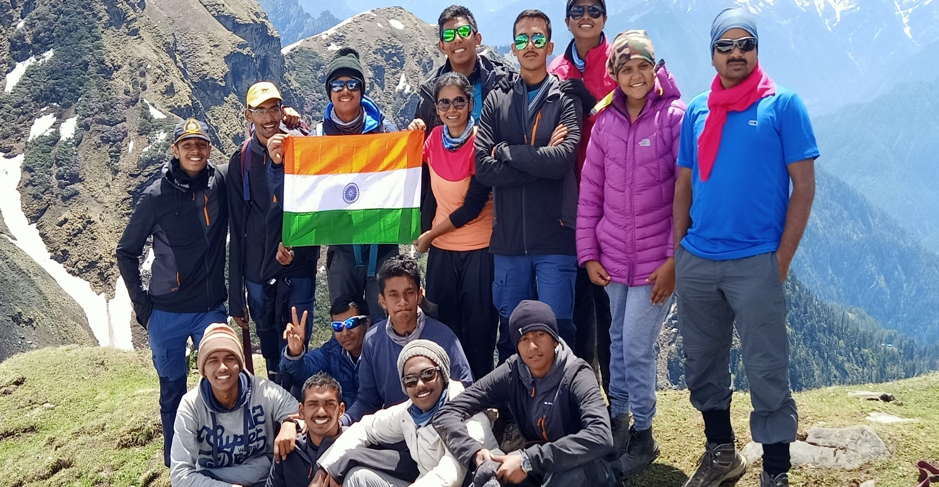 Chanderkhani Pass
Day 9: Naya Tapru to Naggar 
We started last leg of trek. Time was approaching to leave the mighty mountains. It was a mixed feeling of achievement and also a sad moment. The time was to descend back to base camp. Descend is in two parts- First till Naggar, and then bus journey to the base camp. The first descend was not as hard but was extremely steep. We kept cracking innovative shayaris along the way, special thanks SPI group. The best part about this trek was we made a many good friends during journey. Every night Camp fire also bridged the gap. After about 3hrs we came in civilized life. Special thanks to our YHAI trek leads Tara (Bhai) and Indu (Bhai). Super funny group CP18- Ka Dhoom Dhadaka.. Hooo Haa Hooo Haa… Most memorable trek ever…Thank you CP-18 and YHAI for putting that spirit in me. Thank you Mummy & Papa for letting me explore to the wildest. Thanks the Coach (Cycling Partner :P) for being that caring mother figure for me all the time. I m sorry for all those messages and calls I missed and made you worry more….Looking forward to many more such adventures.. To self introspect.. To find myself..!!!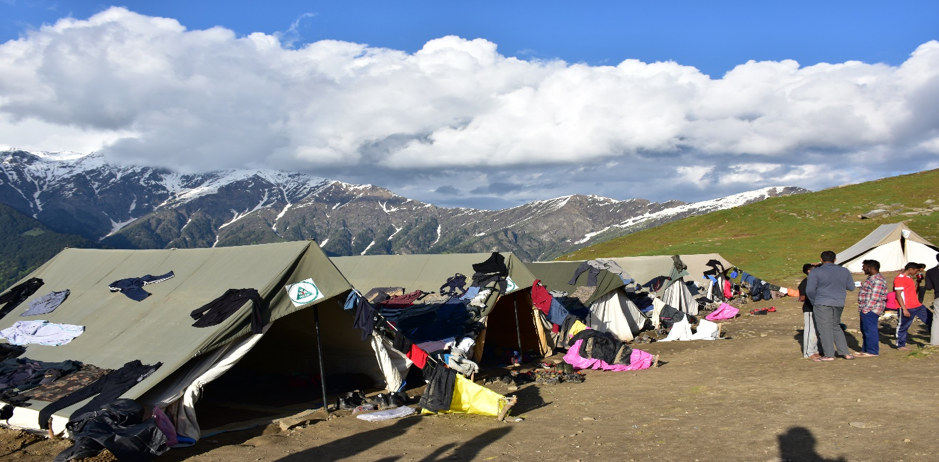 Naya Tapru Campsite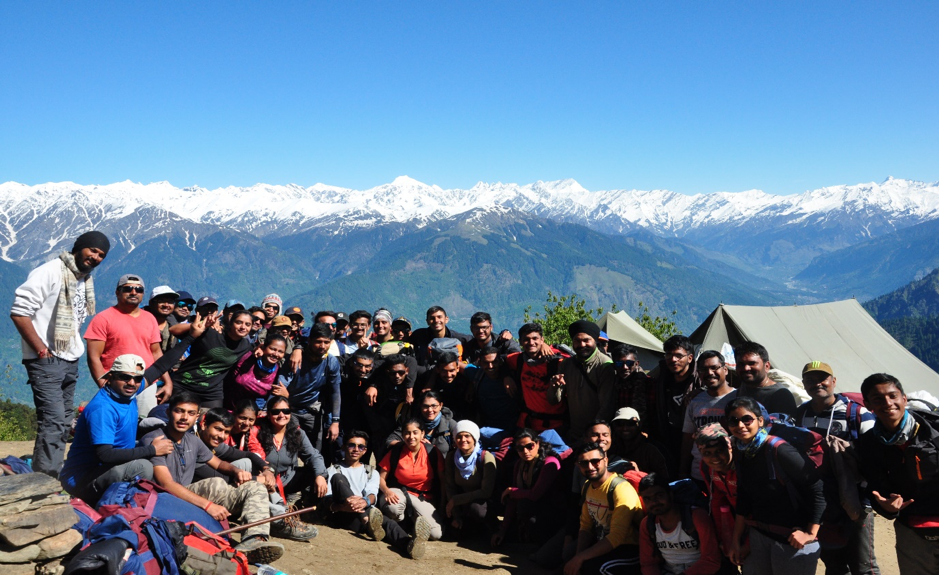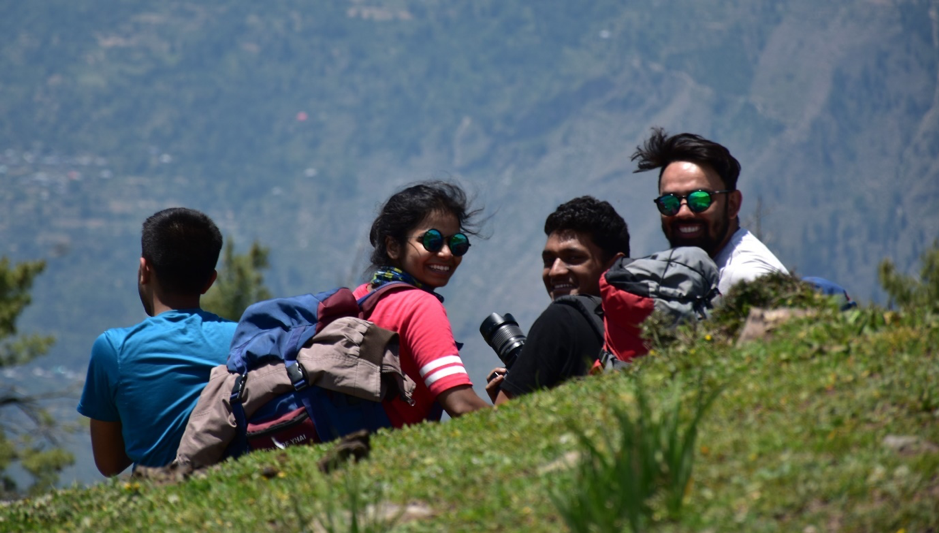 Author Info:
Neha Dalpe is an avid adventurer and thrill seeker. She believes in turning ideas into reality, otherwise known as a Software Engineer.
Picture Credit:
Ninad – (Insta: ninad_bhavsar)
Atharva – (Insta: 1atharva_surve1)