I'm still reeling with the delightful memories that Bhutan has offered to me! I finally got a chance to take a vacation to Bhutan in December 2019. It was winter in Bhutan and what better time for me to go there! I just love winters, snow and all the time that I can get for myself in such a weather! There are 2 ways in which you can get to Bhutan. You can take a flight and reach Paro. An alternative option is to take a flight till Bagdogra and drive to Thimphu/Paro. If you are going by air, visa for Indians can be obtained at the airport. If by road, you will need to stop at Phuentsholing which is the India-Bhutan border. The immigration office will provide a visa for 7 days. If you are planning to stay beyond that, make sure you are applying for an extension. Getting from Bagdogra to Phuentsholing will take about 4 hrs at a minimum and from Phuentsholing to either Paro/Thimphu another 3.5-4hrs. Many people even end up staying at Phuentsholing for the night so that it doesn't become too hectic.Thimphu is about 1.5 hour from Paro.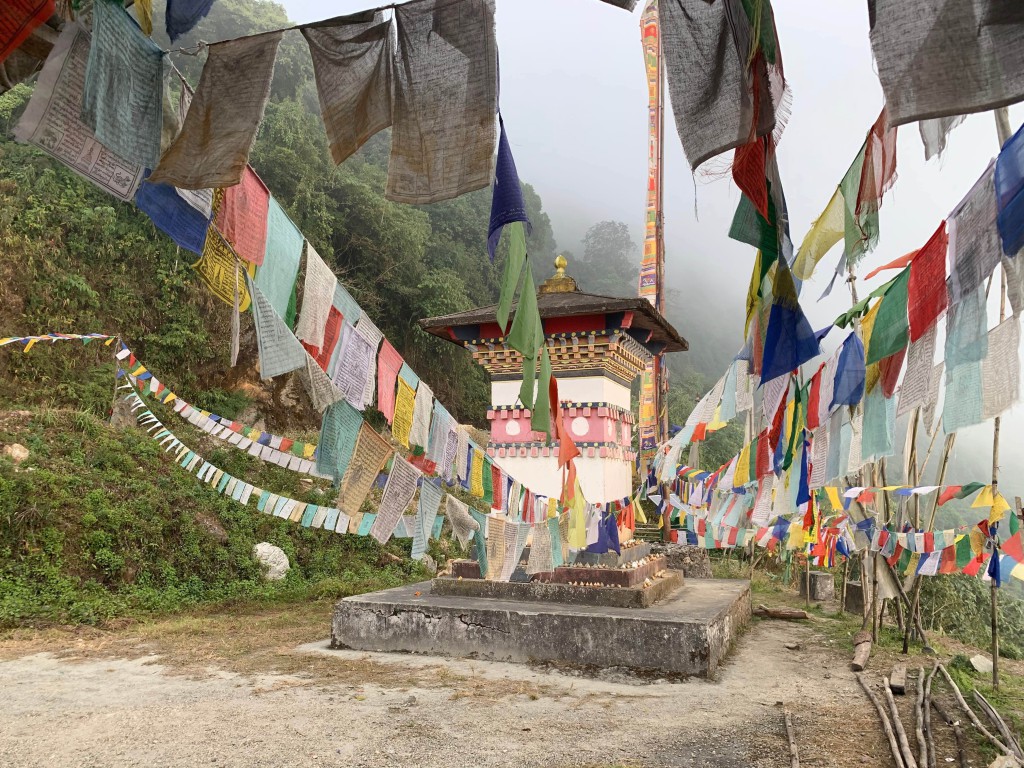 Our first stop was Paro and the first thing that I get to do is hike all the way up to the incredible Taktsang monastery or popularly known as Tiger's nest monastery. We started our hike at 8.30am in the morning and what a lovely weather we had that day! Not to mention, I was equally excited about meeting the dogs there! Wherever I have trekked or hiked, I've met some lovely doggie companions who make it so much more memorable for me! Taktsang monastery is about 5 kms one way and the entire journey can take upto 5 hours or more, considering you'll take pictures and stop to enjoy the views. It of course will depend upon your pace too. The views are so breathtaking that you invariably stop in many places to soak it in! I was no different. The legend has it that Guru Padmasambhava came on a tigress to destroy a demon. He is also believed to have spent his time meditating here.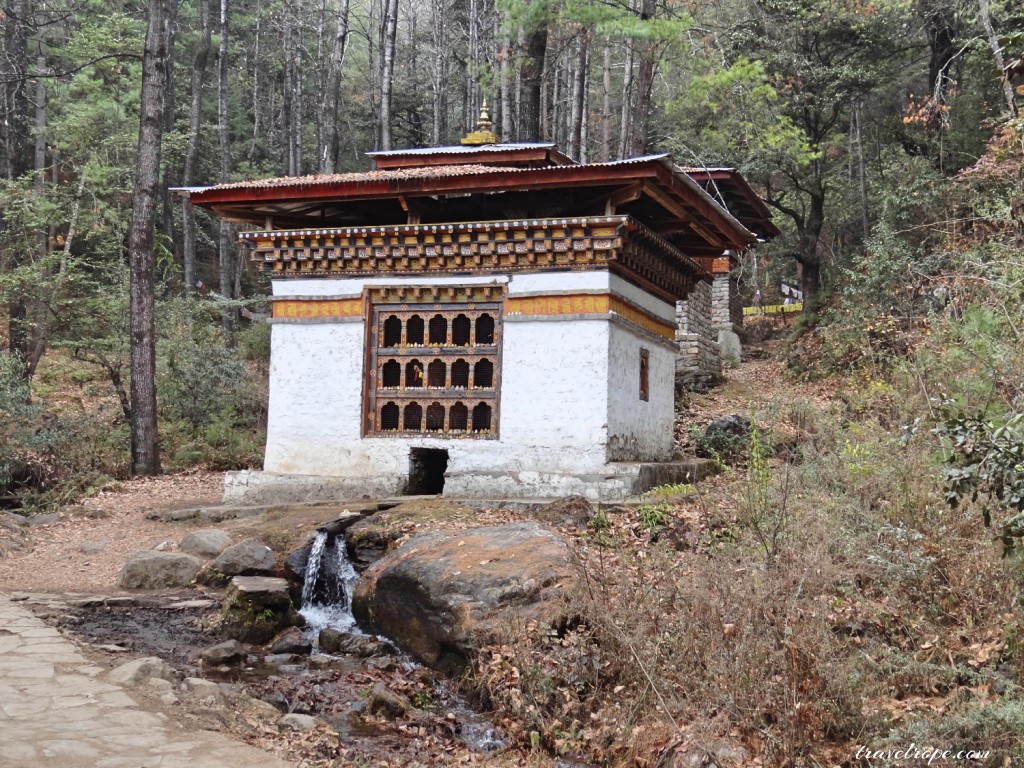 Paro also has a beautiful fort that acts now as an office to serve Government duties as well as a monastery. Although there are 13 temples here, foreign tourists are allowed only inside one. This is also considered to be much more smaller than what you would see at Punakha monastery. This is something you need to visit later in the evening as well just to see how beautiful it lights up. I also got introduced to Butter Tea here that I absolutely loved and don't even ask the amount of momos I ate here! I even gave the hot stone bath a try here but I don't think I made the most out of it. In 15 mins, I felt like I had to come out due to suffocation caused because of the amount of steam inside !! 😀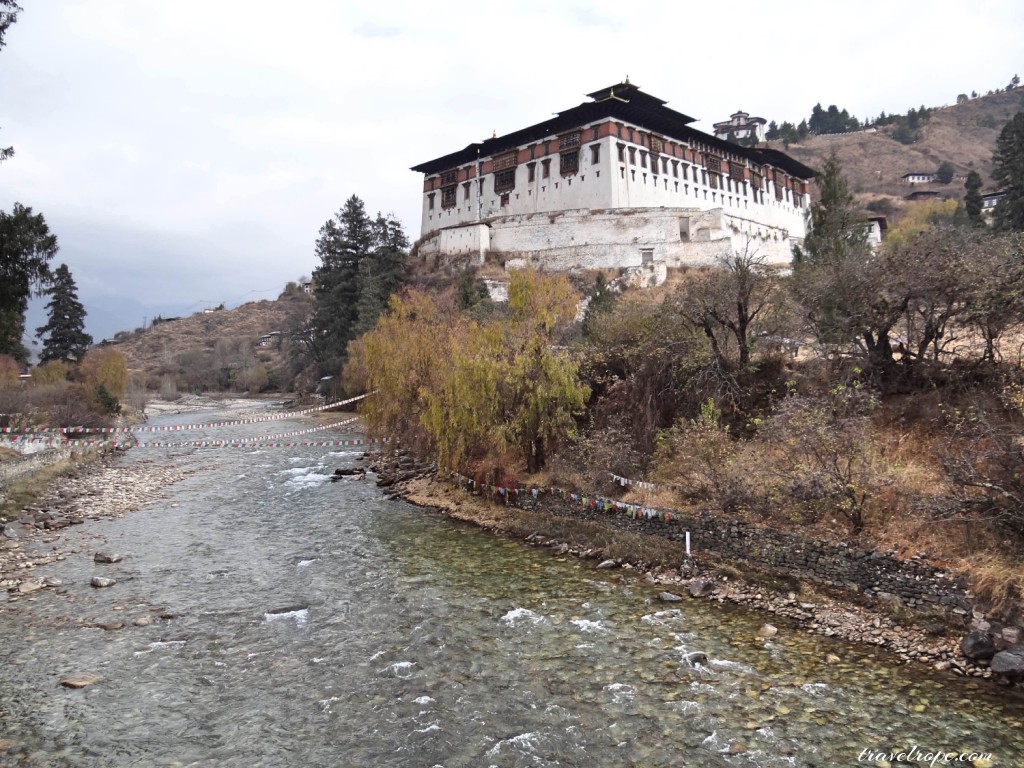 Straight from Paro, we headed to Thimphu for a day. It was a very relaxed day and we went around seeing the town. We also had to get pass for Punakha and Pobhjikha Valley.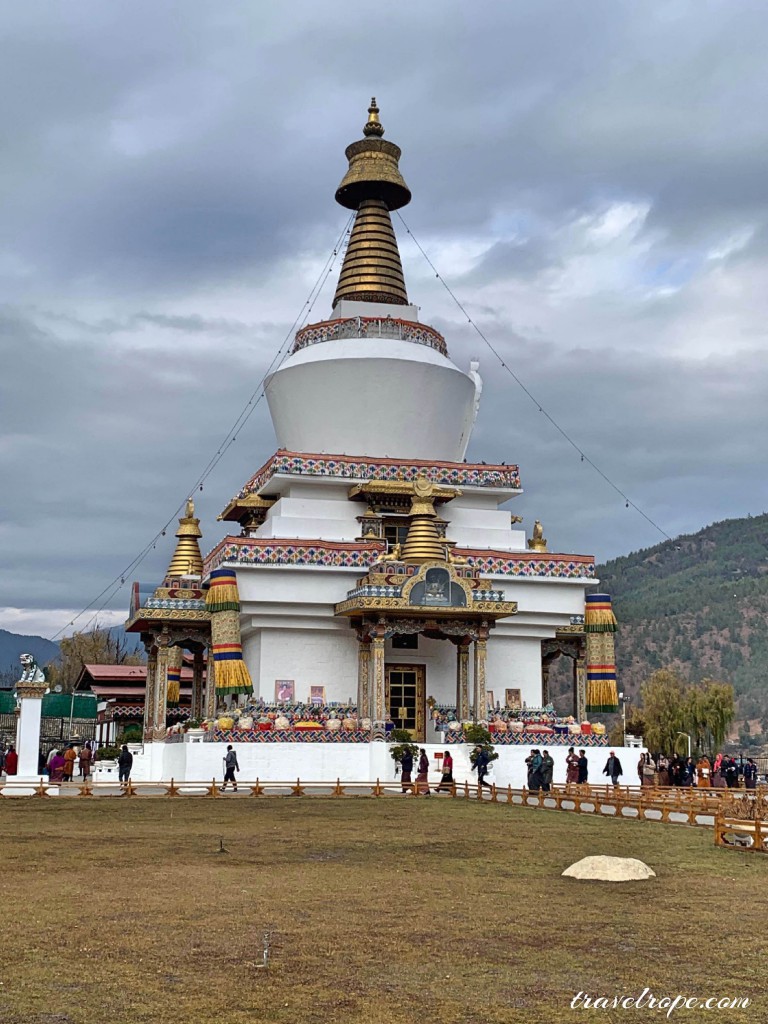 It was also required to get an extension as we were staying in Bhutan for 8 days. Next day we started towards Pobhjikha Valley which is a good 4-5 hours from Thimphu. En route, you will also stop at Dochula Pass where there are 108 memorial stupas. Since it was winter, we did get to see snow as well. It just looked so pristine and calm.
By afternoon, we reached Pobhjikha Valley. We wanted to go here to see the black necked cranes that come from Tibet during Winters. This Valley is just out of the world! Reminds me of times when you honestly feel that pictures don't do any justice to what you are witnessing. One of the things to be grateful for! It was such a self sustained place. People grew their own vegetables and some even grew paddy! We were staying at a local's house and once we reached there, that's when they went to get vegetables from their farm to cook lunch for us!! To top it, we even had black necked cranes come very close to this house!
This was one of those places where there was so much silence and calm that even walking on the floor seemed like I was disturbing someone. This place is now added to my list that gave me so much calmness and peace of mind that I forgot about everything else! Others being Jadu Ka Talaab in Kedarkantha Trek, a place called Thangu in Sikkim that you get on your way to Gurudongmar Lake and Arashiyama (Bamboo Forest) in Kyoto.
If relaxation is not your thing, then Pobhjikha Valley may not be meant for you. We met another couple from Bangalore who had come to stay here and we had an amazing dinner with them! We were fed Ezay, Ema Datshi (chilly cheese), Kewa Datshi (potato cheese), red rice, spinach like veggies (sorry don't remember the name of it) and butter tea!
There is a beautiful monastery here in Pobhjikha. If you are around, then do visit this. When we went there, the monks were getting ready to go their homes for their winter break.
Next stop was Punakha where we visited the Punakha Dzong and Suspension bridge. The next morning we made a visit to Chimi Lhakhang Monastery. Best part was the walk through the fields to reach this place!
Post this, we headed back to Thimphu to visit the Tashichhoe Dzong.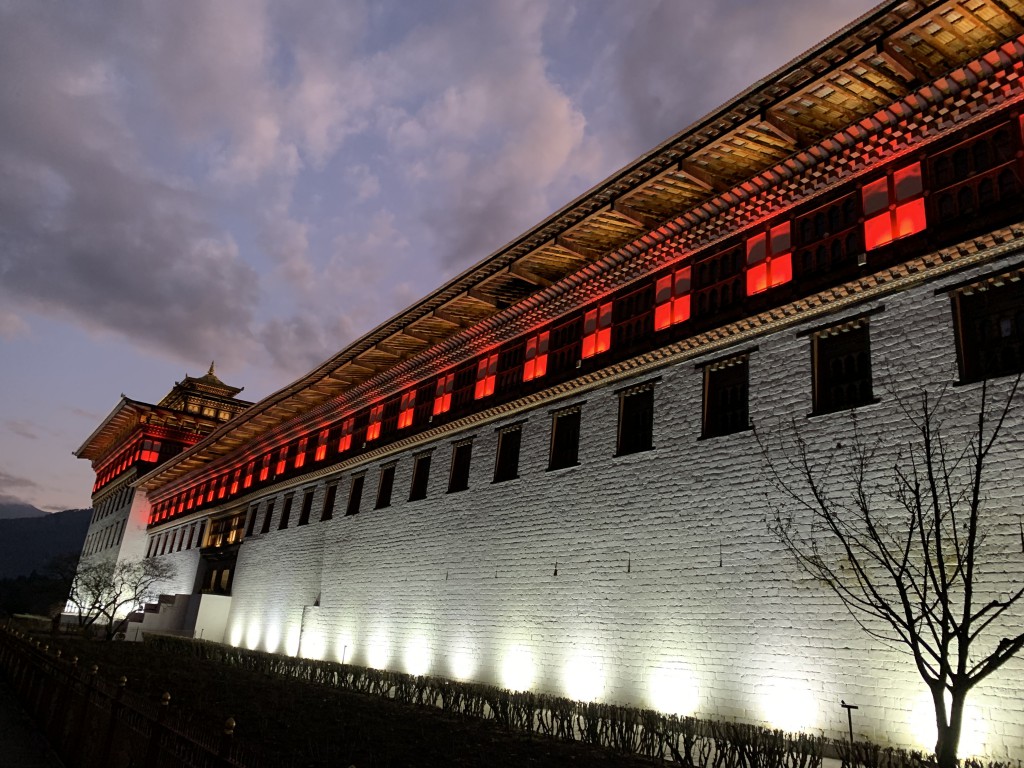 Next day, we first planned to head to Buddha Point and spend time there. We even had the chance to meet one of our close friends who were visiting Bhutan too.
The last thing we had kept as part of our trip was the hike to Cheri monastery. It takes about 3 hours for the complete hike. Many people known as Tshampas come here to meditate. They apparently meditate starting with 3 days to 3 weeks to 3 months and then 3 years with no communication with outside world! You get a panoramic view of Thimphu from here.
A big shout out to all the lovely Bhutanese people – so warm and so welcoming!
It was indeed one of the most relaxing trips that I've ever had. It gave me time to calm myself down, think about myself and contemplate, not worrying much, to take it easier on myself – a much deserved and a well deserved break.