North India always fascinates me. The Himalayan ranges covered with snow, rugged terrain, valleys, stream flowing besides the road and the cold winds are the main attractions. Every time, I go there, I feel mesmerised by the scenic beauties of North India. This time we planned for Leh truly Heaven on Earth. A person who loves riding and off-roading, this place is Jannat for you.
Day 1
Leh
So we boarded flight from Delhi airport to Leh. As soon as we landed some of us felt dizziness and slight headache because of less oxygen level. It is advised to keep Diamox tablets with you. We were mesmerized by the beauties of mountains all around us. You can easily find a hotel in Leh, there are lots of options, and one can plan as per one's budget. The range starts from 900/- per room per night. You can easily get OYO rooms there. You will get taxi from airport to Leh city. It's only 3-4 kms and the charges are fixed Rs 400/- per taxi. One day you have to take full rest as you will acclimatise with the weather. In evening we went to local Leh market. The market was beautiful, just like market of Shimla or Manali or Mussoorie. One street and shops all around that. There were shops of famous Pashmina Shawls, Dry fruits, the famous Ladakhi flag (OM MA NI PADME HUM). That same day we have booked our Royal Enfield Bullet for the next 4 days. You can easily get bullet on rent. The charges for the bullet (350 cc and 500 cc) were Rs 1000/- per day petrol is our scope. Himalayan would cost for Rs 1600/- per day. That same day we did the In line Permit (it is the permit for traveling in Leh) work also.
Day 2
We were very excited as actually our trip was starting today. We have taken 4 bikes (3 bullets and one avenger). We planned to cover local Leh as well as some points on the route of Kargil. First we went to Sangam point, the confluence of Indus and Zanskar rivers. It was a beautiful place where you can see clear water and slight muddy water combining. In between there are two points the famous Magnetic Hill & Shri Pathar Sahib Gurudwara. We had our lunch at Gurudwara eating Langar. The Gurudwara is completely maintained by Indian Army. Coming to Magnetic Hill, it's just a simple straight road, where one can see the magnetic effect. Beside the road you can enjoy riding on ATV ( All-Terrain Vehicle). It would be complete off-roading of 2 kms. The charge is Rs 1000/- per bike. After Magnetic Hill, we went to Hall of Fame museum of Indian Army. You can literally relate to Indian Army there, their wars, their strategies, their sacrifices. Then we went to Shanti Stupa, the first monastery we visited. The place is so serene and silent. Returning from there we went to Zoravar Fort. After having dinner at one of the bakery in Leh and having little brandy (as it was damn cold at night) we called the day.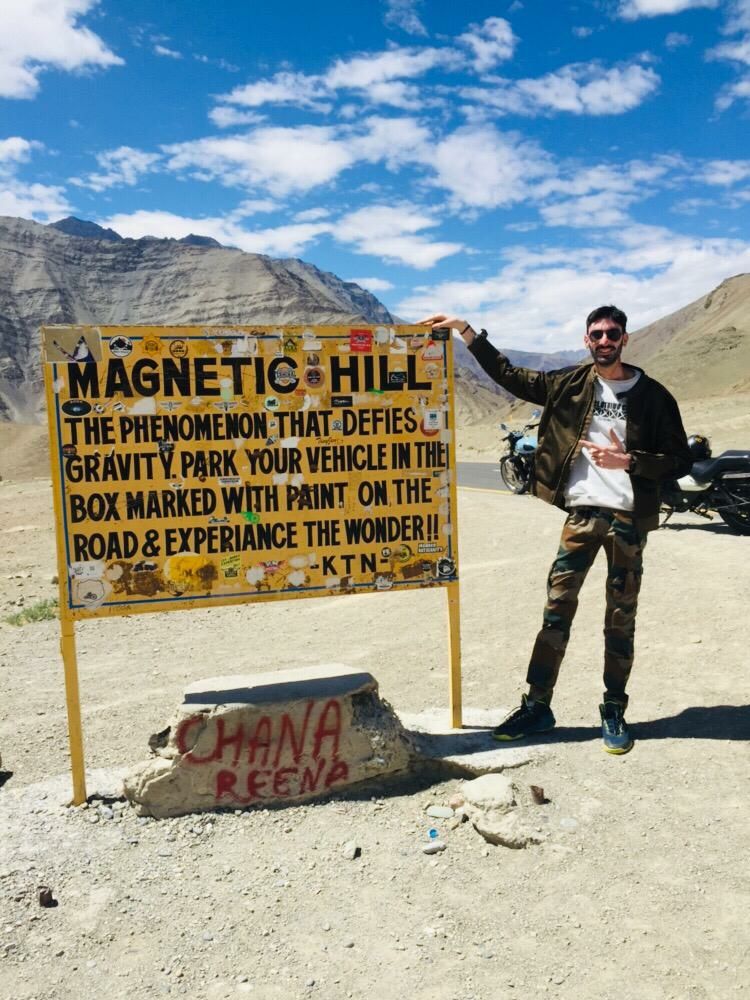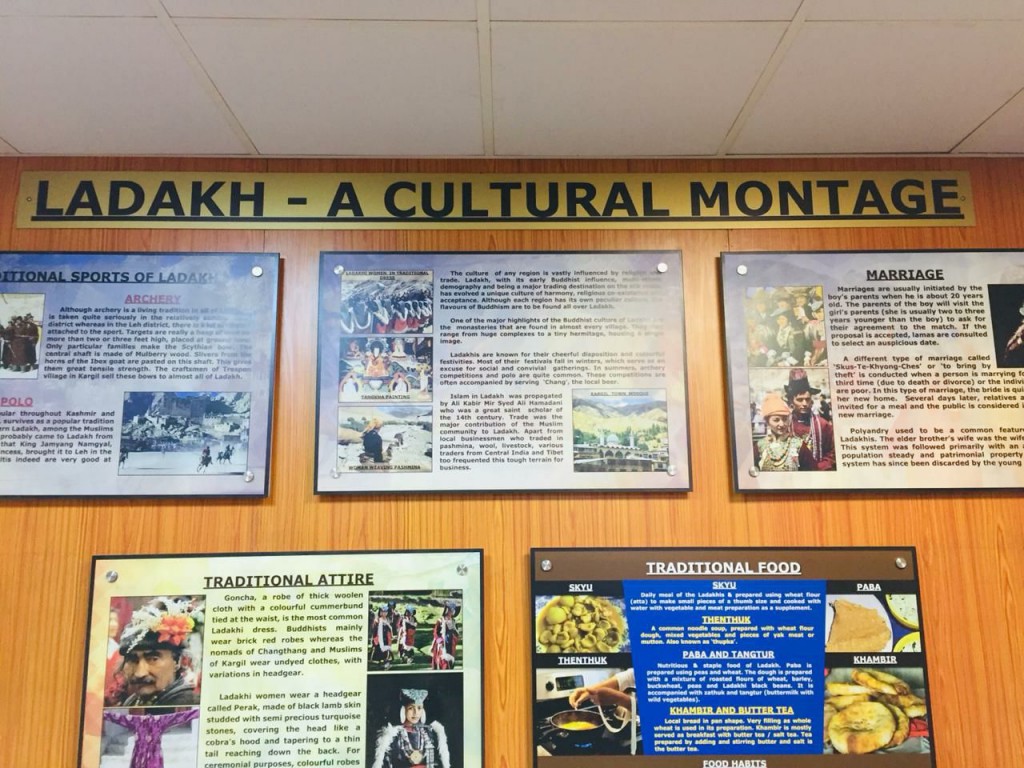 Day 3
Nubra Valley
Nubra is famous for its sand dunes and double hump camel ride. To go Nubra valley one must cross mighty Khardung La Pass which is approximately 18000 ft above sea level. You cannot stay more than 20-25 minutes there as then breathing problem will start. While going to Khardung La, some 10 kms before, off-roading starts. If you love riding on rugged terrain you will definitely enjoy this place. While riding you can enjoy the scenic beauties of The Himalayas. Khardung La is one of the highest motorable roads of world. You must definitely try Kawa tea at Khardung La cafe. After crossing Khardung La we went Diskit Monastery, clicked pictures and had lunch there. The view from Diskit Monastery was awesome. You can see the whole Nubra district from there. And finally we reached our destination, Hunder. The temperature was quite normal. We enjoyed the camel ride, sand dunes surrounded by the mountains with snow at the peak and local Ladakhi cultural program. After having fun there, we booked a tent in Hunder itself. The tents were superb with bonfire and dinner included (you will get good quality food everywhere veg as well as non veg). They charged ₹ 1500/- per tent.
Day 4
Pangong Lake
This day was full of adventure. We left the hotel early morning as we would encounter water crossings today, and before water level rises we had to cross it. We headed from Nubra valley to Pangong Tso Lake which is around 240 kms. Our ride started at 6 am in morning and it was damn cold. After some 100-130 kms off roading started and our first water crossing came. Water level was not too high. First one was slightly easy but I got stuck in the second one. While we were entering the lake road we saw many restaurants in the name of "3 Idiots & Rancho". And finally we saw the board of "first view of Pangong Lake", clicked pictures there, I mean that's obvious. The lake was beautiful & vast, completely blue in color & surrounded by mountains. 60% of this lake is in China and 40% in India. The water was extremely chilled. The temperature at night drops down to 3-4°c. There are rooms available in Pangong Tso Lake. We booked a wooden tent in ₹1500 with bonfire and dinner included.
Day 5
This was the last day of our trip in Leh. Now we were going to cross Chang La Pass, around 17000 ft above from sea level, the second highest after Khardung La. The distance was approximately 230 kms. After leaving Pangong, as Chang La was approaching near, we could feel extreme cold. The off-roading of Chang La was more dangerous than Khardung La. You can enjoy Hot Chocolate and Kawa tea at Chang La. After driving some few kms on rugged terrain, off-roading ends and you can enjoy riding on plain smooth road. There were 2 more spots before reaching Leh, Hemis Monastery & Rancho School. The route for Hemis Monastery is beautiful, roads covered with lush green mountains on one side and stream flowing on other side. Hemis Monastery is the largest monastic institution in Ladakh. Then we went to Rancho School. Spending some time there and having some food at Rancho's cafe, we finally reached Leh. Next day we boarded flight for Home sweet Home.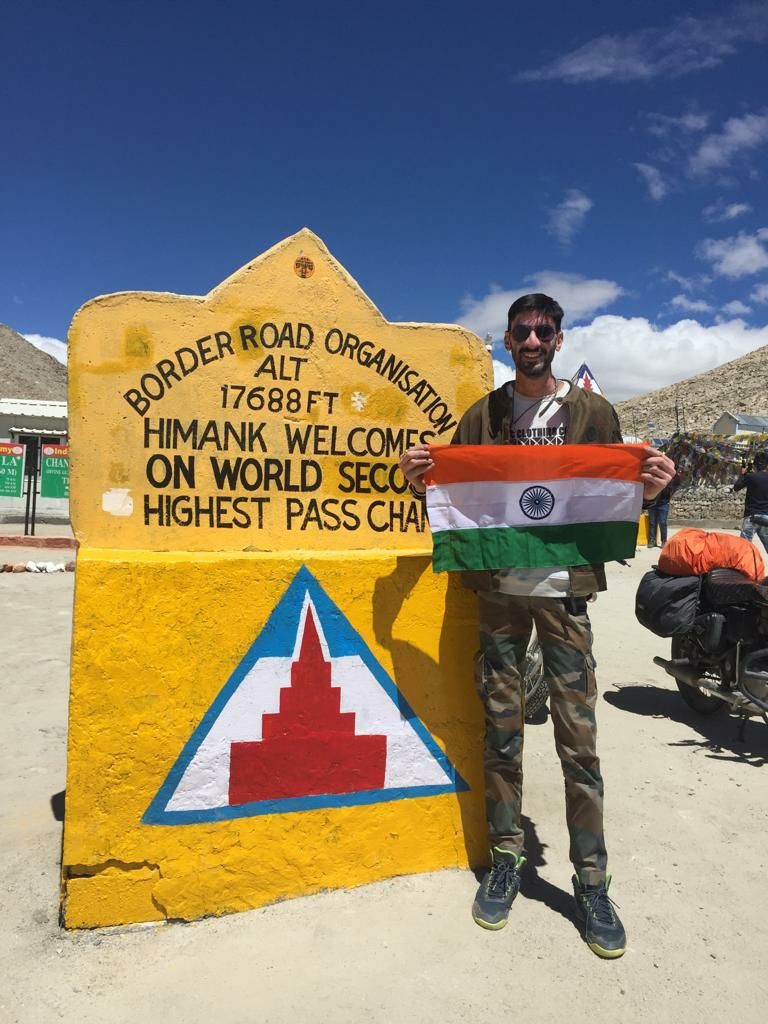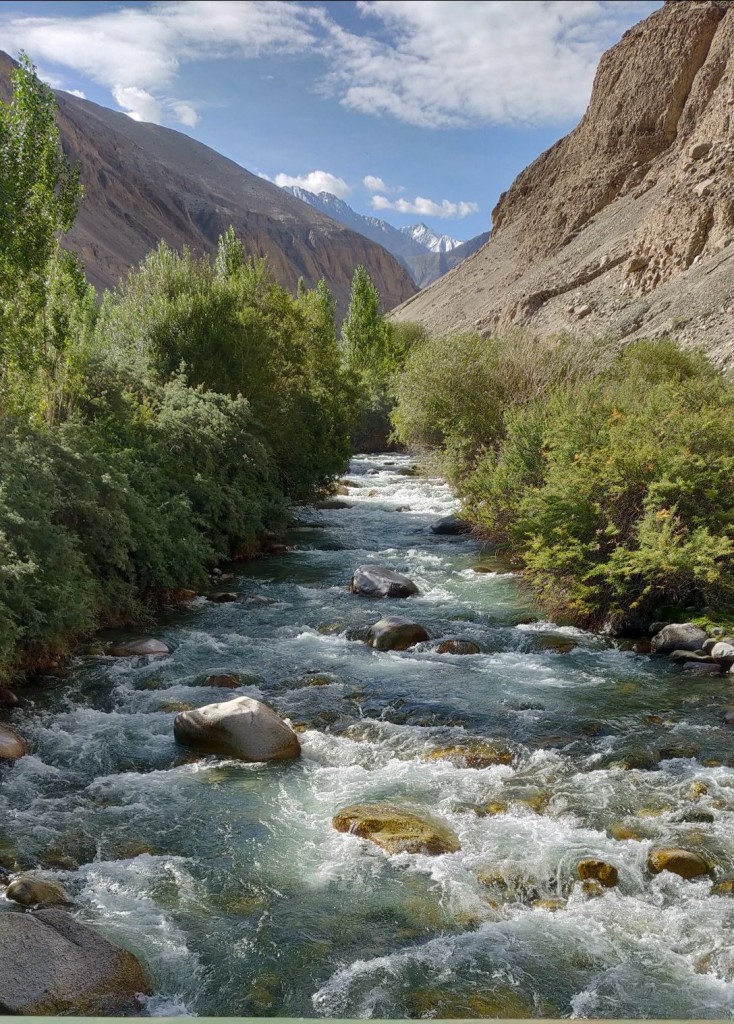 One thing I can guarantee, you will fall in love with this place and people. You will we mesmerised and amazed by the changing texture of mountains and by the scenic beauties. The best season in my opinion is after 15 August. The riders will enjoy riding on off road and water crossings.
Julley!
Author Info:
This article is written by Tapasvi Shandilya and all the pictures in this travelogue belong to Tapasvi Shandilya.
Tapasvi is an Engineer by profession and a traveller by passion. Travelling makes him feel alive. He generally explores different places riding his Enfield. Tapasvi says, "Travelling leaves you speechless then turns you into storyteller".
Instagram: @tapasvishandilya