Some experiences can be life changing. This was one of them for me at many levels.
December 2018 was fast approaching and I couldn't wait for my holidays to begin.I knew this time around I wished to see snow, yet again! If not for jungles and places of historical importance, my craving is always towards snow filled destinations. There's something so peaceful about snow capped mountains. I was very clear that I needed some break from the mundane activities that I had been doing. Needed to detoxify from social media, emails and calls. I was asking my friend for some suggestions on a good winter trek and he told me that this is something I would totally love. I hadn't trekked before but the idea of being in the mountains was way too enticing. Due to few personal reasons I had just then started going to gym. Dance has always been my alternative to gymming. I had to push myself a little bit more in order to make the trek happen. This is how I finalised the Kedarkantha trek!
Kedarkantha is in Uttarakhand and is part of the mighty Himalayas. Uttarakhand as a state is just so beautiful. So, imagine how surreal Kedarkantha would be! We reached Dehradun and were Sankri bound the next day. Sankri, a small village, is about 6 hours of drive from Dehradun. This is where our trek had to begin. We started our journey to Sankri the next day morning. Since the trek was in a group, we met few folks who were traveling with us. Beautiful Doon valley, snow capped peaks, awesome paratha breakfast and chai at Mussoorie welcomed us. I enjoyed the drive till Sankri thoroughly and we reached around 3.30pm. The guest house was a cosy little place and the first view that I got to see from here was that of Swargarohini mountain. As beautiful as you can imagine it to be, this was my first day of finding some peace within. Had a goodnight's sleep this day, thanks to the awesome quilt and delicious food as the temperature was about 11deg C or lower.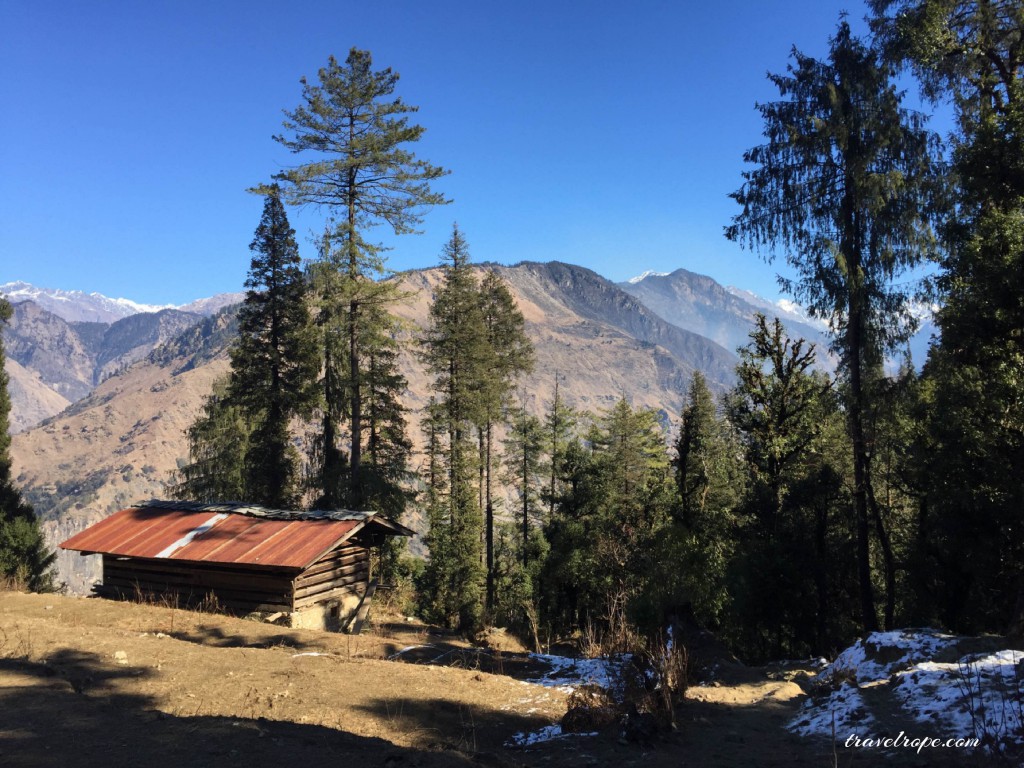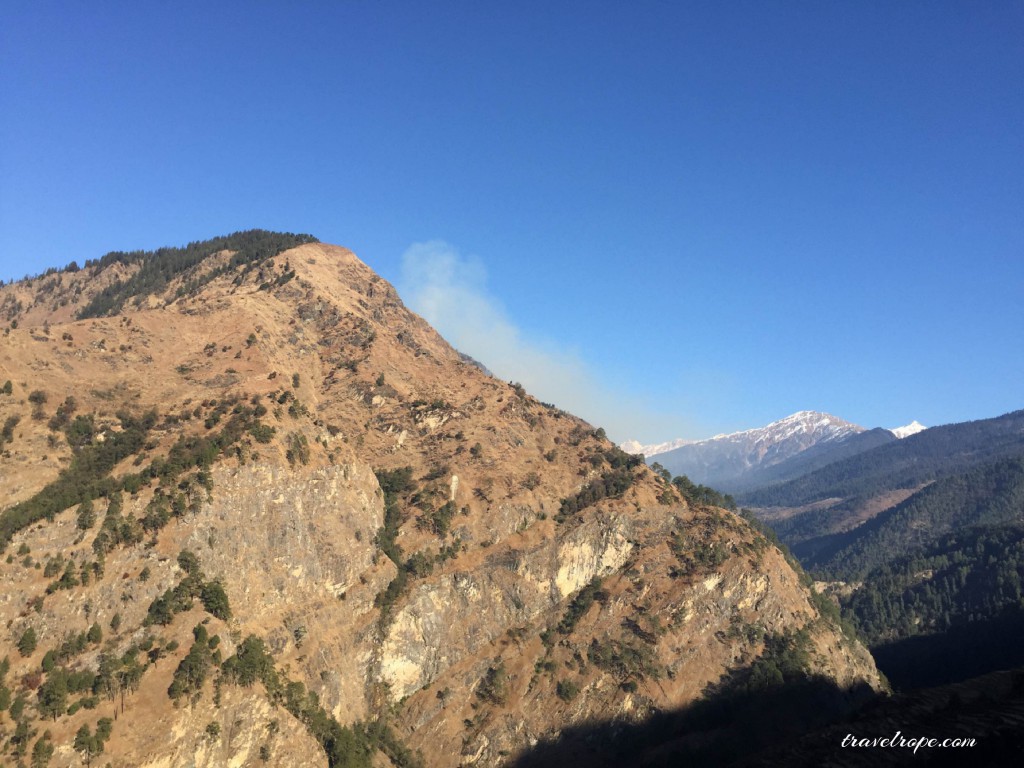 The next morning we all got ready to begin our trek. 2-3 layers as it was going to be sunny. I didn't know what to expect from this trek and I had decided not to see too many pictures or videos as I didn't want to lose out on discovering the place. The best part for me was, we had few doggie friends who had decided to trek with us. How can I not be more excited about this!
Day1: Sankri to Juda ka taal
All along the way until Juda ka taal, it was only ascend. This is where fitness comes into play. Ten mins into the ascend, you can already feel that you are out of breath, feel the weight of your backpack, would want to rest, your legs will start to cry and you start thinking if this is how it's going to be, given that you still have 4 hours ahead of you! And…. it's ascending all the way! No flat path to walk at all.. Day 1 can be difficult because you are still getting used to the terrains, getting acclimatised and understanding your body too. This is how it was for me as well. I thought this was not going to end. I was waiting so eagerly for every single break that we could get – be it filling the water bottles from the streams, stopping at chai points or breaks in general. I was one of the last few to reach Juda ka taal basecamp. It was only after 2 hours that I really started to enjoy my surroundings. Juda ka taal is at 9100 ft and this is where you will get a lake that is frozen. Most part of the lake was already frozen when we reached here. We were going to stay here for a night and the place truly felt out of the world. This was nothing like I had seen before or experienced before. Call it magical land, if you will. Reaching the base camp from Sankri takes about 4-5 hours.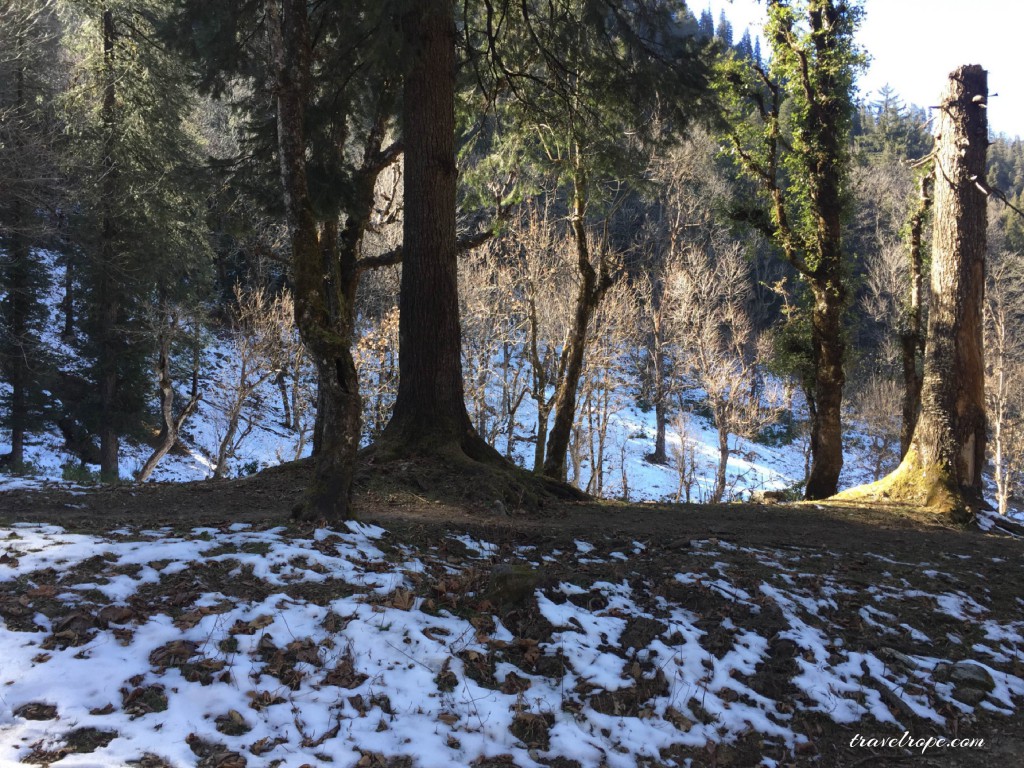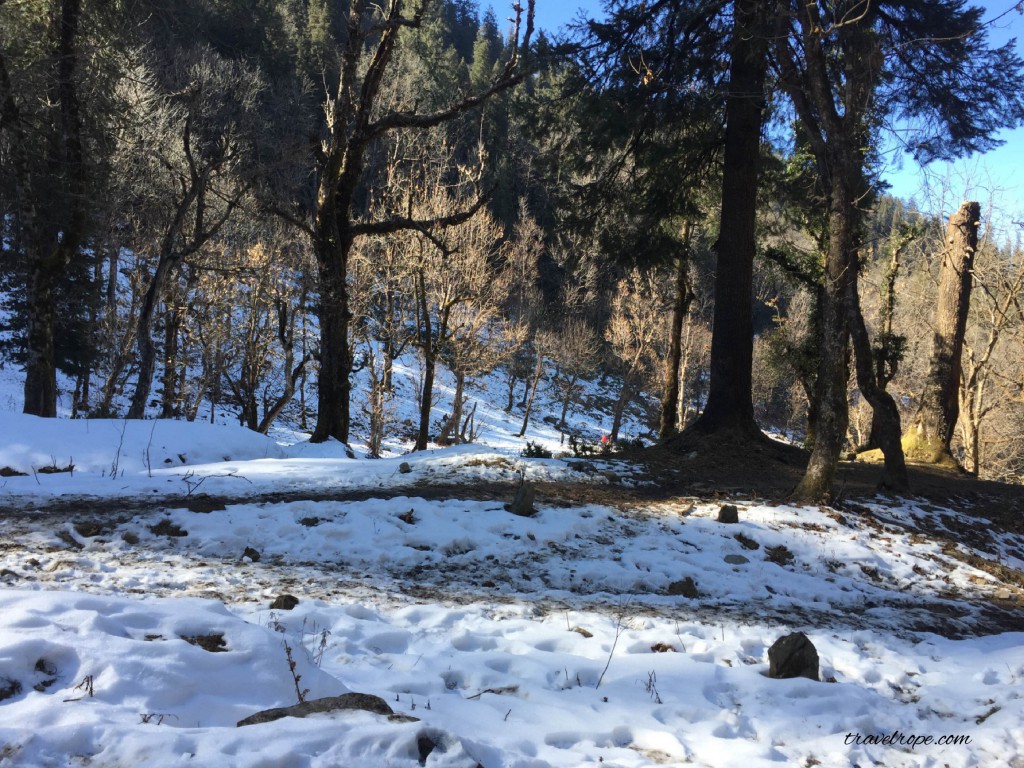 This was the day where we were told not to sleep or get into tents till dinner as we were to get acclimatised. We walked around for a bit and the landscapes here was just breathtaking. Pristine snow everywhere you look around. Our doggie friend, who we all named him as Shera (we all felt he looked like a lion), was running around like there is no tomorrow. You could just feel the happiness. Happiness is contagious! After a round of soup, it was time to check our oxygen and BPM. This is done to ensure everyone is doing alright. Post dinner, it was time to catch up on some sleep in our sleeping bags.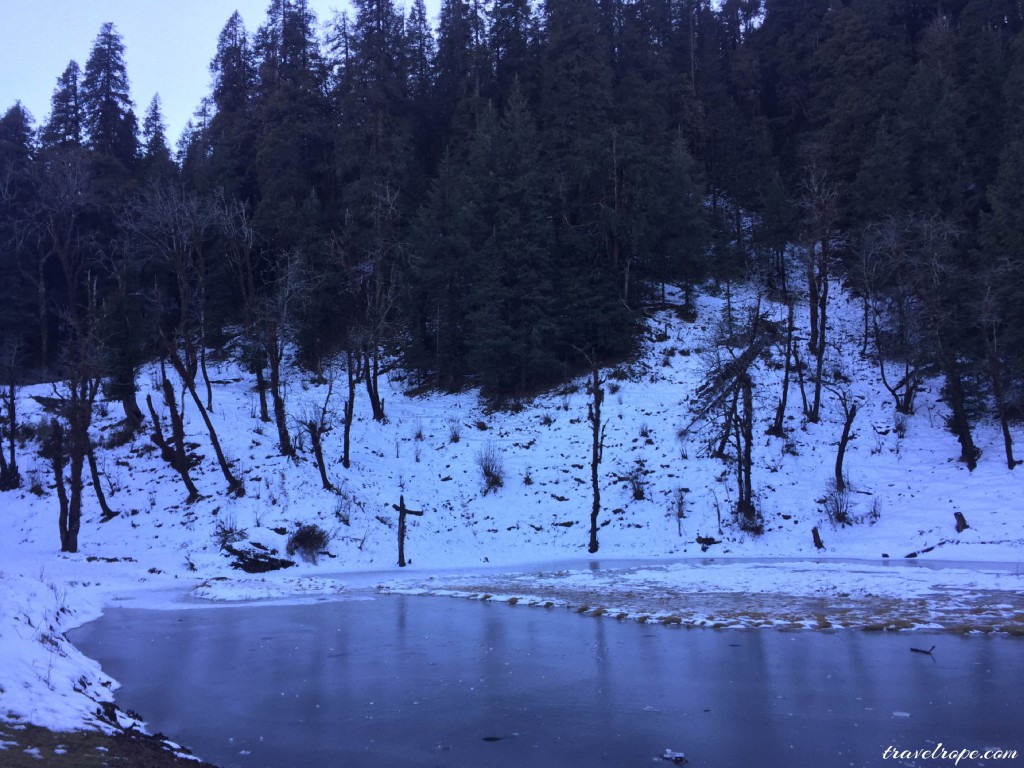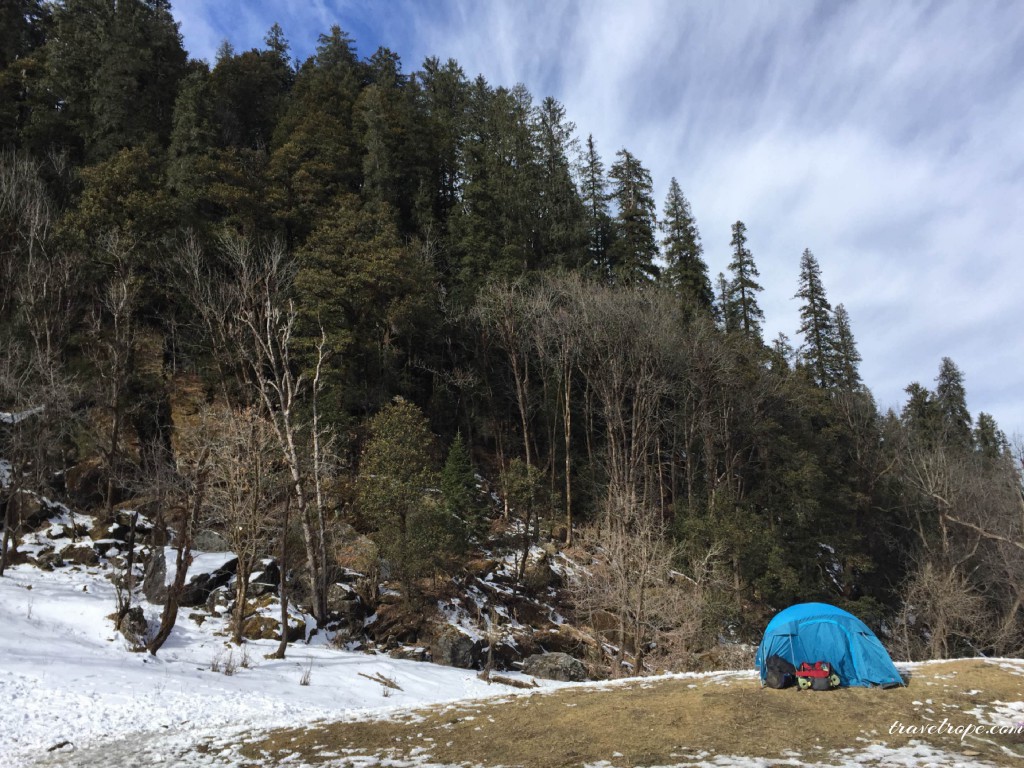 Day 2: Juda Ka Taal to Kedarkantha base
Post breakfast, we started our trek towards Kedarkantha base camp which is at 11,250 ft. Mostly ascend, we didn't feel too stressed this day. It takes about 2-3 hours to reach the base camp. Pine trees and lots of snow is what we got to see here. You know there are people around you but you are still able to get that peace of mind amidst the chaos. This is what I experienced here. I, for sure, forgot about all the stress that I had. I knew I was able to stay in the present. I could sense that I am actually able to sense every little thing. Basically I was more aware about myself than ever before. Once we reached the base camp, all of us explored the place, took a lot of pictures. But we did take a lot of time to enjoy each moment as well. This is where we were trained on using micro-spikes. This is required if you are on a winter trek in a snow filled place. This will give you the grip whether you're ascending or descending. Snow can be really tricky and if you fall, it can hurt like crazy too! More than anything else, there are places that are really narrow and get a good grip is a necessity.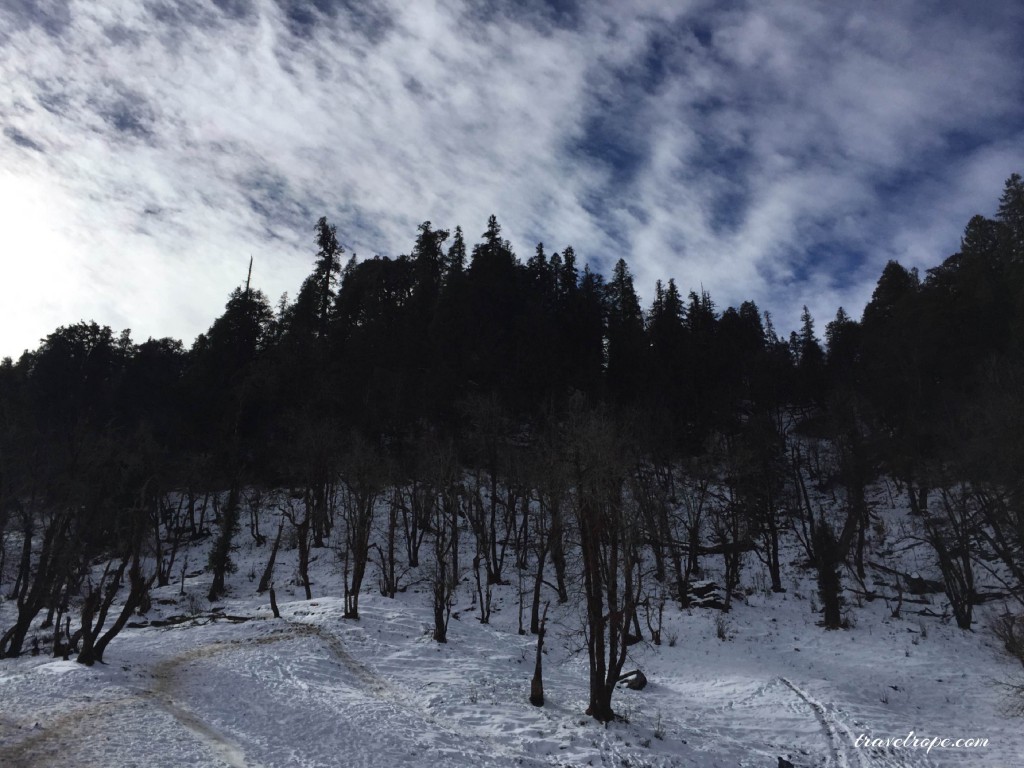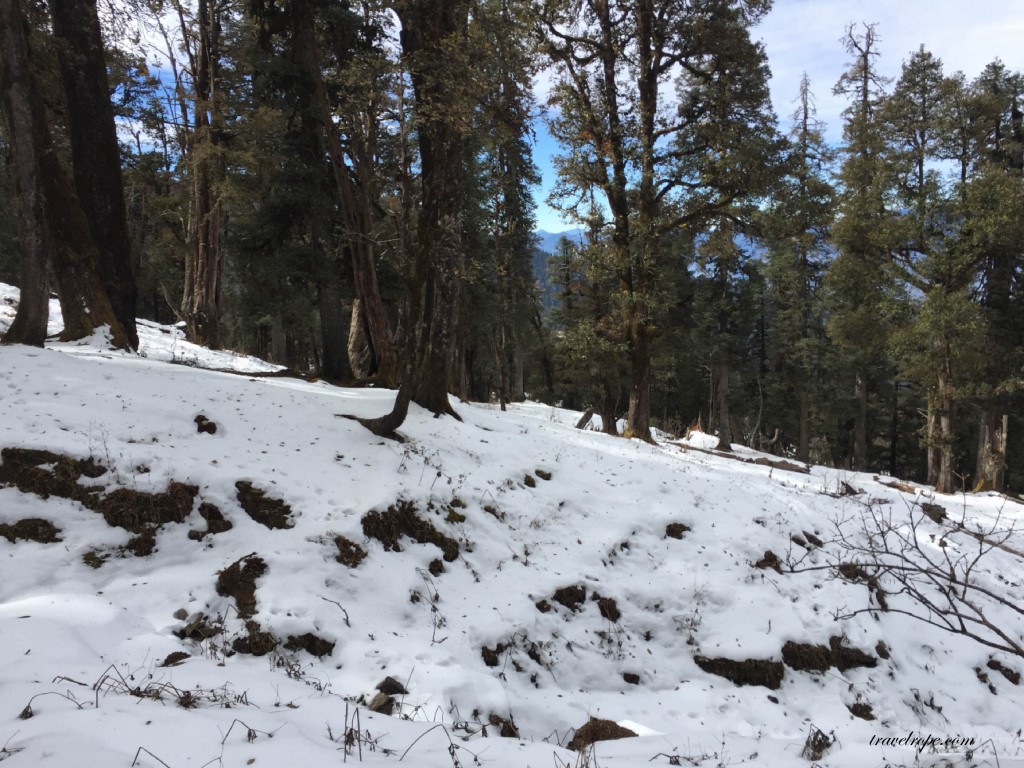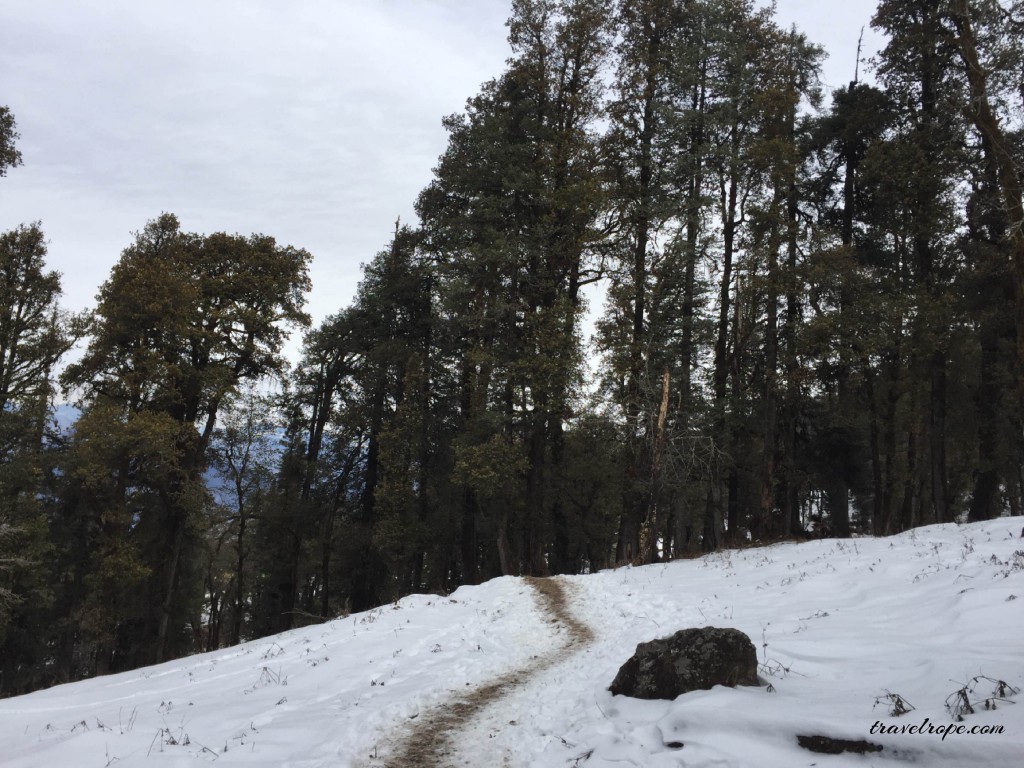 Day 3: Kedarkantha Base to Kedarkantha summit
We had to get up at 2am in order to begin our trek at 3am. I had never done this ever before! With about 7 layers, micro-spikes and headtorch on, we slowly started the trek. This was so surreal. I kept asking myself many times – Is this for real? Is this really happening? The place is as such! It was night, there was snow all around, there were tall trees and for most part of this trek people were quiet as some places were really narrow. This was also only ascend with little or no flat ground. The plan was to reach the summit for sunrise. It takes 4-4.5 hours to reach the summit. We kept ascending to take one break at a chai point. The temperature was dipping and as you keep climbing higher, the number of trees gradually reduce, thereby reducing the oxygen in the air as well. We trekked for some more time and by now, it was already 3.5 hours up. This is when I reached the shoulder of Kedarkantha. It was just a steep ascend from here. I still have those moments so fresh in my memory. It's almost like a video playing in my head, right now too. I cannot tell you how freaked out I was over here. I felt that this could perhaps be such a big mistake that I had made. There was no turning back as there is place only for one person. You have to move as people have lined up behind you. You are not able to move ahead as you feel that you will slip and fall down! At this very moment, there were such strong cold winds blowing that I felt I am just going to get carried away by these winds to be eternally present somewhere in Kedarkantha. This is where our trek leads and people from my group helped so much. I'm so indebted to all of them and forever grateful. The trek leads kept encouraging me and told me it's going to be ok. They were there to help me reach the summit. Every other step that I took, I kept telling that this is not something I can do. I wanted to quit. But it's only because of our trek leads and few people in our group that I made it. No wonder I couldn't control my tears on reaching the summit. Mixed bag of emotions – I thought I would quit but I made it somehow, I was seeing the sunrise, I saw sun and moon together, just the sheer beauty of the mountains, the fear that had grappled me, the astonishment of how nature can be, worried that my better half was yet to reach and wondering how he is doing out there, happiness of seeing him just after few mins, seeing our Shera relax with us.. this will always be one of the most memorable moments of my life and an important one too.. I understood myself tad a little better this day and that is a big one for me.. Temperature at the summit was -18 deg C.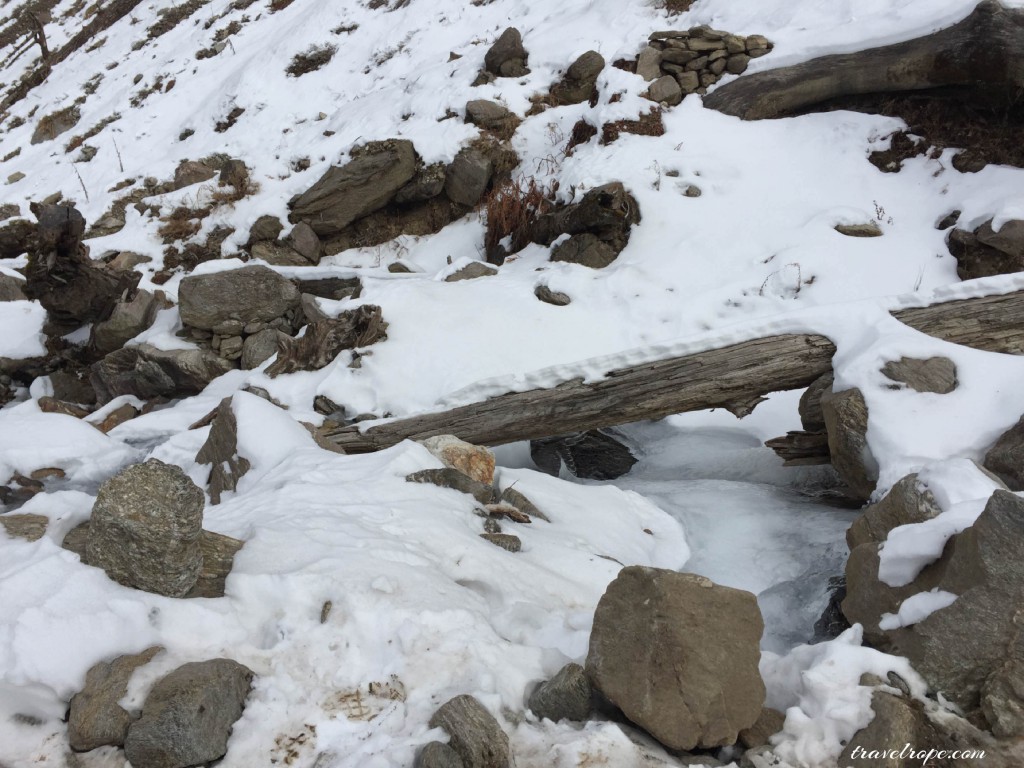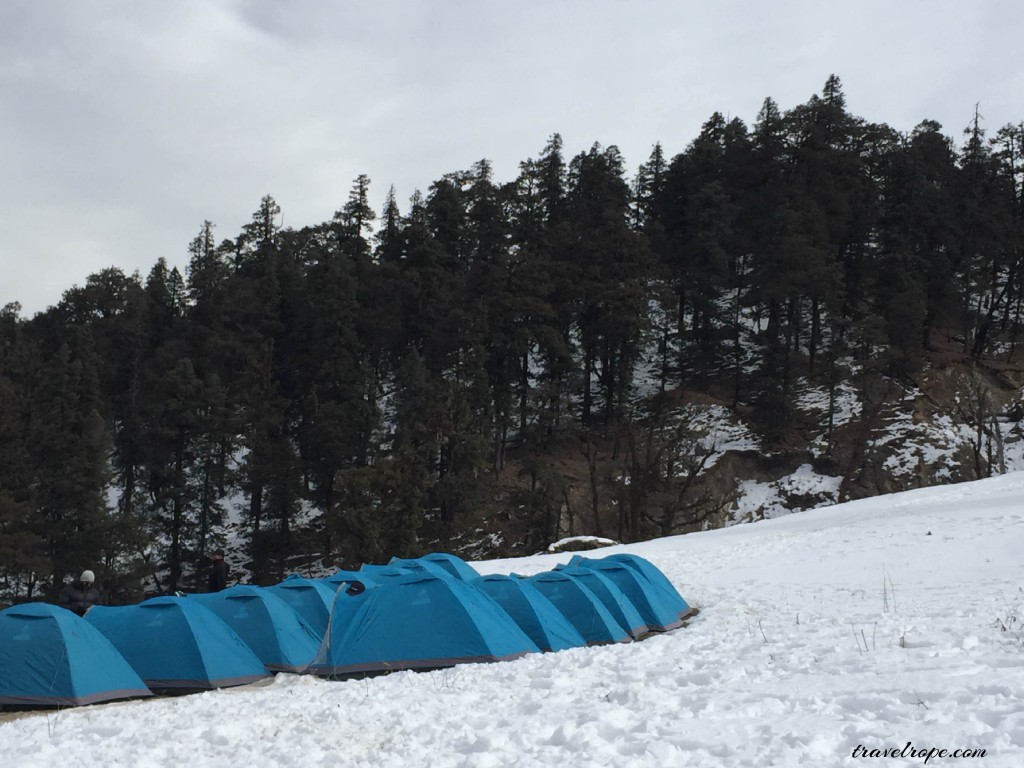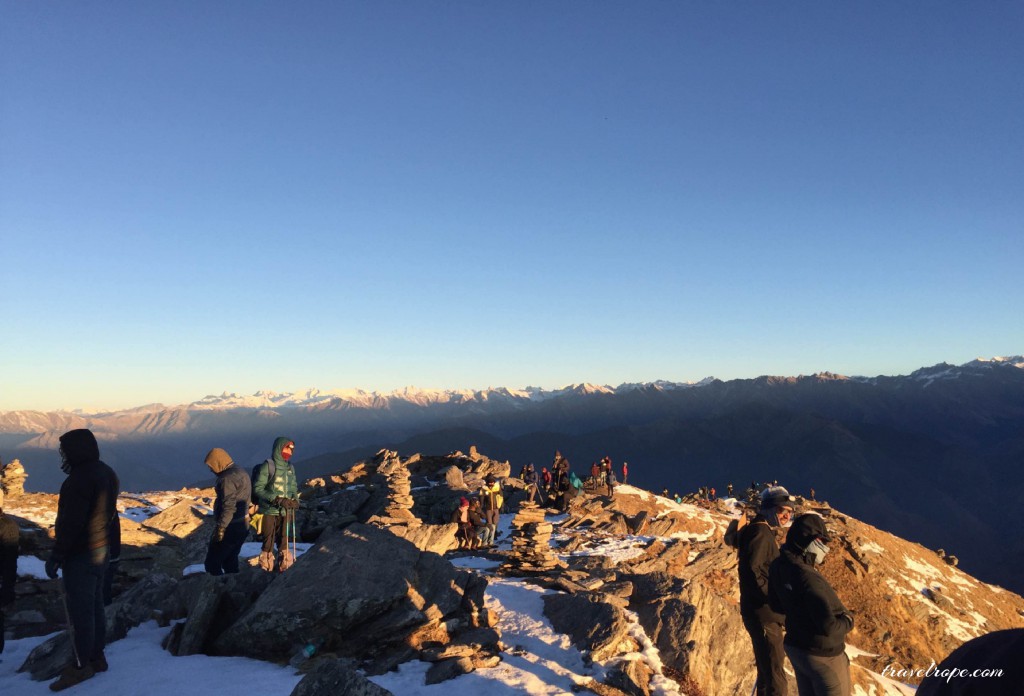 After the summit, we trekked for another 3-4 hours to get back to Kedarkantha base camp. We still had more work on this day. Post lunch, we started descending towards Hargaon basecamp. We stayed over at this basecamp. As a treat, we had gulab jamun as a dessert for dinner.
Day 4: Hargaon basecamp to Sankri
We started as early as 6.30am and it takes about 4 hours to reach the guest house at Sankri. Some places can be very steep while some are quite easy. After a final cup of chai at one of the maggi points and few more hours of trek we reached Sankri. We had decided to head back to Dehradun the same day. We took rest for an hour or two at the guest house before leaving for Dehradun.
What a trip it was! This is easily one of my most memorable trips and will be so close to my heart. Heartfelt thanks to our Trek The Himalayas trek leads – Mannu bhai (Manoj), Pankaj bhai, Jaspal and Yashpal. So thankful for all their help and support. They're just so amazing!!! Our trek group was also super fun – I think this is another reason for me to like it so much more.
People often tell you can talk to nature. This time I did and how! It was more of a spiritual experience and loved the gamut of emotions that I went through. Kedarkantha taught me some lessons for life. Forever grateful!