Rohtang Pass at an altitude of 13050 ft is the third highest Himalayan mountain pass I have been to! Out of all the places I visited in Himachal, this one had some hitches and glitches. Here's why… National Green Tribunal has restricted total number of vehicles going from Manali to Rohtang Pass to 1,000 per day and each vehicle has to get a permit. Our travel agent had not got the permit well in advance and we were told that we have to get it ourselves and there was no guarantee of getting one unless we reach the office very early in the morning. While we were thinking of ways to make this trip happen we got to know that the hotel we were staying in, organises trips for its guests at an affordable price! Glad that we won't be missing the most important place on our itinerary, we prepared ourselves for a very early start the following morning.
We started from our hotel at 5 AM with few other tourists from the hotel. From the research I had done before the trip I learnt that Rohtang literally translates to 'pile of corpses' and the road leading to Rohtang was listed under one of the most dangerous roads in India. Knowing such facts makes the trip all the more exciting!
Rohtang is around 50km and a little over an hour-long journey from Manali. On the way we made a quick stop to hire ski gear. This is not necessary if you are in enough layers of clothing, leather boots, and gloves as insulation. As I stated before, this would be the third mountain pass I was visiting, I had an idea on how the roads would be and what to  expect when the altitude increases. Like last time I had not taken any pill unless I thought it was really necessary and I fared pretty well. No headache, no squeezy feeling, just excitement!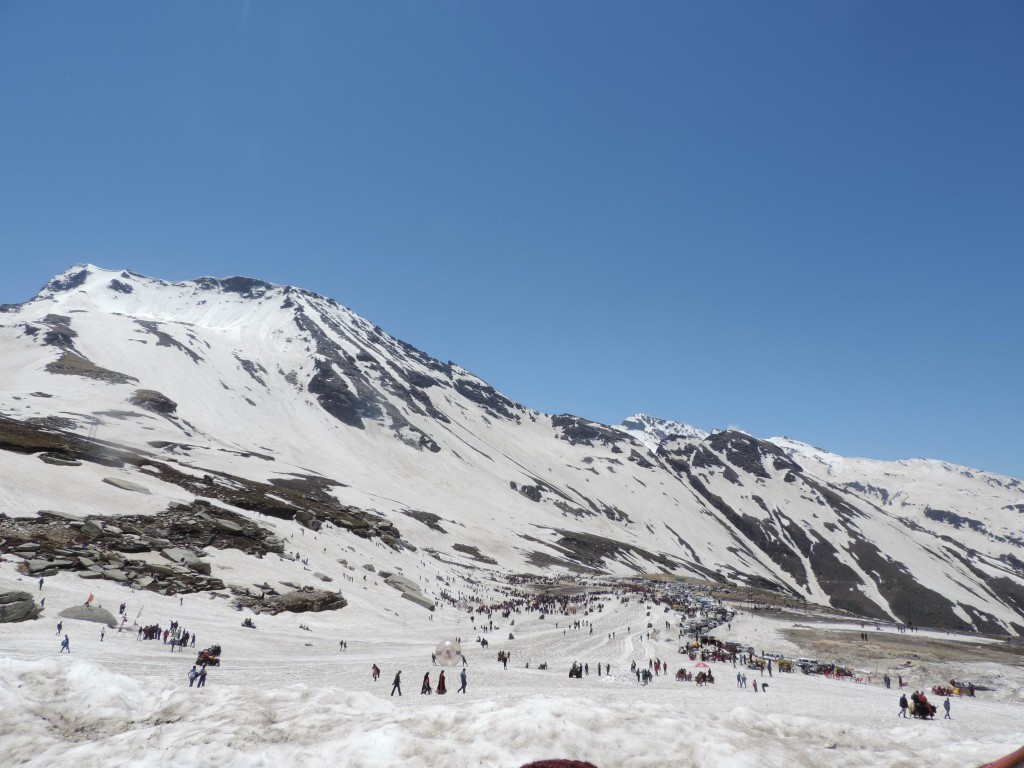 This was our first time experiencing snow and ski slopes. The panoramic view of the snow-clad mountains was breathtakingly beautiful. Stunning changes in weather leaves the people in awe. From bright and sunny to foggy in few minutes.  It was disappointing to see the mountain base pretty messy and that's when it dawned on me why NGT has a restriction on the number of vehicle going to the pass. I thought the step was required before the snow gets vanished from the glacier.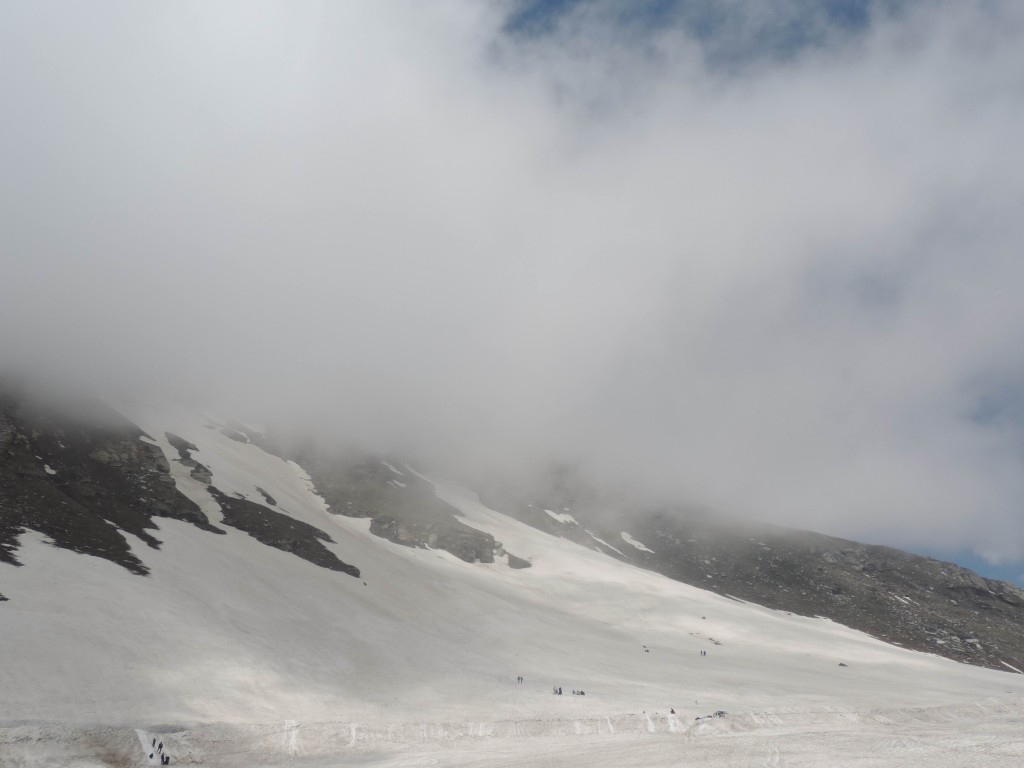 Skiing is the most popular sport, apart from snow biking and tyre-tube gaming available in Rohtang since it is covered by snow most part of a year. Treading towards the ski point, we saw an igloo like stone structure visible from a distance. A board pitched to snow read that this place is called Beas temple, apparently where the river Beas originates. Maharishi Vyasa observed 12 years of penance after which the river rose. Thus the river got its name, which is a misnomer for Vyas.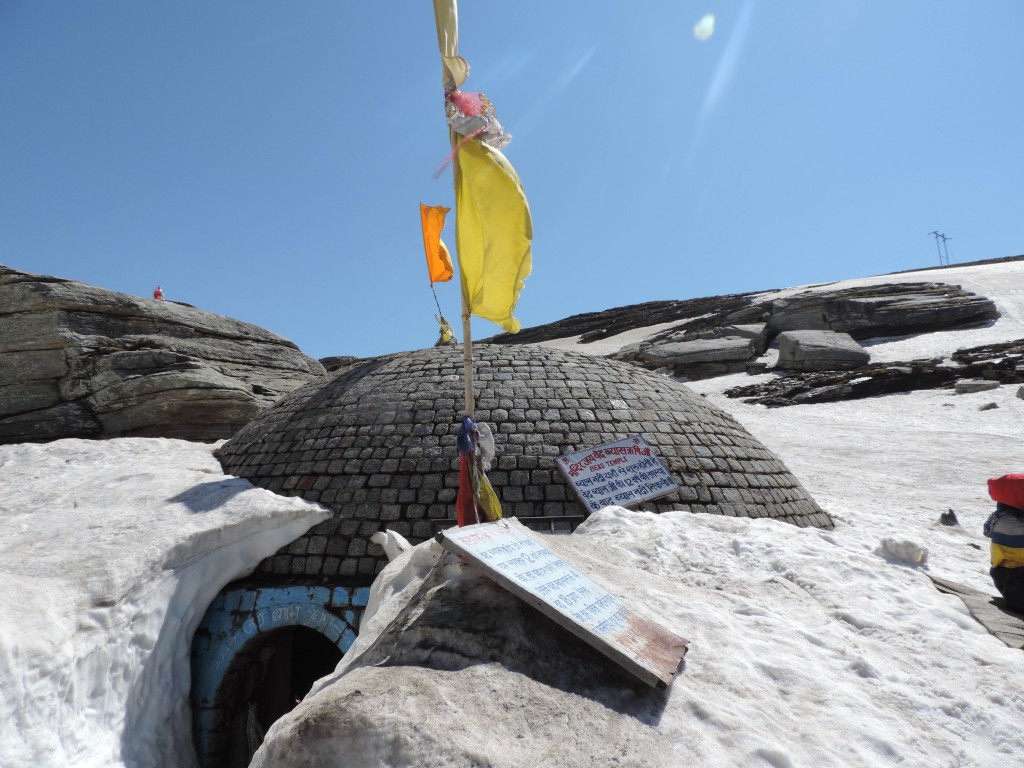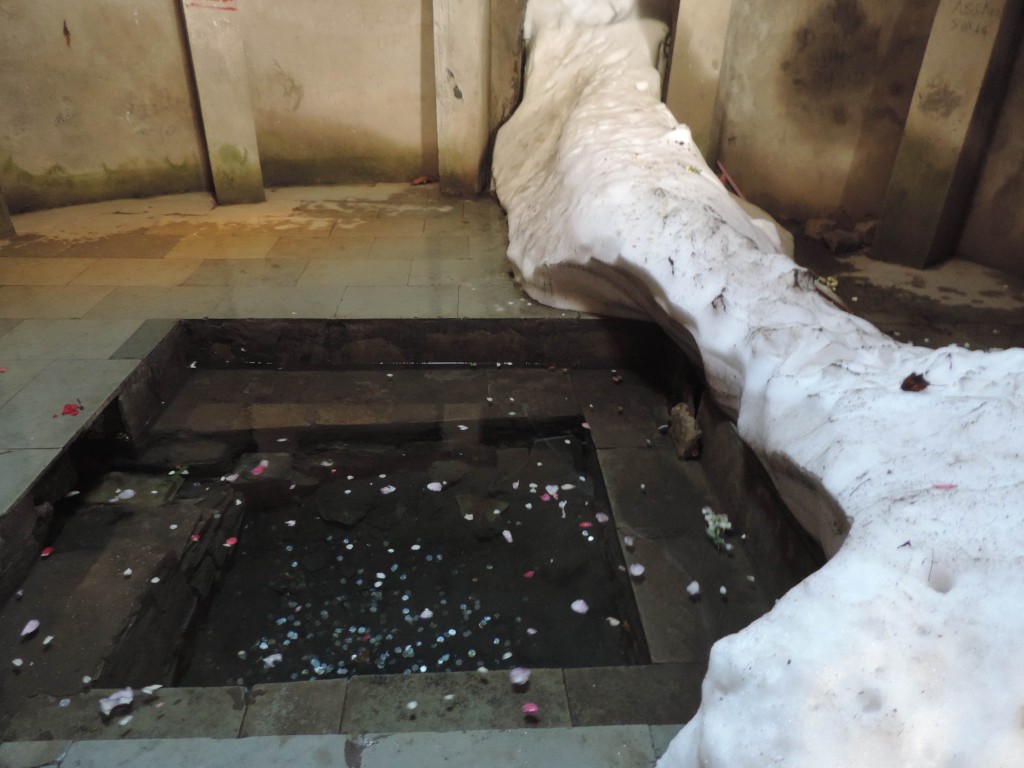 There were many coffee, tea and soup vendors selling their beverage. We ate tomato soup and were glad we did because it gives you instant energy, feels really good to have something hot and spicy up there when we were chilled to the bones.
Next up, the very exciting skiing! We had hired a guide who taught us all the techniques involved to ski on a gentle slope. The bindings which locks your boots to the ski is really heavy and is pretty difficult to walk in them. Wonder how many kilos it weighed!

So our celebrity guide taught us how to balance ourselves on the ski, the way our knees have to be bent to prevent from falling and the angle your ski should be in to facilitate sliding.
Aah, I said celebrity guide because we were told he has acted in many Bollywood movies and has trained actors and actresses who have skied here for movies! I have to admit he had immense patience. Every time we fell, he explained us with all his patience. Your adventure only gets better when you have a good guide. After multiple trials and much more falls and even more laughter we got off the bindings only after clicking enough pictures. If only skiing was as easy as posing!
Generally any guide would have called it a day after this. Our guide being the good guide took us trekking on another slope, leading to Manali-Leh highway. This is another famous spot of Rohtang as a song from the movie 'Jab we met' was shot here
So after some more posing for pictures against the ice walls, we were delighted to find a makeshift tea stall by the highway. It wouldn't be an exaggeration if I said I tasted the best tea ever, up there at that altitude. The tea-seller was also making Maggi noodles and though we all were well aware of the ban on the noodle brand we couldn't care less and wholeheartedly enjoyed the most loved Maggi masala noodles. The hot and spicy noodles clubbed with delicious tea produced more breath vapour. The most satisfying simple pleasures life has to offer.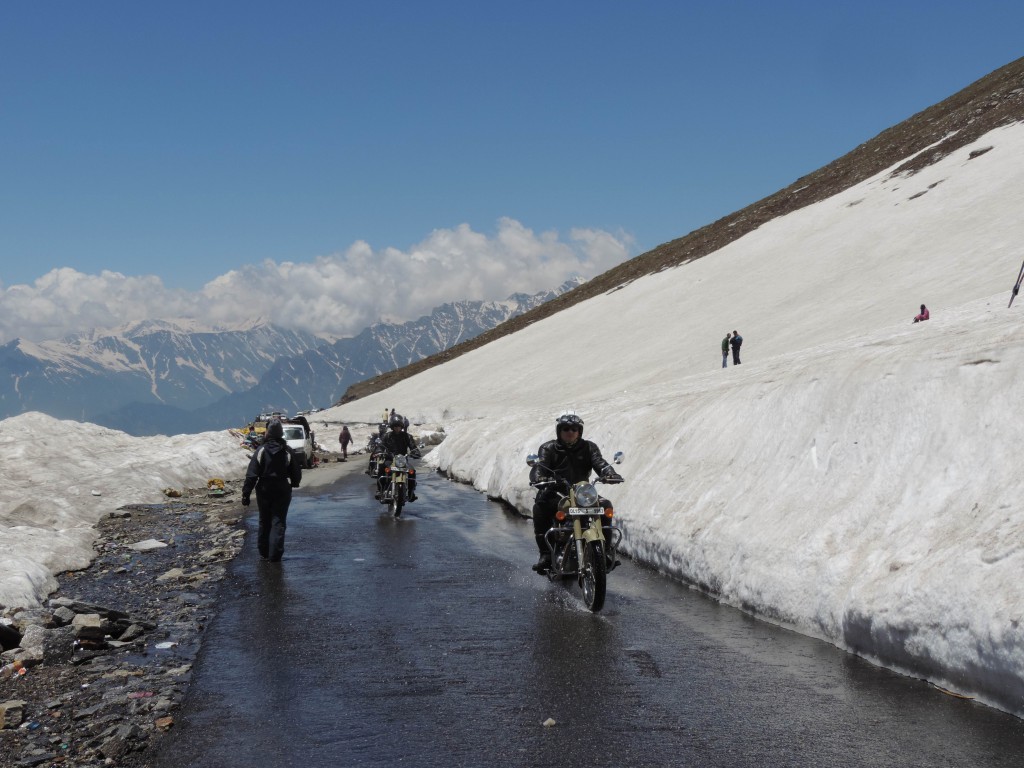 Thus another adventure trip came to an end. The journey back to Manali took way too longer than it usually takes because of traffic congestion along the single lane. We could see many passers-by riding horses, bikes and many more stuck in traffic, sitting helpless in their cars and then it got me thinking, I enjoy the terrains more than the seas. High altitudes are for me!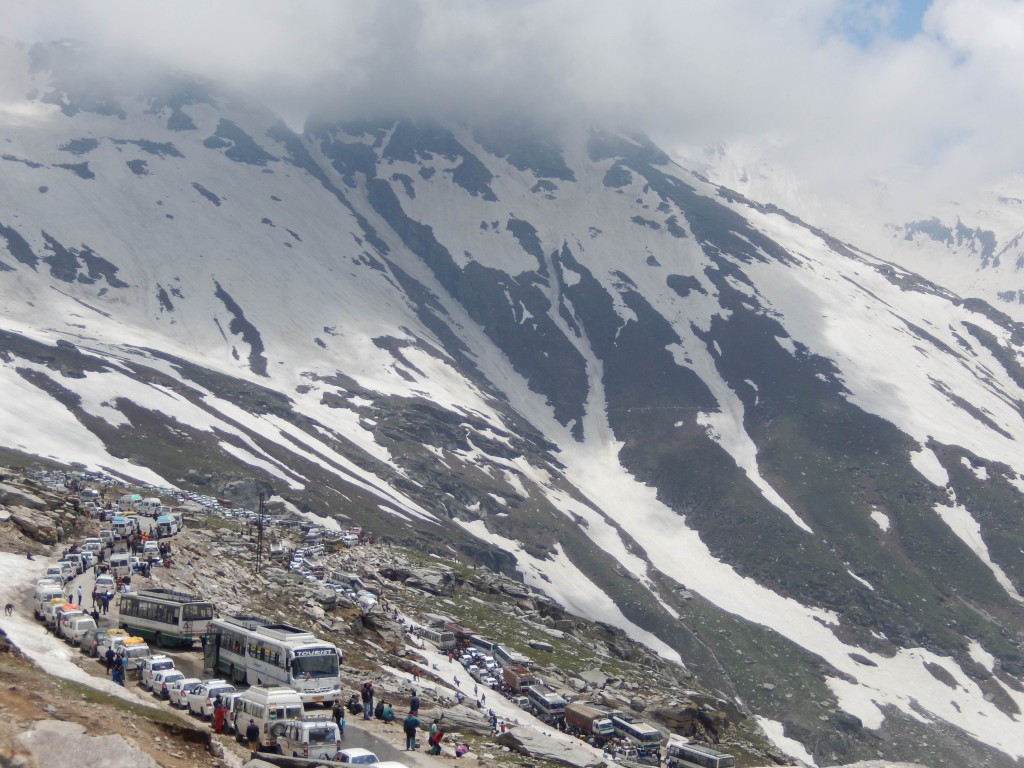 Author Info :
Madhura is a Software Engineer by profession, an avid reader and a leisure traveller who also loves programming. She believes writing is reliving all the awesomeness once again and with that thought, started a humble blog to share her travel experience and promote travelling. She wishes to travel the world some day.
You can find her musings at https://madhurab.wordpress.com/