I was at the land of Hoysalas and boy, I was so overwhelmed the moment I stepped into the premises. I have always said that places are like people. You gel with some while you don't with some. It can't be true that you will end up liking each and every place equally no matter how much efforts you put into your travel research. So, Halebidu worked its charm on me.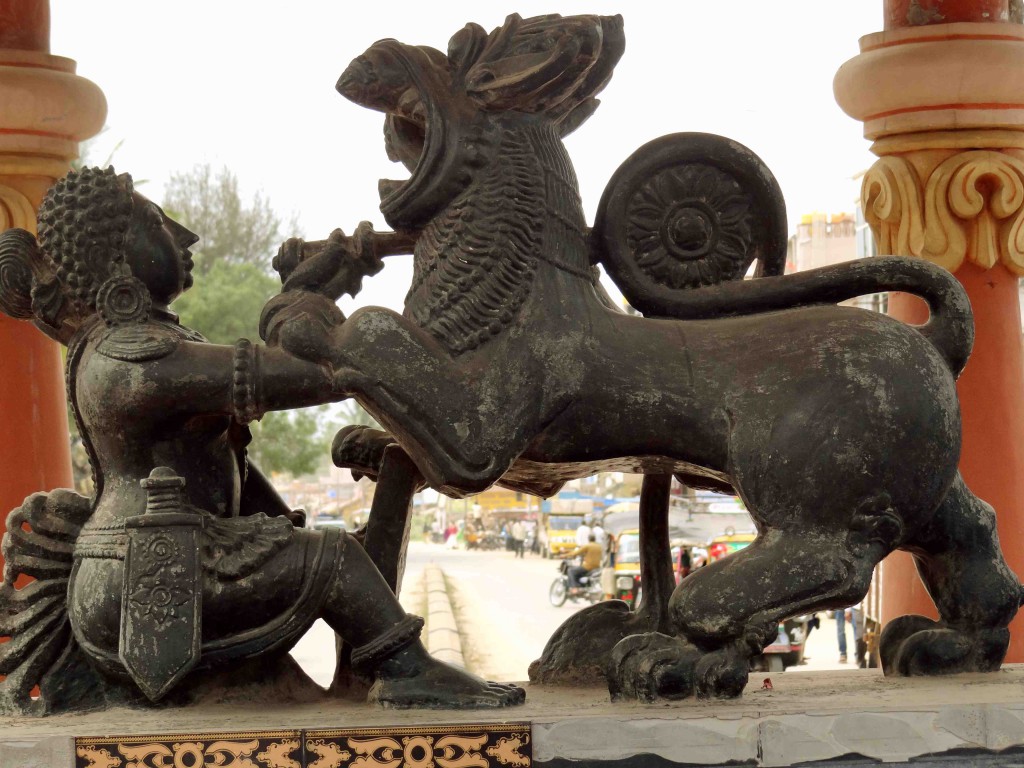 Just to give you a very brief insight into who the Hoysalas were, they were one of the main rulers down South India. The name Hoysala came into picture because of King Sala who laid foundation to the Hoysala dynasty. King Sala fought a lion bravely in order to save his Jain Guru Sudatta Muni. His Guru told "Hoy-Sala" [Sala, go and strike] when the lion attacked. Hence the name Hoysala. Halebidu was earlier known as Dwarasamudra. Since Malik Kafur attacked the place twice,it came to be known as "Haalada Beedu" [ruined place] or "Halebidu".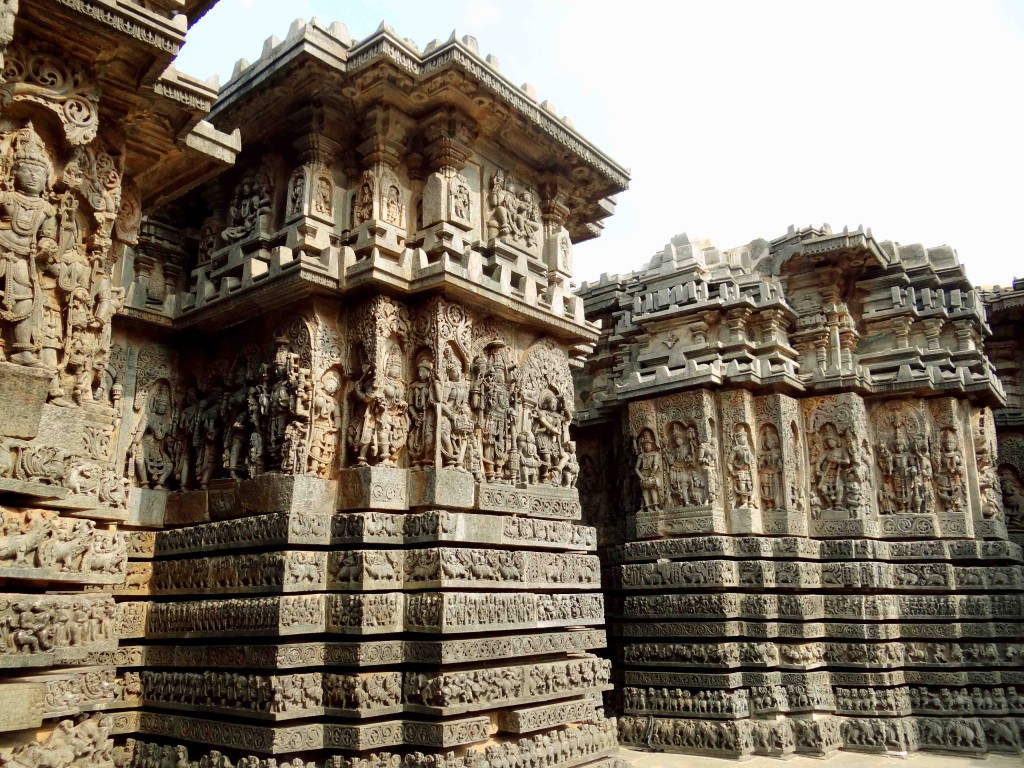 The entire temple complex is so stunning. It houses Shantaleshwara and Hoysaleshwara temples. Both dedicated to Lord Shiva. If you notice in this picture, there are a variety of sculptures. These are done throughout the complex. The elephants that have been carved are 1248 in number and not even a single elephant carving are alike !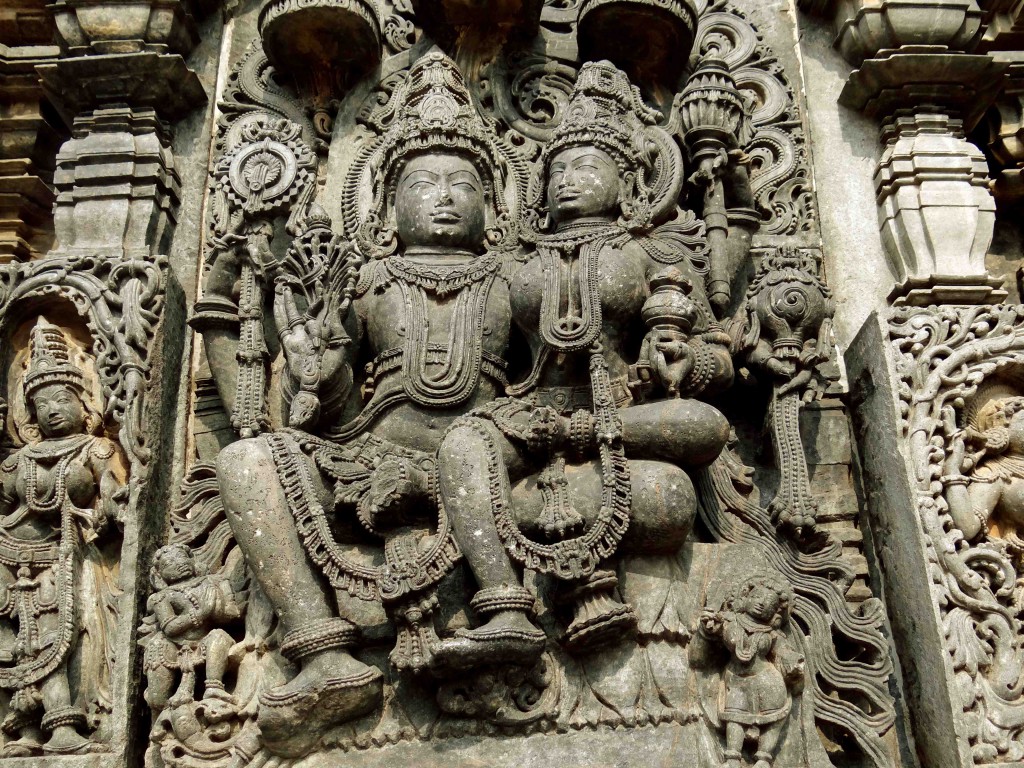 It took Hoysalas a good 192 years to complete this temple complex ! Talk about dedication and perseverance. This statistic was enough to floor me ! The complex was built using soft stone. It is just so amazing ! Minute details have been taken care of so beautifully.For instance, take a look at the garland that's been carved here in this picture. If I were to draw in a piece of paper also, I don't think I could make it this neat.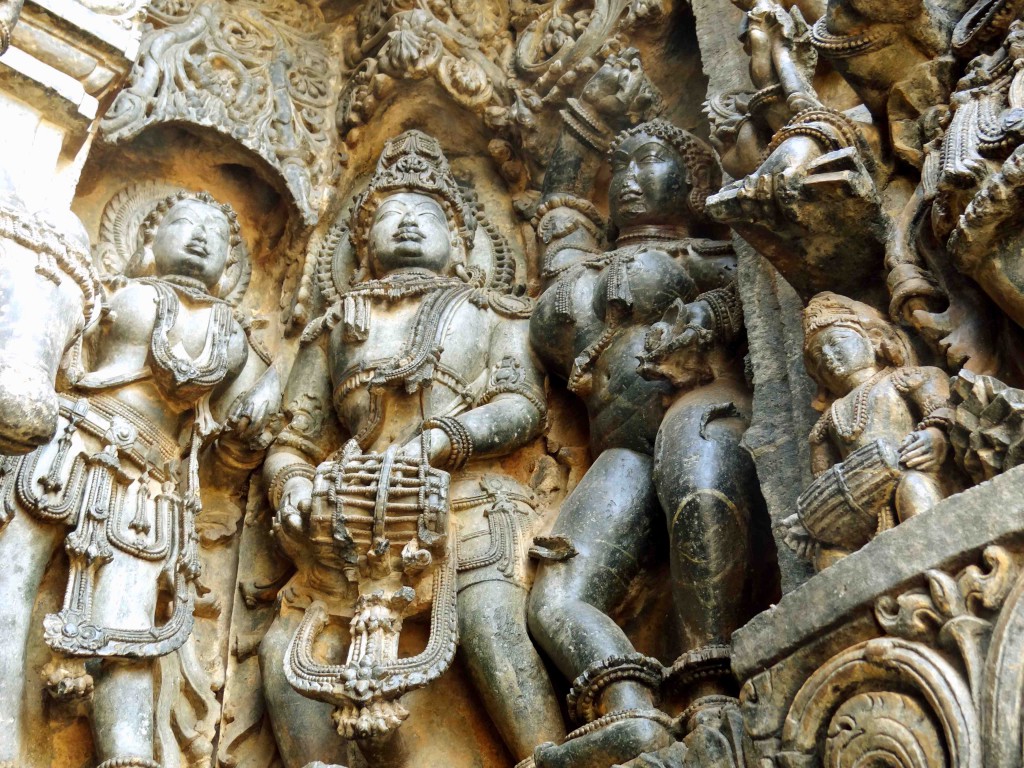 One more instance to appreciate their workmanship would be to check this "damru". You need to take a closer look at how they've depicted the threads that have been tied to the damru !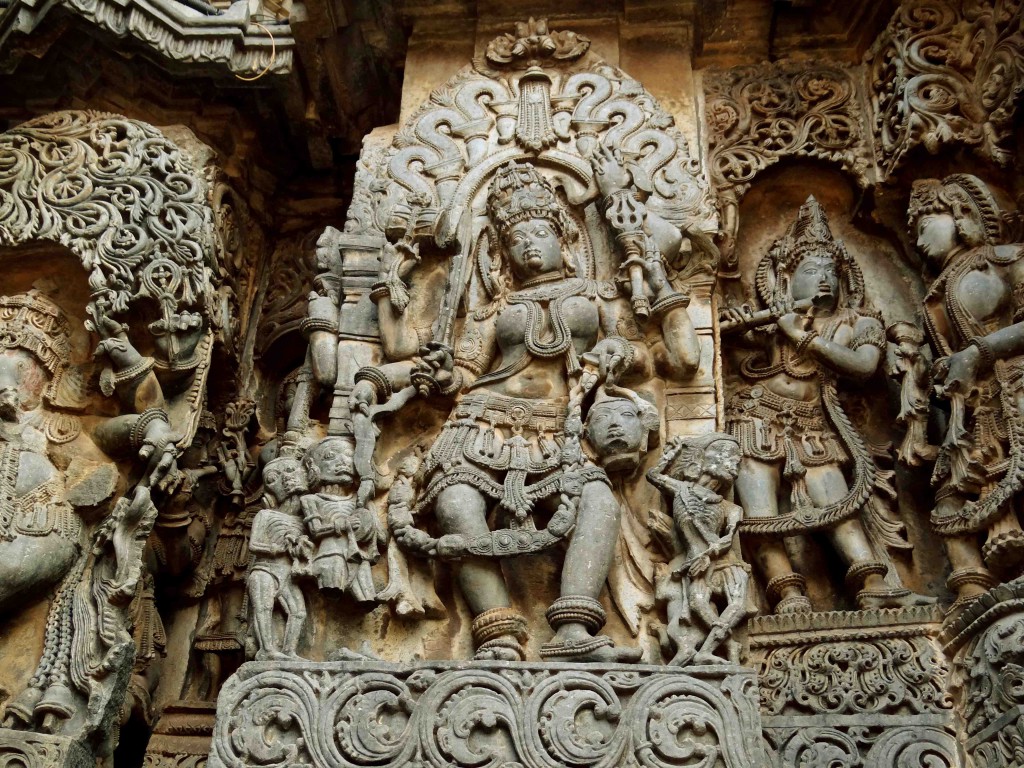 This has to be one of the most beautiful "Goddess Kali" sculptures that I've ever seen. The other favorite Kaali idol of mine is at Ambalpaadi in Mangalore. In order to know the details, you need to spend a couple of minutes on each picture. Then you wouldn't need any of my explanations. So many details in this picture ! Demons, Skull,dog jumping,garland made of skulls ! This was such a sight for me !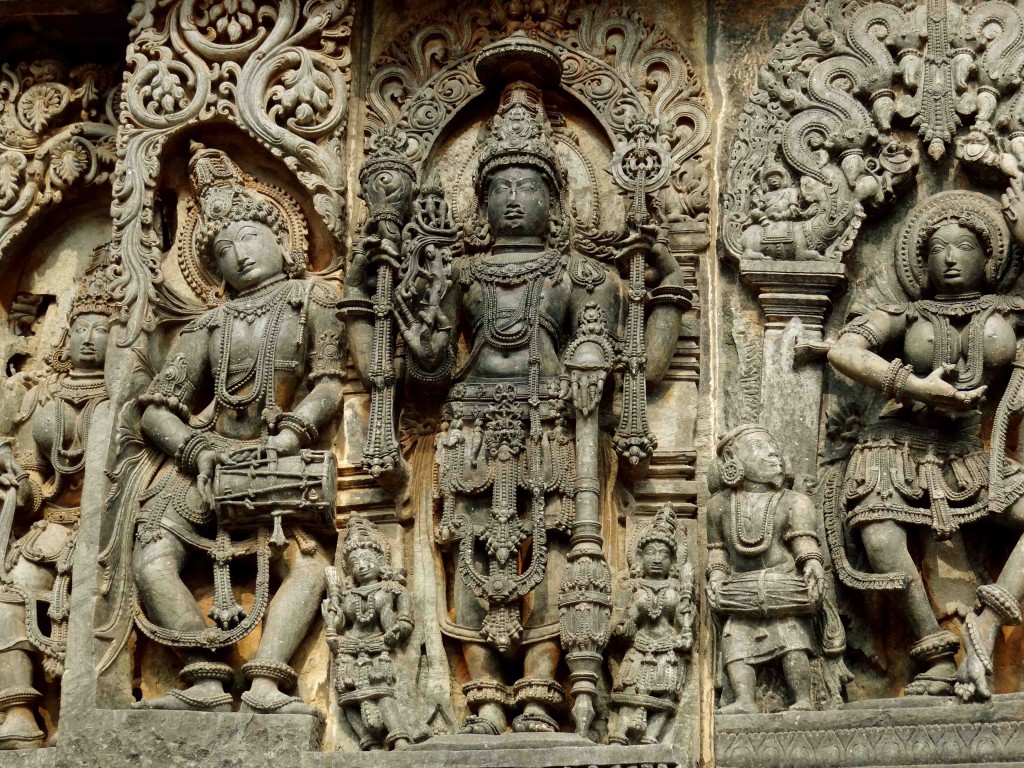 This is Lord Chennakesava [handsome Lord Vishnu]. The main Chennakesava temple is at Belur. A few kilometers away from Halebidu. The dancers have been depicted in such a heavenly manner ! Being here felt as if I was having my favorite ice cream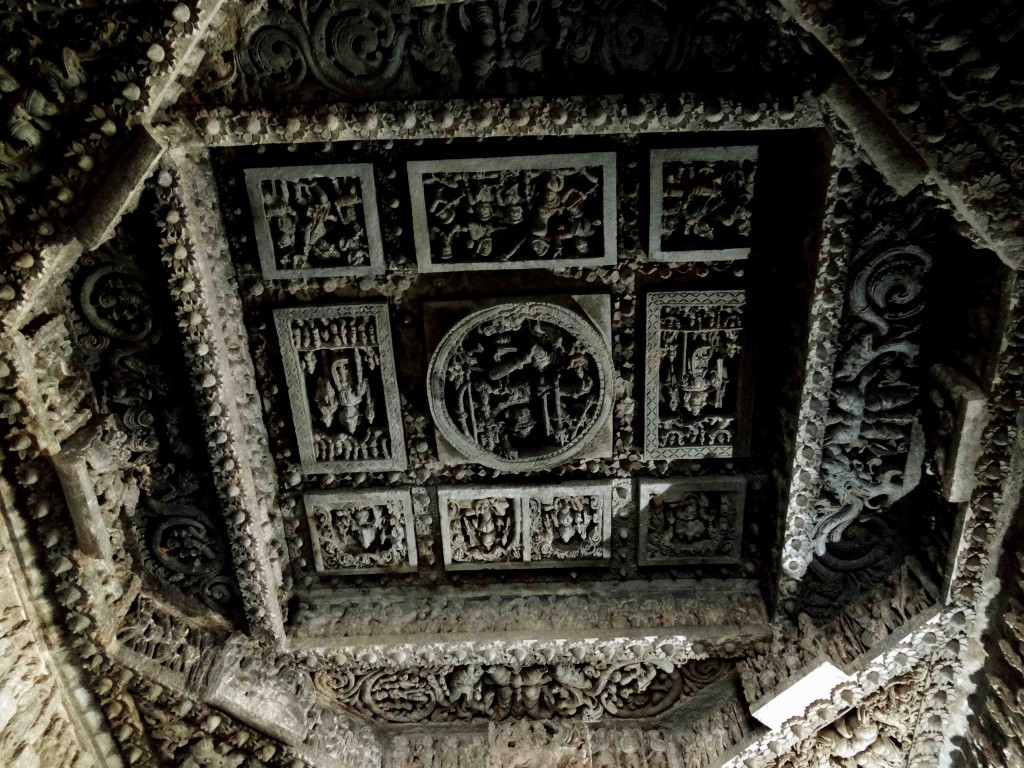 Sculptures were not entitled to the outside are. It was taken care in the interiors as well. This is one of the rooftop carvings. There are stories from Mahabharata depicted so well. All the pillars inside the temple are not alike ! There are hundreds of pillars by the way.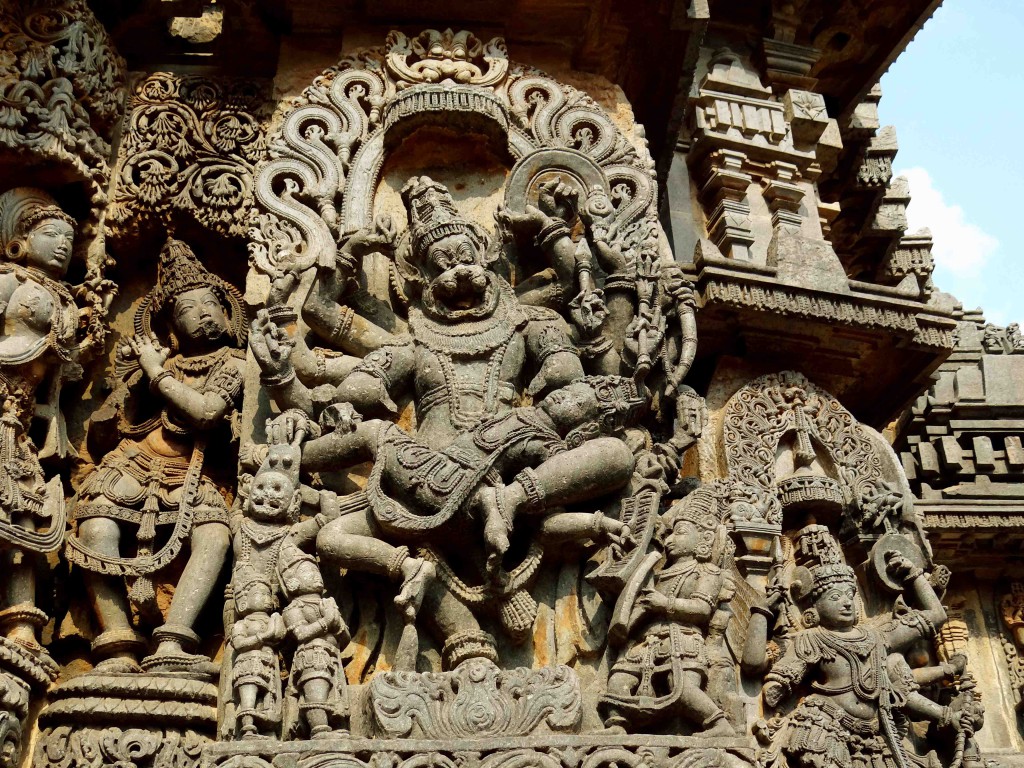 Depiction of Lord Ugra Narasimha killing Hiranyakashyapu. In the left hand side bottom most corner, you can see Prahalada and his mother Kayalu.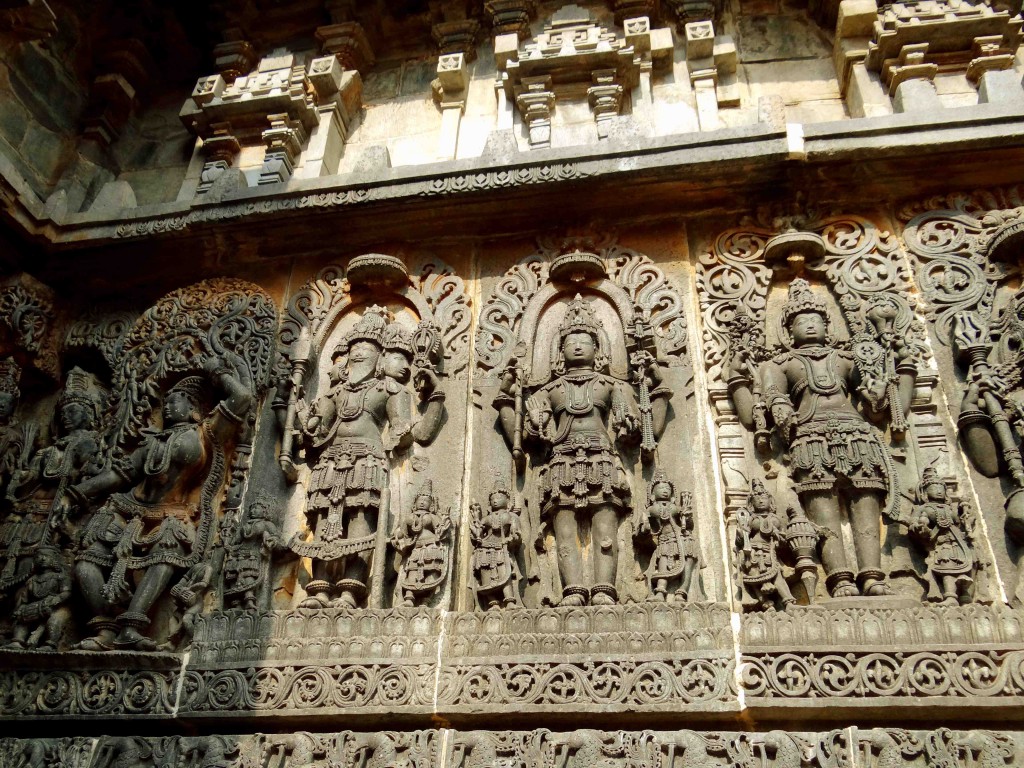 Lord Brahma, Lord Shiva and Lord Vishnu [left to right]. Here, Lord Shiva has been placed in the centre as this temple was built in his honor.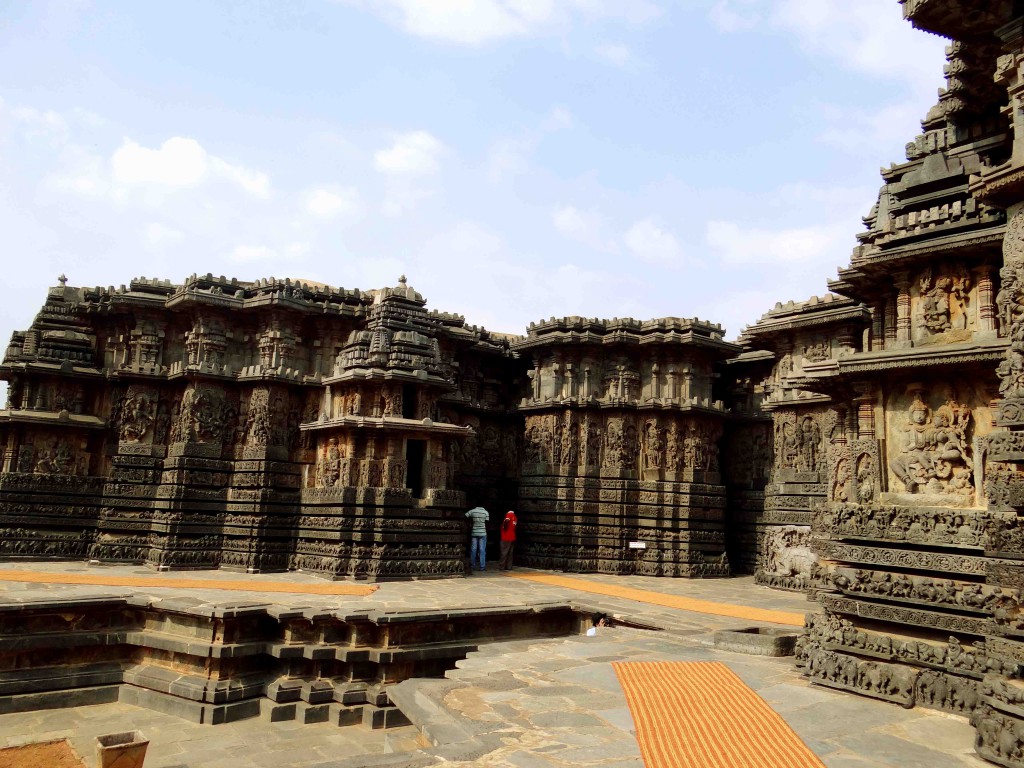 Hoysalas always constructed their structures in a star like shape. This was done so that it gives them more surface area to make sculptures. Ain't it such a beauty ?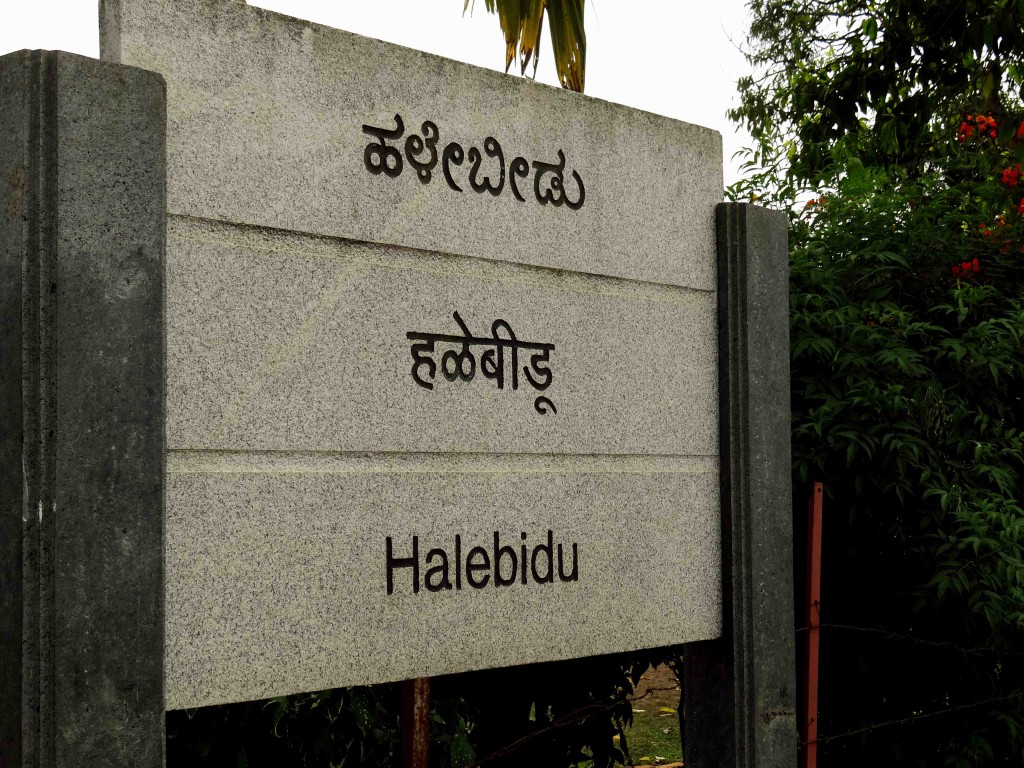 Halebidu is one place I strongly recommend you to go and explore. It is stunning to the core and without a doubt will mesmerize you whether you like places of historical importance or not.
Cheers,
Travelrope-Let's Head Out