Nikhil  (referenced as Dada in many places) and I planned for this ride for 4 months before we actually got down to it. What started as a practice went on became my passion! It took dada around 3 months to finally buy a bike and he rode that only once for around 70kms and previously he had done only one 100k ride.There were couple of more friends who were initially part of the plan but later on backed out. We both were so firm that we have to do this ride that we were even ready to ride solo! Just before the D-day, I had a nice sleep with all the excitement and slight nervousness. Finally the day arrived…
Day 1  Home to Murud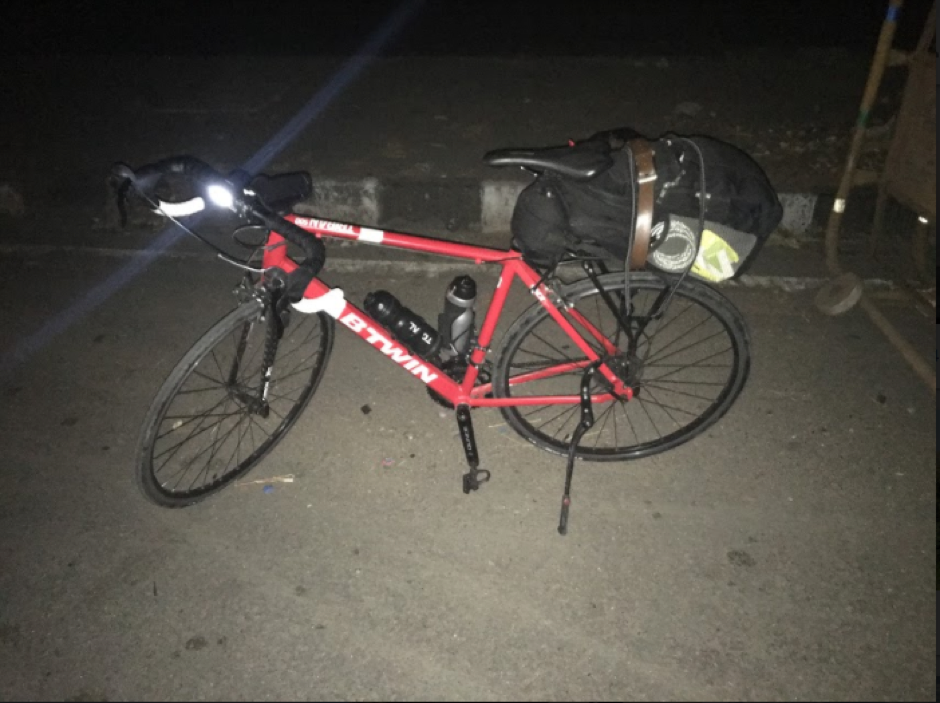 As planned, we both left from our respective homes around 5 – 530 AM in the morning to Gateway which is around 45-50kms from our place. Dada was coming from Thane and we had our first meeting point at Pumping in Mumbai.
We started our ride with heavy bags tied to our racks and reached Gateway without much efforts.
To our surprise, there were more than 300 people standing in queue for the ferry but we (cyclists, there were 3 other folks who were going to Alibag on cycle) got a VIP entry, bypassed the line and within no time we were in ferry, cycles tied safely.We reached Mandwa around 10.45 AM on a Saturday. As it was not hot at the time, we were back on saddle and started our ride to Alibag.We had some tender coconut water which has to be by far the best and also the cheapest that I have ever had.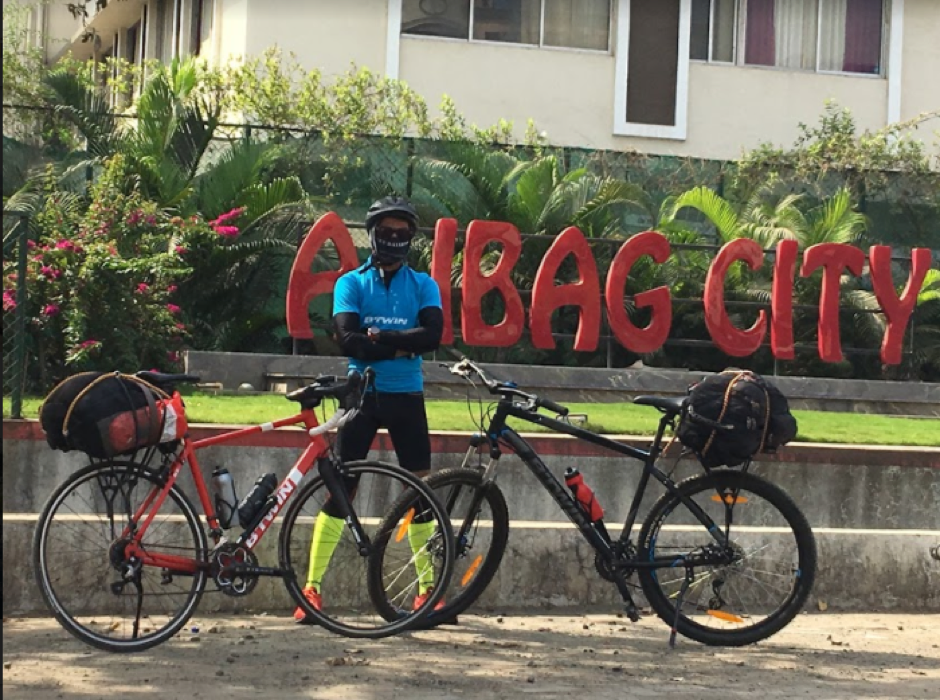 We did couple of photo sessions and skipped Alibag beach as it's not that good. We then proceeded to Revadanda fort and on the way we saw many oil machineries carrying oil and other stuff.. On reaching the junction of the fort, locals advised us against going to the fort as the road to go to fort is not that good.
The next halt was Kashid beach (most beautiful beach in Alibag region)  and the time was around 3.30-4.00 PM and we still hadn't had lunch. We clicked few pics and crashed in one of the shacks and requested the stall owner to cook some lunch as only kandha pohe was available. She quickly cooked food for us and we took a break for an hour or so, and we left for Murud beach.
Image: On way to Kashid Beach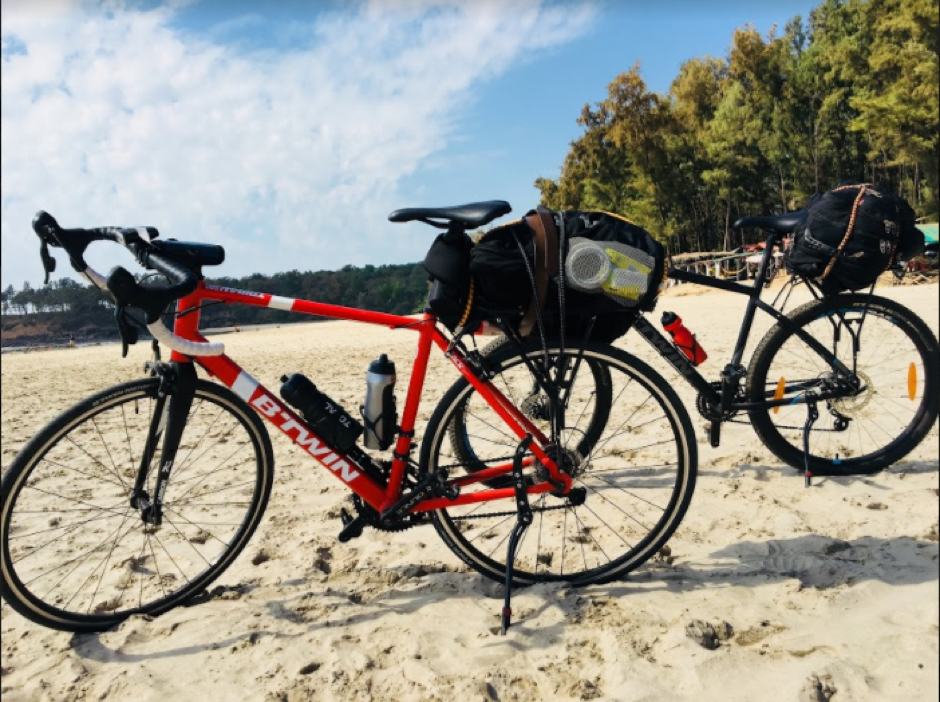 Image: Kashid beach
Stay was quite costly over here as it was a weekend but we were able to find a good deal. Next important thing was convincing the hotel owner to keep cycles with us in the room!
We had our dinner at a Khanawal, and had decided to leave as early as 7.00 AM and that we won't ride on any day between 12-4 in afternoon.
Day 2
As decided, we didn't leave by 7.00 AM but we left by 9.00 AM. As a breakfast starter, we had some dates that I had got from home. We left for Agardanda Jetty which is around 10kms from the hotel. We thought we will reach there by 9.30-9.45 AM and catch the 10.00 AM ferry to Dighi.
Finally, reality struck! Series of continuous steep climbs started.. On our way, we witnessed the beautiful majestic Janjira fort. We clicked few pics here and proceeded further on.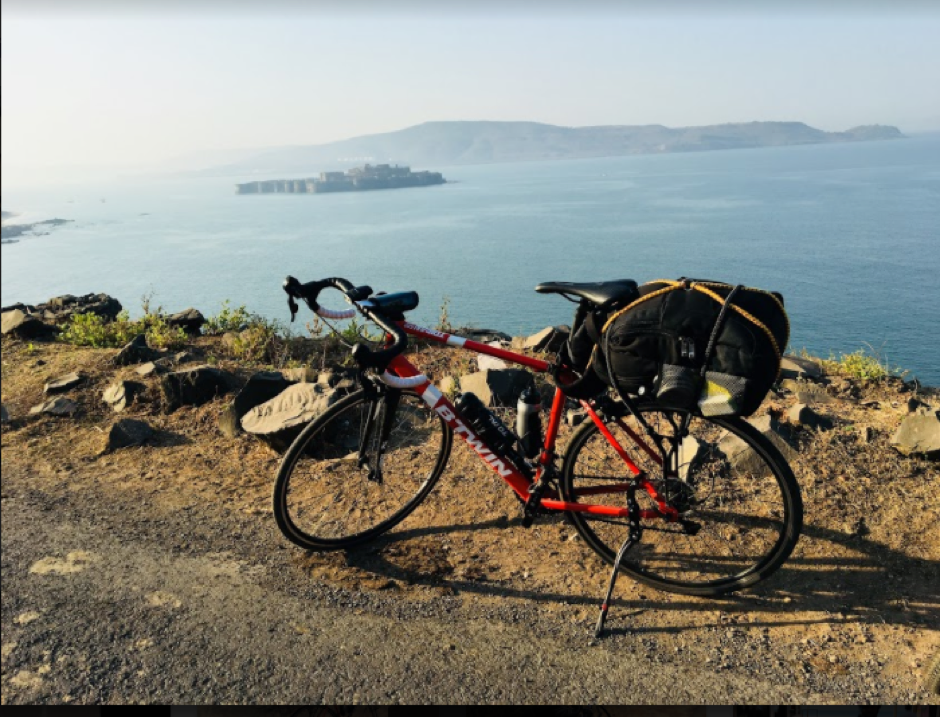 Image: Janjira fort in background
Road condition of last 2-3 kms to ferry was completely pathetic. I just kept thinking that there shouldn't be a puncture on our 2nd day itself. We finally reached the jetty at 10.30 AM and kept the cycle in the ferry.Ferry service was pretty good and to our surprise they also run at night.We reached Dighi, and our next destination was Diveagar beach.The road and the scenery was pretty good. It felt like we were following the pacific valley route of roadrash.. But again, the climate was hot and humid.In between, we took a break for breakfast and refuelled ourselves and reached the beach….
All our tiredness vanished once we visited the beach. It was very clean! Soaking up the sun and enjoying the strong breeze, we started enjoyed some sugar cane juice.On the way,you can visit the Ganpathi temple which is very famous as it is completely made of gold. We had to skip it as our aim was to enjoy the route and have less number of pit stops.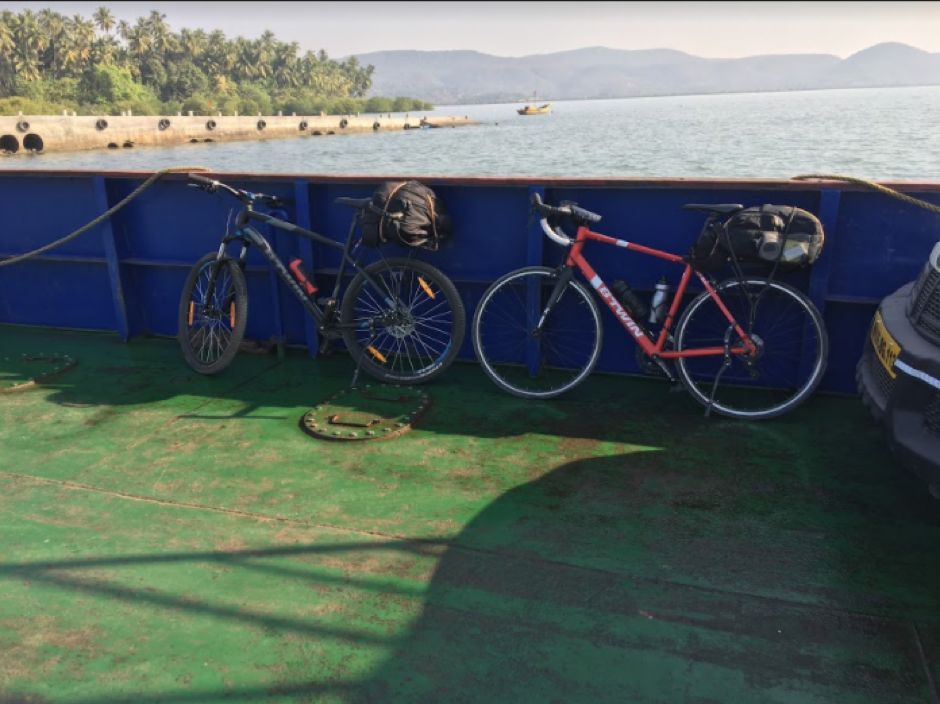 Image: Bikes enjoying their ferry ride
We then left for Harihareshwar via Srivardhan and again the our interactions began with steep climb, dangerous descents and some bad patches of road. The icing on the cake was the sun( Note that on coastal route, this was a big learning for us, sun is always on the brighter side :P) Srivardhan was around 20-30kms from Diveagar and on our way there were multiple beaches, all secluded and clean. We reached Srivardhan village around 3PM and the beach was still 3 km interior. We discussed and decided to move onto Harihareshwar.On reaching Harihareshwar, our energy was drained and our friend, Nikhil advised to visit the temple.
We had some snacks and refreshment and relaxed for a bit.. On the complete trip, we observed that the people at Hariharehwar were the most helpful and good to talk to. They advised us to leave early from Hariharishwer if we plan to catch the ferry at Bagamandala.It was 4kms away from the beach.We shifted our gears to top gear and gave our everything to reach the jetty but we just missed it and the next ferry was at 7PM. We took the latter ferry and since it started getting dark, we thought if staying at Vesavi but locals advised us to go to Kelshi.We got hold of a tempo and decided to go till Harnai which was around 40kms from Vesavi.
Road condition was not that good and we were happy that we didn't have to ride at night time. On reaching Harnai, we stayed at Gharkuti(homestay) at one Mayekars place.The charge that they did and the room condition were not justified but since it was a small village and there weren't any option, we decided to stay back.The night got worse as there was a power cut around 12.30 AM and we didn't sleep the whole night.. To summarise, this day was the so excruciating.This was the day when we didn't even have any mood to click pictures
Day 3 – Harnai To Ganpatipule
Since we hardly slept, we decided to take tempo till Dabhol and regain some energy.
We had some breakfast and reached Dabhol( Road condition is pretty good, and also the view.. so rather than taking a tempo like us we will advise to ride it) . We took the 11 AM jetty and reached Veldur. Before the start of the day, we decided that we will stick to 80-90kms max as the previous day was very much tiring.From Veldur our next stop was Guhagar.
Road was pretty good. Our bodies were now accustomed to the severe terrain and we started attacking the western Ghats. On reaching Guhagar by around 2-230 PM, we had some snacks and headed to the beach..
There were some strict rules of not taking vehicles on the beach due to some accident that had happened a few months ago. It was a good initiative for sure! 😀 The beaches were getting more and more beautiful. Speciality of Guhagar beach is that it's very famous and frequently populated by visitors but the beach is very neat.. I think the locals over there have a big role to play for this achievement.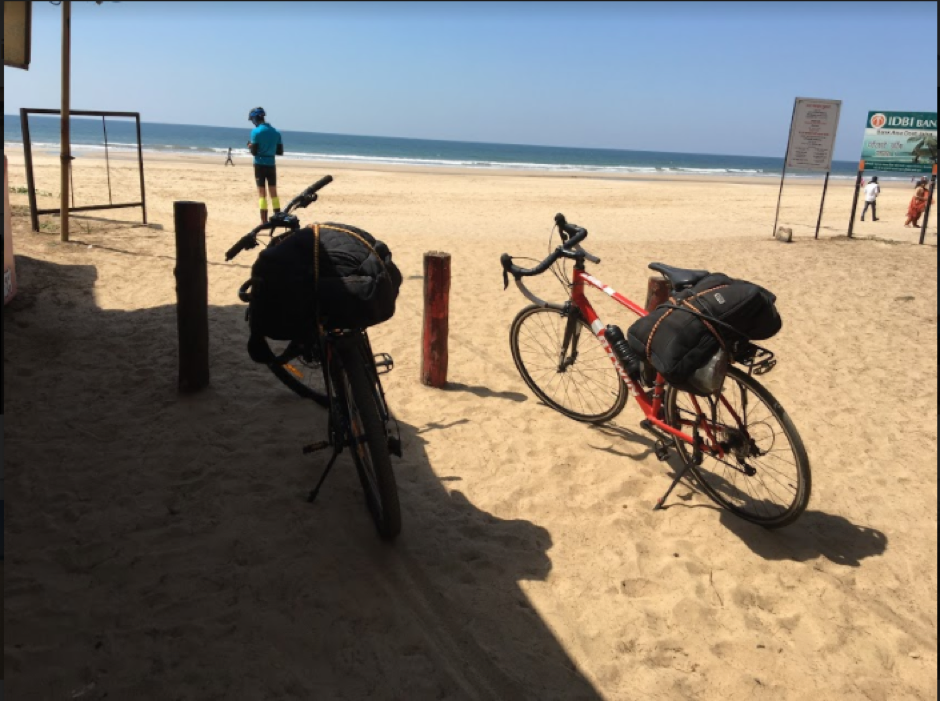 Image: Guhagar beach
Our next stop was velneshwar beach and temple and then Tavsal jetty.On our way to Velneshwar we clocked many pics on the way as again we started enjoying the ride and not like the previous day which was all work and no fun. We reached the junction where on one side around a km there was Velneshwar beach and on other side we had Tavsal jetty still 20kms away.We skipped Velneshwar and started pedalling for Tavsal. The last 5-6kms had very very steep climbs and also the road condition was next to horrible.I was on a road bike so had to be extra cautious as I didn't want to have a puncture and spoil the day. It was all braking and I reduced my speed significantly and on other side I had an hard-core MTB rider who finally was having some fun and effortlessly went ahead of me.On reaching jetty we witnessed beautiful sunset and reached Veldurl.
As we planned to go to Ganpatipule, we decided to ride the next 20kms but suddenly it started getting dark and was not that safe to ride.We ended up booking some cab and reached Ganpatipule. Although we were not happy with this decision, we were not left with any other option.
We reached the lodge, freshened up and headed to the famous Ganpatipule temple.We got lucky and were able to witness the evening aarti. Post that, took a stroll around the beautiful temple and decided to leave early and avoid any cabs or any tempo the next day.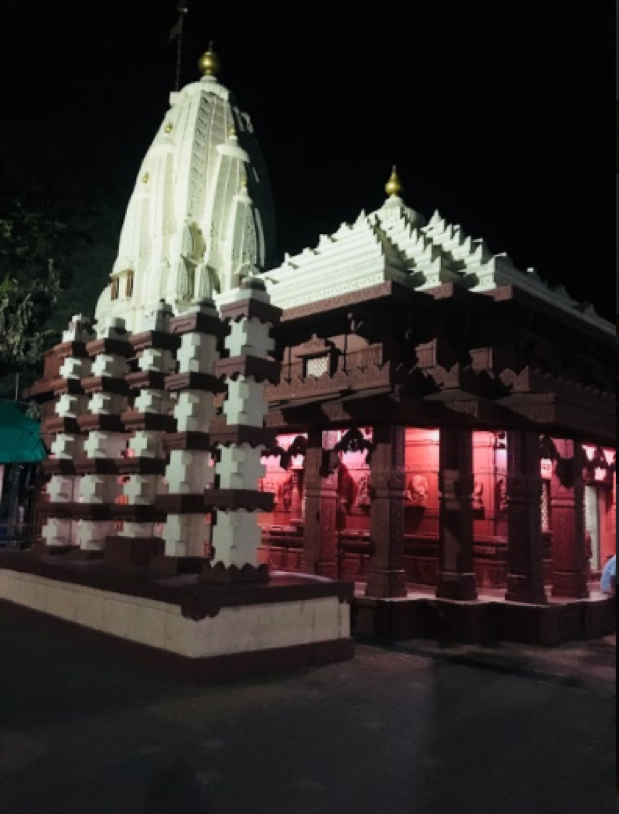 Image: Ganpatipule Temple
Day 4- Ganpatipule to Kunkeshwar via Ratnagiri
We started our day early and started from Ganpatipule to Ratnagiri via the most scenic beautiful route in the whole of Western Ghat, the very famous Aarey Warey road. We started hitting the pedals hard and ignored the steep Ghats as we heard a lot about this route .. and none of the things that we heard and saw were exaggerated and it is seriously the most beautiful thing that one can witness.. and if you seriously love riding you shouldn't miss it.. we were at the Aarey Warey beach side for more than 30-35 mins which also felt less as it was that beautiful.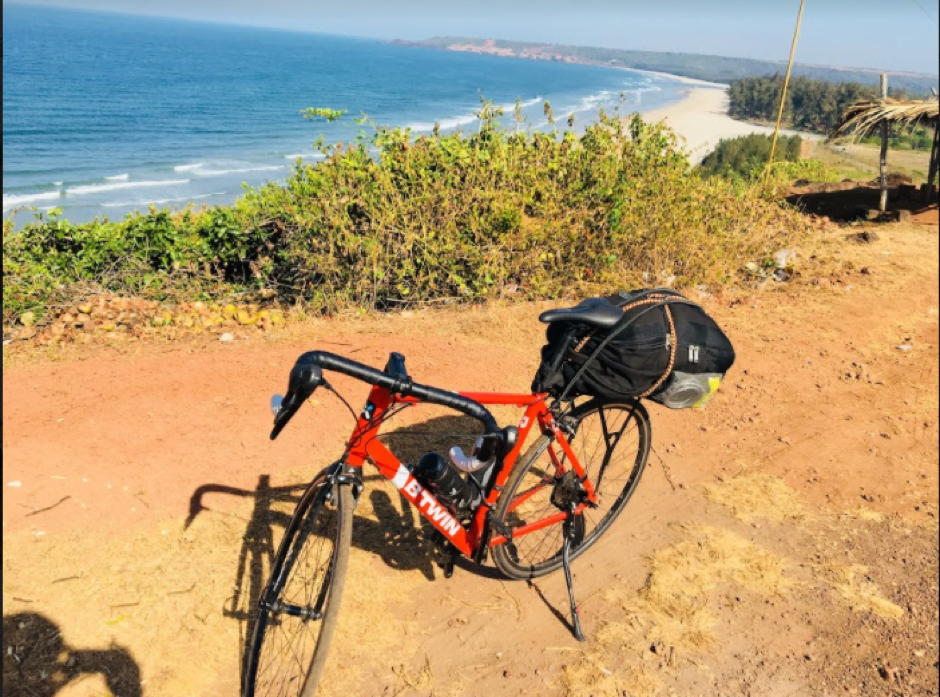 Image: Aarey Warey beach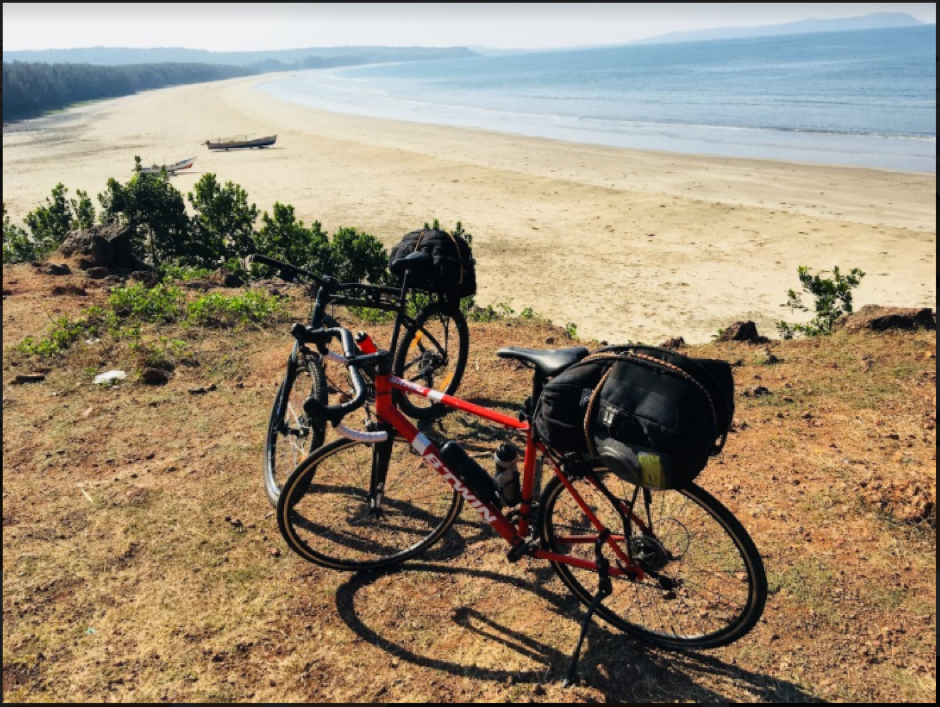 Image: Aarey Warey beach
We reached Ratnagiri and we were already aware about the Ghats as they are the most steep of the lot.We rode for more than 80-90% of the ghat and rest wherever we can we took a walk..Reached Ratnagiri by around 11-1130 and we delighted ourselves with some kandha poha and wada pao.. and then headed to Pawas ..Pawas is famous for Swami Swaroopanand temple and the mango jam and I was already threatened by my regular cycling partner that I had to get it or else I am not allowed to come back so took some for her and one for my mom.. After which I realized that the bag was getting heavier and the climbs were getting steeper.. And our thighs and calves were getting more and heavier!
But we from day 1 were always on enerzal water electrolyte and after every couple of kms were taking a sip to avoid any cramps due to the heat..
From Pawas, our next stop was Kunkeshwar which was around 90kms from Pawas and we had already pedalled for more than 50kms.Without wasting more time we started for Kunkeshwar and again the Ghats and descents started
And we kept on pedalling… enroute we crossed Jaitapur.. which has its own controversy.. will suggest everyone to read about it.. and we were about to reach Devgadh and it got pitch dark and it being a Shivratri.. there were many cars headed towards Kunkeshwar temple for the jatra. We were still 28kms away from Kunkeshwar and we were hardly able to see anything.We took a cab and reached to Kunkeshwar and as expected there were no rooms available.But one of the hotel guy allowed us to sleep in the corridor and allowed us to park our cycles in his garage.
We went to temple and there were around a lakh pilgrims in line and ETA for darshan was around 5-6 hours.We just roamed around the temple and then headed to the room.
PS: Kunkeshwar beach is supposed to be very beautiful but on that day it looked just Chowpatty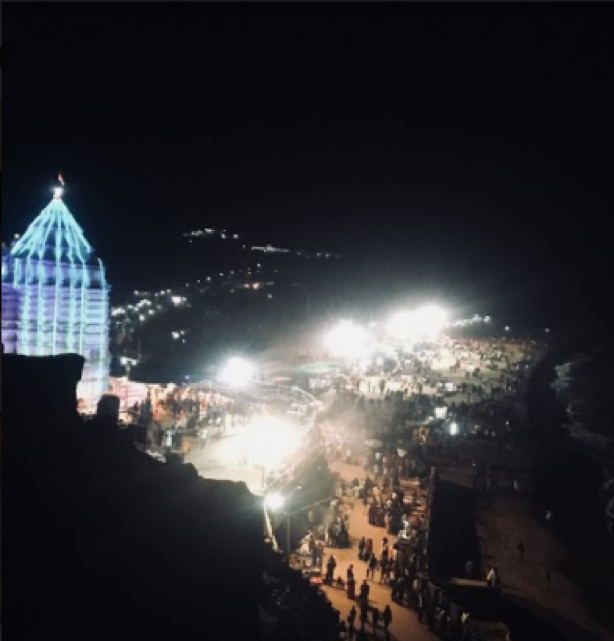 Image: Kunkeshwar temple
Day 5- Kunkeshwar to Vengurla
We did the majority of the ride and Goa was around 130kms more only.There was a sense of jubilation but we didn't want to be complacent and take the ride lightly and were focussed.Our next stop was Malvan and the road was pretty good and on none of the routes we observed any bad patches but climbs and descent were still there but the frequency was very less
Also maybe our timing ride was not good.. didn't found the route to be beautiful as there were no shades no trees as such and only plain roads.We reached Malvan and had some tasty watermelon to hydrate ourselves as we ran out of water ( do read my note about getting complacent :)).. So from Malvan to Vengurla there is more than 1 option available.. First was via Sagari Mahamarg which we had planned to take …Second was via Kudal the maximum in distance..Third was going via Devbag beach jetty.
On checking with the locals, we decided to go for the Kudal route as it being more scenic plus also the flat terrain nature of the route.It took us around 2-2.5 hours to reach Kudal from here the resort (Sam and san resort.. must visit) was around 20kms it was just adjacent to Sagareshwar beach..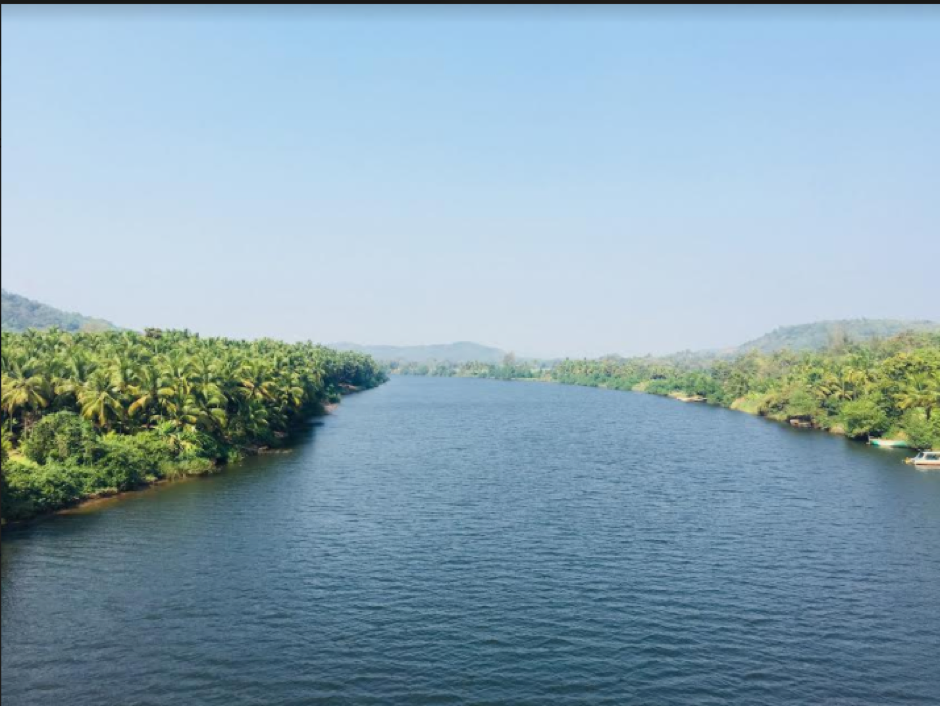 Image: On way to Kudal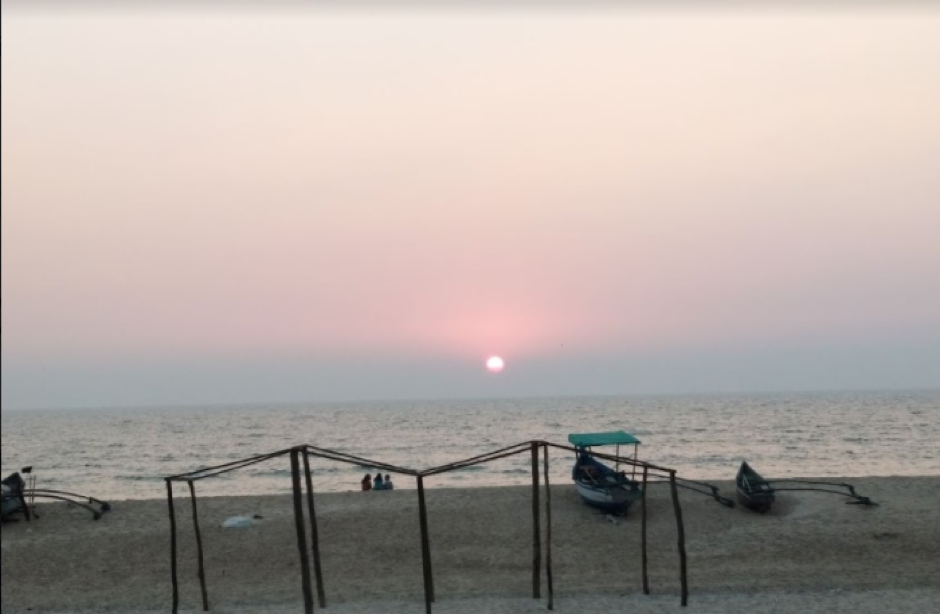 Image: Relax mode in Vengurla
Route was majorly flat with some slopes but our thighs had it.. and we were just walking.. to be frank even small speed breakers were feeling like steep climbs..On reaching the resort.. dada found his love. Some 5-6 dogs and I found my fear and directly went to the room.Had dinner slept early and were really very happy with our day.. and we knew that we had nearly done it.. just 20kms more for Goa border..
Finally we slept peacefully  .. 😀
Day 6. The final day – Vengurla to Aarambol
We started early and Goa border was less than 20km.If one rides a cleats on their cycling shoes,one has to fall at least once on the ride. And I did finally. And the reason for it was the bag was completely shifted to one side.. and I was not able to balance it..but the fun part is whenever you fall you fall at 0.. I picked up my bike and We reached the border via Shiroda in 1.5 hour as the route being majorly flat and we started seeing vehicles with GA registration!!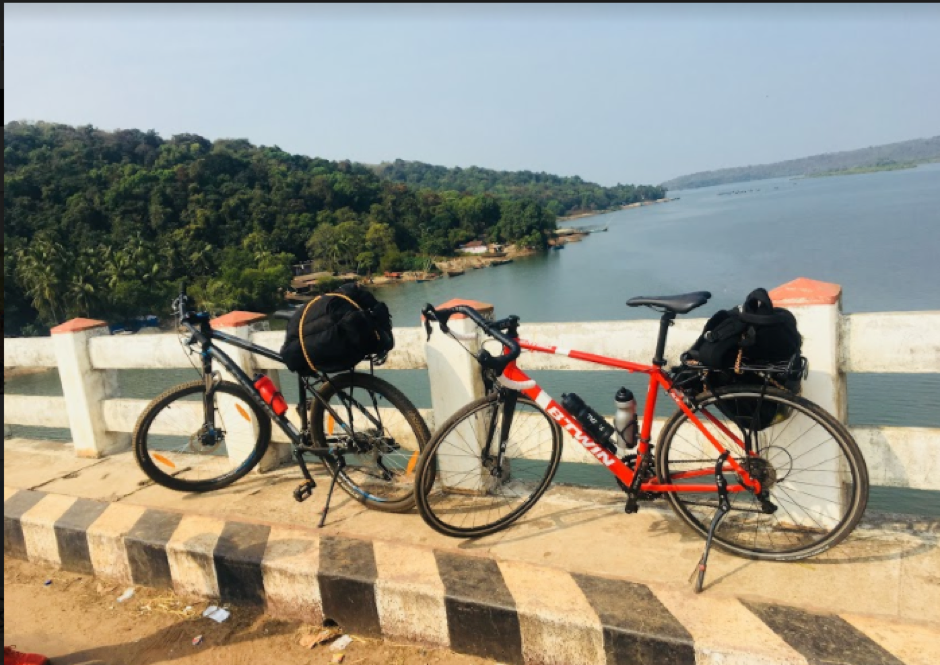 Image: Goa 0 kms
We reached Aarambol beach which was around 5kms from border
Phewwww we finally did it..
Nikhil started doing handstands and all other stunts! We both were very happy and more than happy we were relaxed that we did it..
now it is time to enjoy in Goa..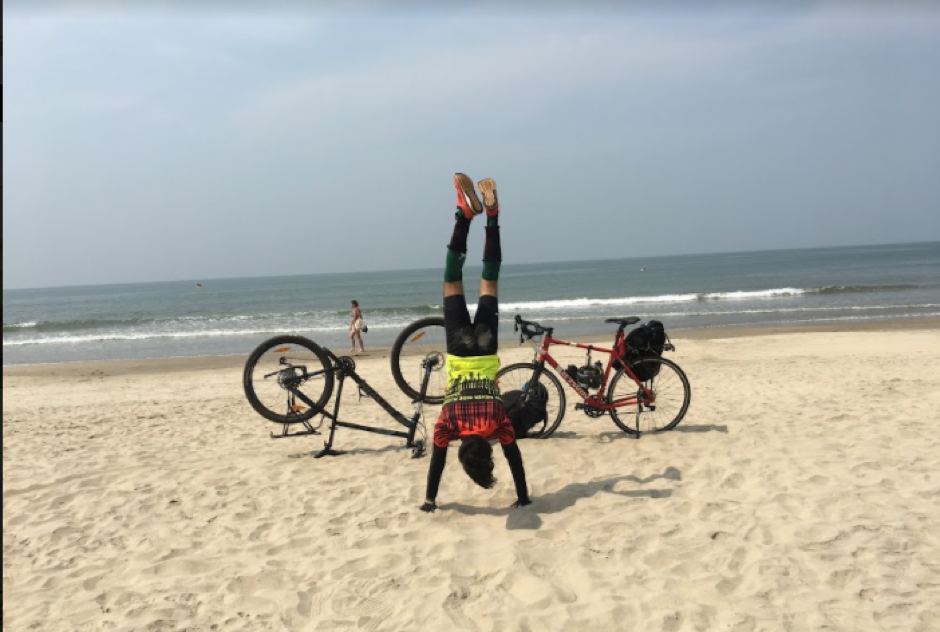 Image: Dadas world turned upside down
Image: Finally me
Few things to remember when you plan for such rides..
Don't ride in big groups (max-4 riders).. it saves a lot of time
Don't ride with a recovery van behind- It kills all the adventure and the passion to ride more
Be flexible with the plan.. don't make it hard and fast rule it reach the decided venue on the day planned
Don't book rooms.. backpacking is more fun
Have water and enerzal/electral in every 2kms or 15mins.. it doesn't natter if you are thirsty or not.. it helps you in avoiding cramps
Don't read too many blogs on the route conditions and all ( do know the route) …
Have spare tubes, although we were lucky but western Ghats are known to kill the tubes
Be nice to locals.. they are very happy when they see cyclists.. and don't hesitate to share your story with them.. they will have 10 more
Motivate and smile at other riders whom you witness in the route and let the brotherhood/sisterhood grow
This trip wouldn't have been possible without Dada, we motivated each other all through the journey on all the Ghats on barren lands. This ride is not easy.. Mainly because the steep nature of the Ghats and road condition… last but not the least… if you attempting for such a ride… ride when the temperatures are down… Dec to Jan is ideal time…
Few people who were my constant source of my motivation – My parents, brother, bhabhi, Ride partner the trekker :), my Gym bros ..

and my guru Tengshe bhau
Follow their stories on-
Adarsh: (Insta – Guyon.2pedals)
Nikhil: (Insta – nikhilckaloge)