The moment I stepped into Sikkim,I instantly knew that my first post in the brand new year would be about Sikkim and no other place. There are a few places that you may like, few places that you may end up falling in love with but there are only a handful of places which you can actually connect to. You know, the feeling of owning up to the place, the feeling that only your home can bring it to you. This is what I felt when I visited North Sikkim. Yes, I did travel West,South and North Sikkim. All of them equally enchanting and having different things to offer but it was North Sikkim that cast it's spell on me. So, the title had to be what I felt while I was there – Juggernaut Happiness that is and this post is all about North Sikkim.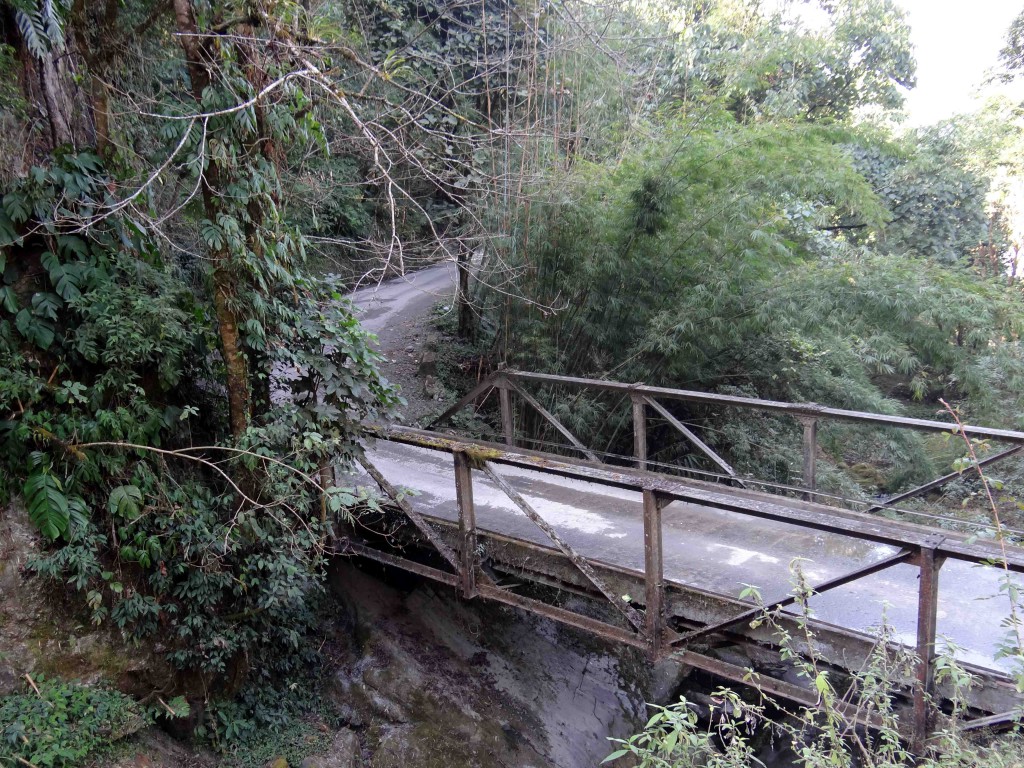 We started our journey from Gangtok towards Lachen about 8am in the morning. It takes a good 6-7 hours drive. It takes a long time to get to one place to another due to the high altitude, terrain and some of the roads aren't in a good shape.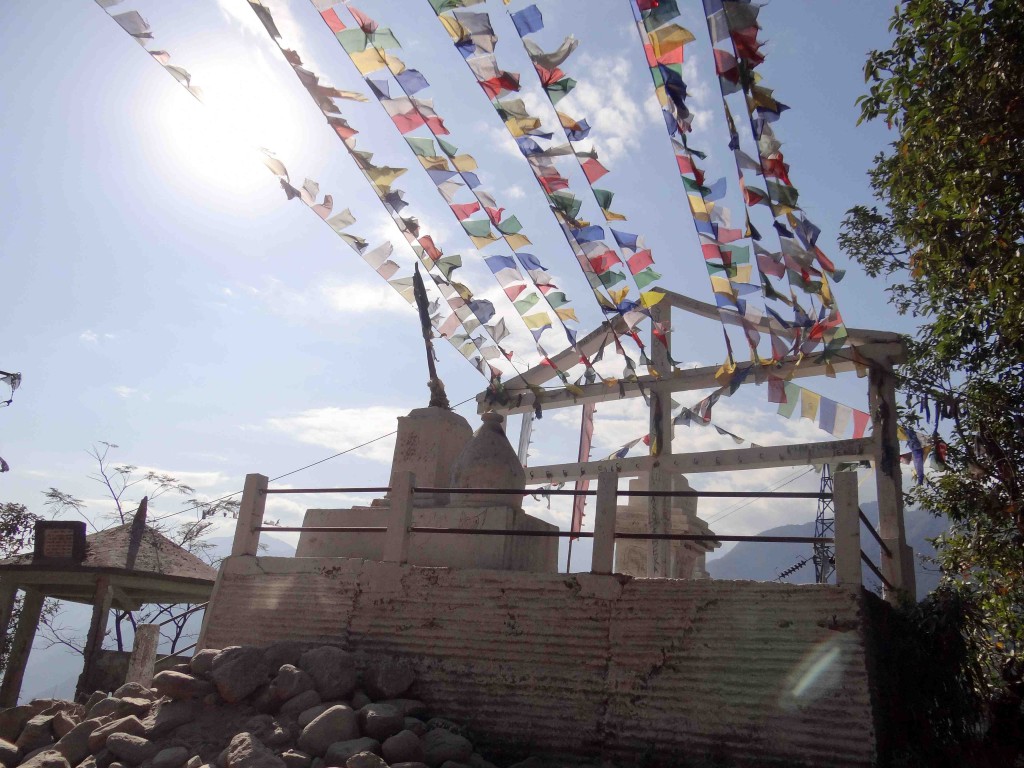 This is Tashi viewpoint where you can catch the breathtaking view of Khangchendzonga a.k.a Kanchenjunga. Tashi viewpoint is on the highway en route to Lachen.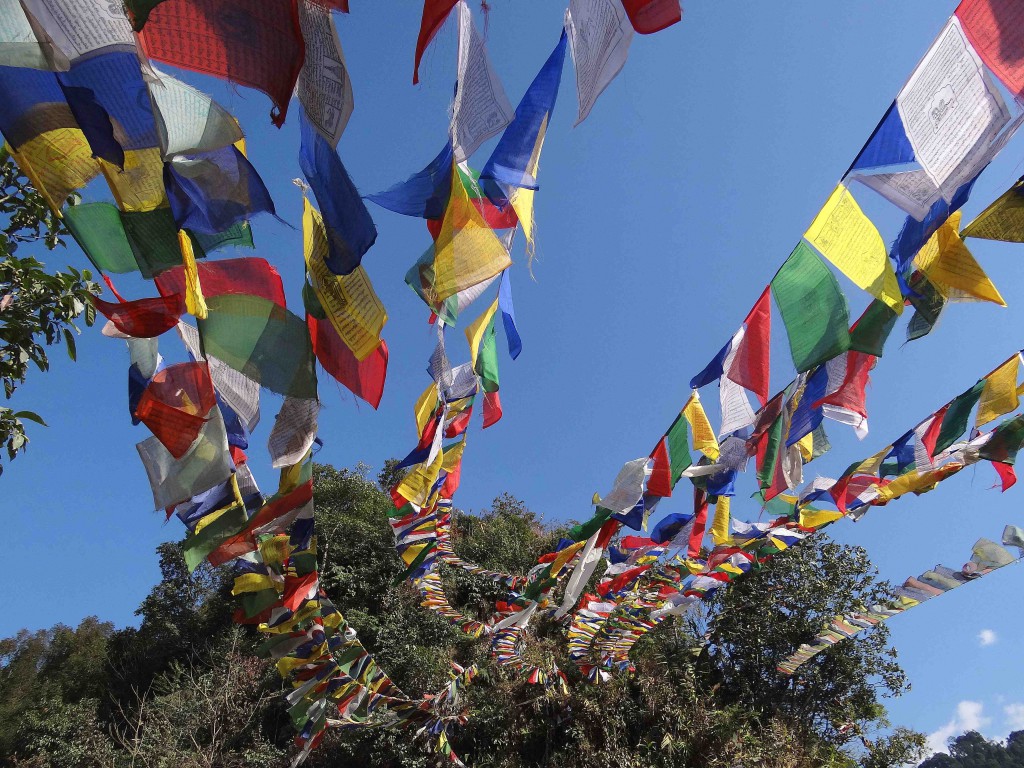 These vibrant flags are so totally synonymous with Sikkim region. It indicates the divine power and it is believed that as wind blows, the prayers that are written on the flag will have effect on people and surroundings. The colorful ones are the prayer flags and all white flags are set up in order to pray for the peace of the deceased.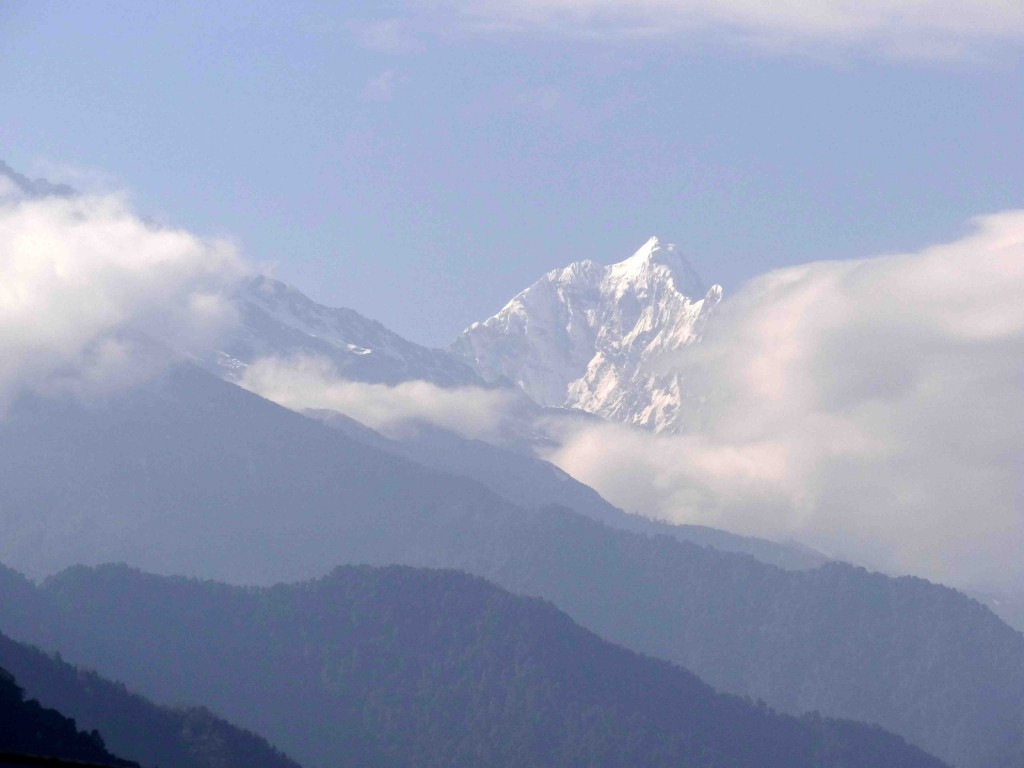 The snow capped mountain peak that you see is Khangchendzonga. You get to see it literally from all the places in Sikkim. Best view can be found from Pelling,West Sikkim.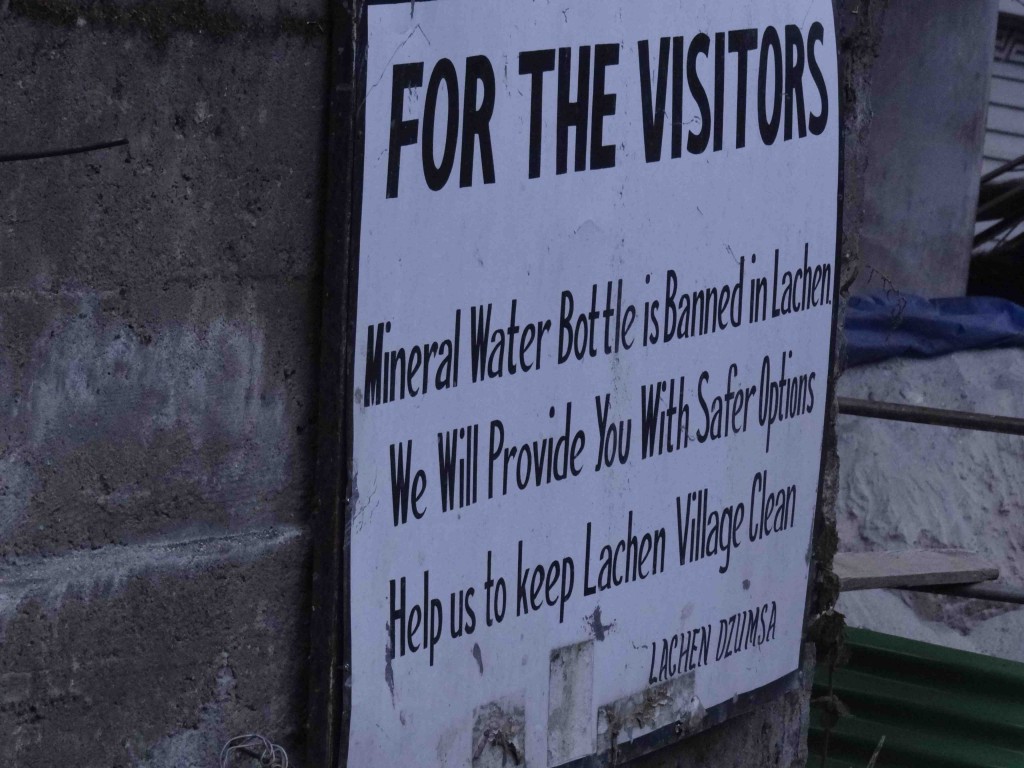 After a very beautiful drive,where we were totally engrossed in taking pictures, we reached the Lachen village. As you can see in the picture, mineral water bottles aren't allowed here. This is done to reduce plastic usage. They provide boiled water to drink. Don't come here thinking about big fancy hotels. Most of the houses are converted into home stays and they completely ensure that they take good care of you. No dearth of hospitality here in Sikkim. Overnight stay at Lachen would be needed if you're heading towards Thangu and Gurudongmar Lake.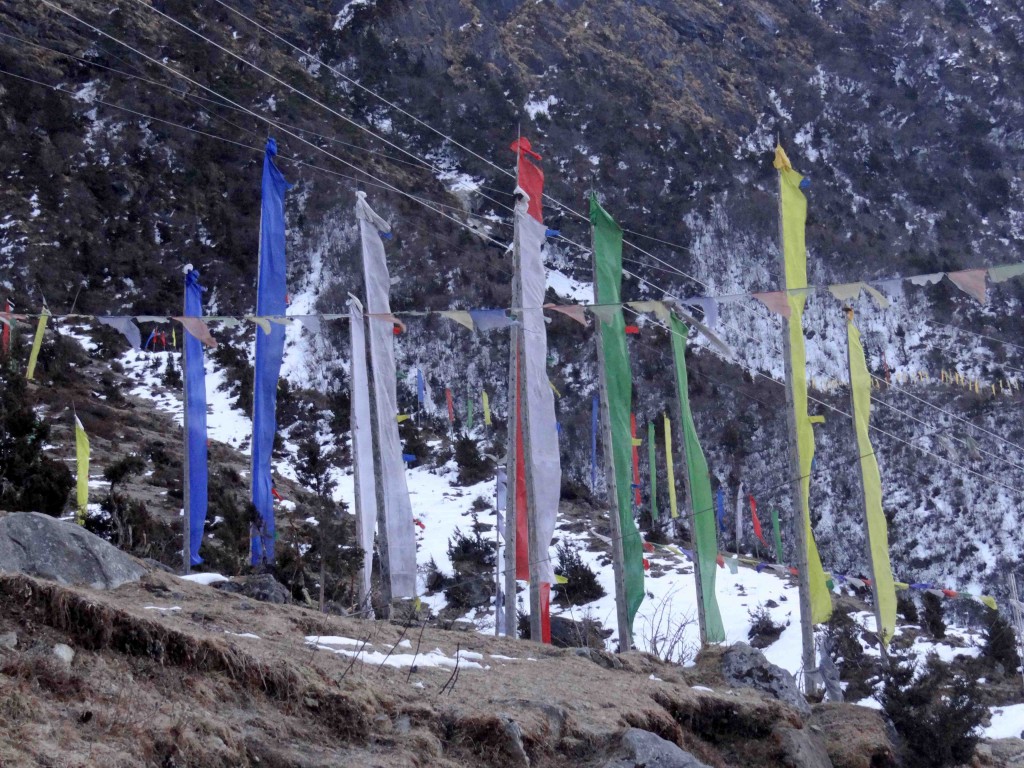 Lachen Village is run by a self governance system called as Dzumsa, where a headman is elected to settle the disputes in a democratic way. Shot this picture in a place called Thangu, which is the last civilian settlement that you can come across before heading towards Gurudongmar lake. Ensure that you take permits before entering these places. At every place,including Lachen,checkpoints are present. Without permits, no one is allowed to enter these zones.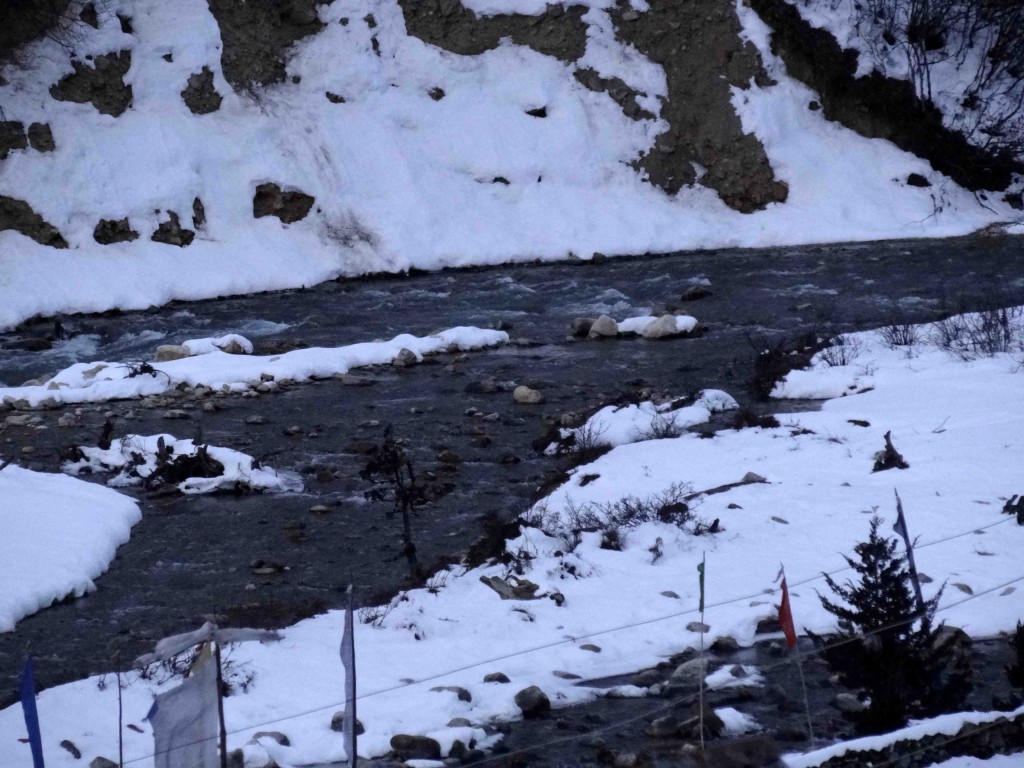 This is the magical Teesta river, lifeline of Sikkim. She is there all along the journey and in more ways than one, she makes the journey very special. I can't pick whether it is the amazing sound that she makes while flowing or whether it is about the very distinct green color that she possesses or whether it is she along with the surroundings that make it all very enchanting.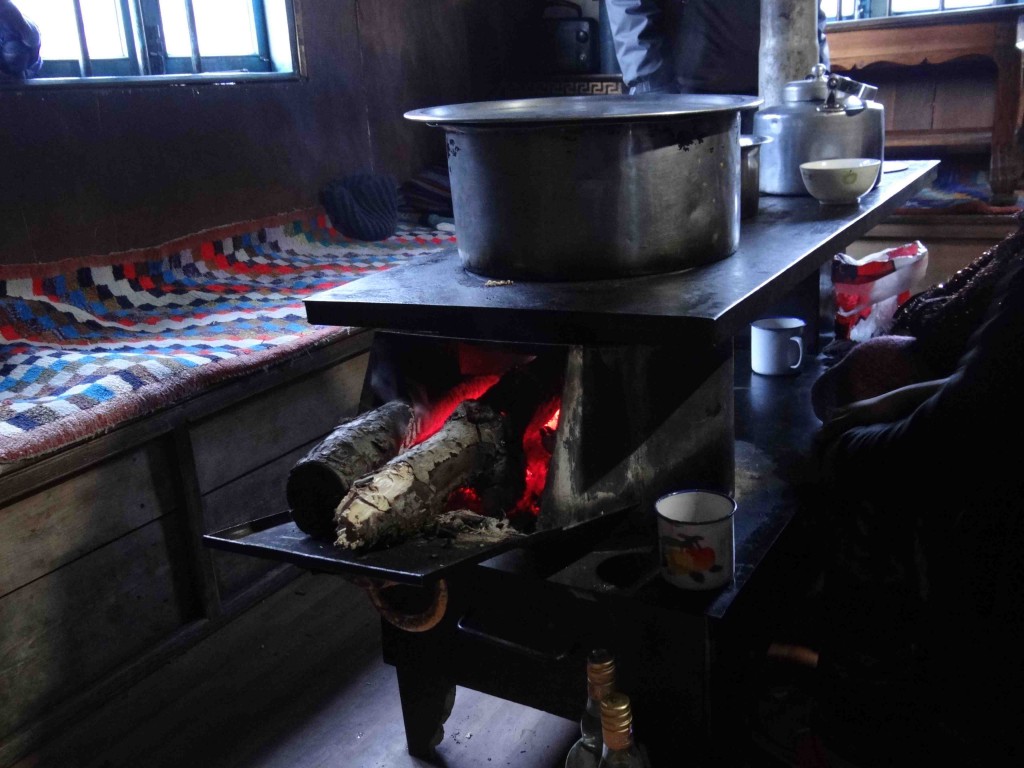 This was a local's house in Thangu where we had breakfast. Thangu is at an altitude of 13000 feet. What you see in picture is actually a form of stove. They use it to cook food as well to get some relief from the cold. This stove apparently has been got from China and it costs about 10-12k.The best part in this North Sikkim trip was that we got a chance to interact with so many locals and we got to know their way of life.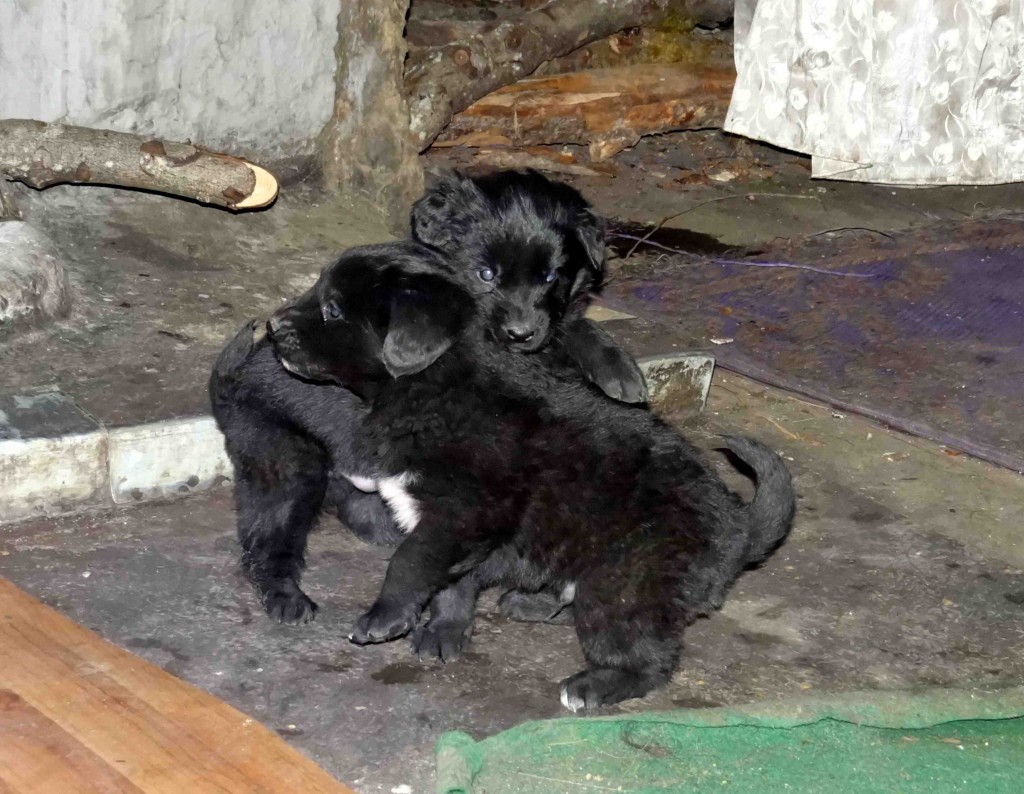 Of course dogs had to be there to make it so memorable for me. It just made my day. These two munchkins were in the same local's house. Chai,maggi and doggie – Amazing combination isn't it ?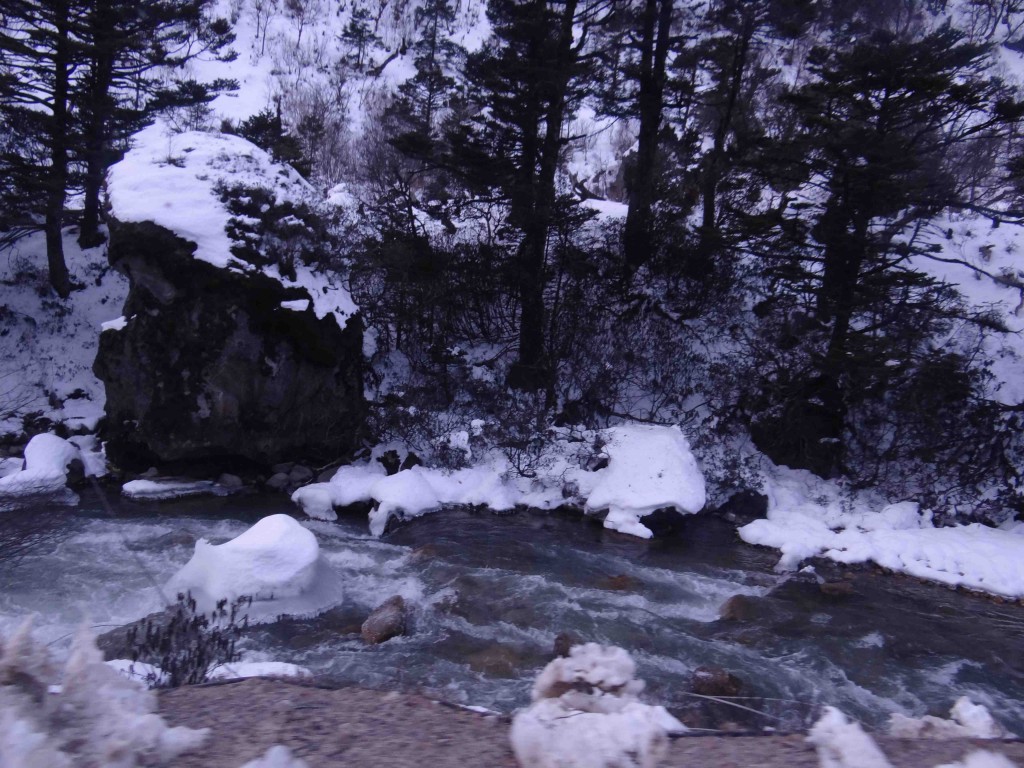 On the way to Gurudongmar lake from Thangu. If you do not wish to see snow, best time to visit Sikkim would be April-May. If not in these months, visit from October-December 1st week. Post that it's dicey as roads may be blocked due to snowfall and Army won't give permission to get to many of these places. Even otherwise, roads would be filled with snow and there is no way to get past.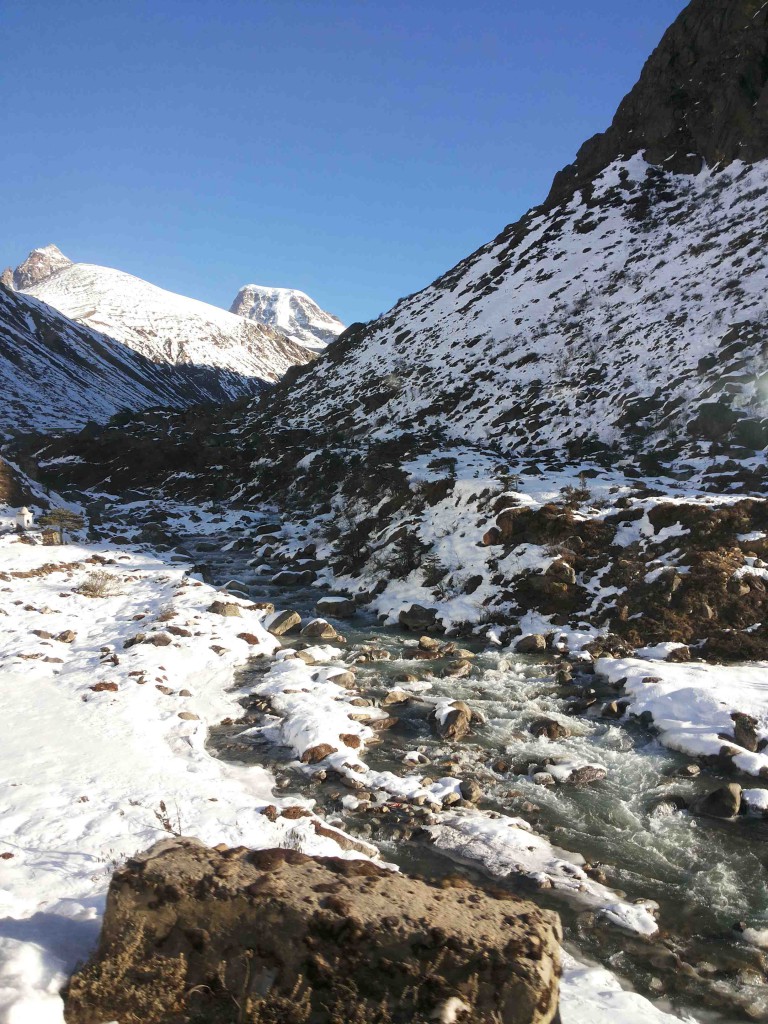 I think Sikkim visit,in particular North Sikkim,has had a lot of impact on me personally. It was more like I got as close to nature as possible. It made me feel that I should get down there and explore more places within India. It also helped to know that people of a region can be so warm and nice to fellow Indians. Content in life and bereft of selfishness.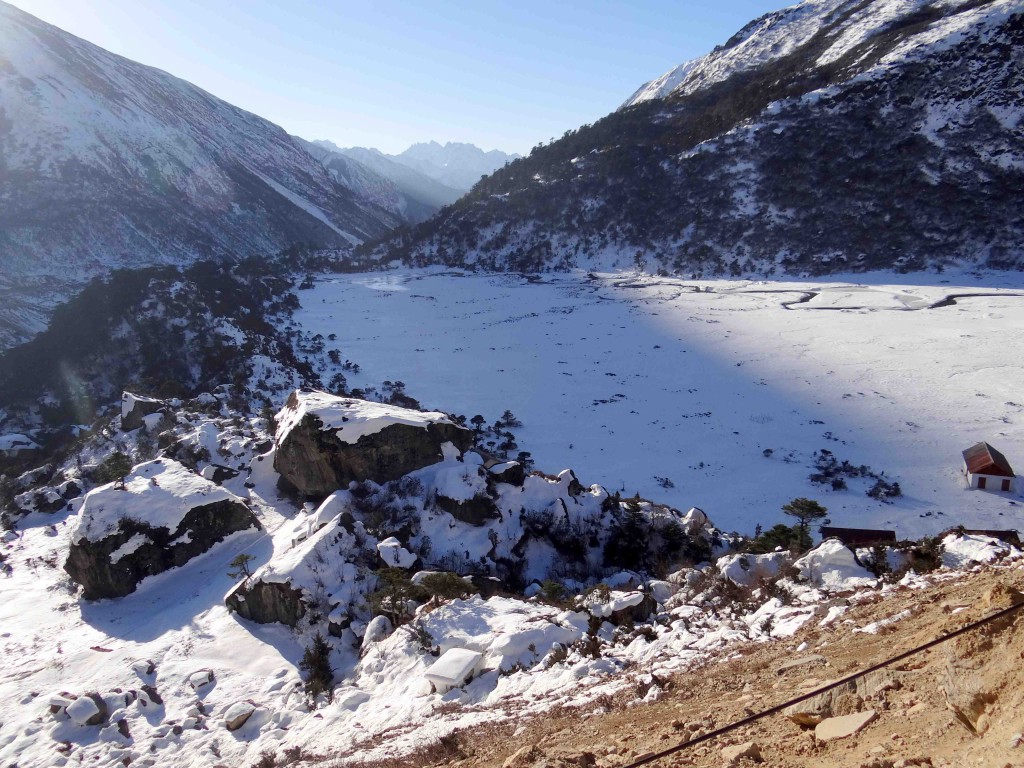 Getting closer to Chopta Valley. In winter, it is completely snow covered. But if you get there in Summer, you get to see a riot of colorful flowers,mainly the famous rhododendrons.

This is how Chopta valley looks. When we went to Lachen,the temperature was -3 to -4 degree celsius. It was freezing cold and no heaters were available given the electricity fluctuation at Lachen. To top it all,no mobile network other than BSNL[Vodafone and Airtel may come up in few months] and sorry,no TV also in the rooms.

 But that was the least of our concerns.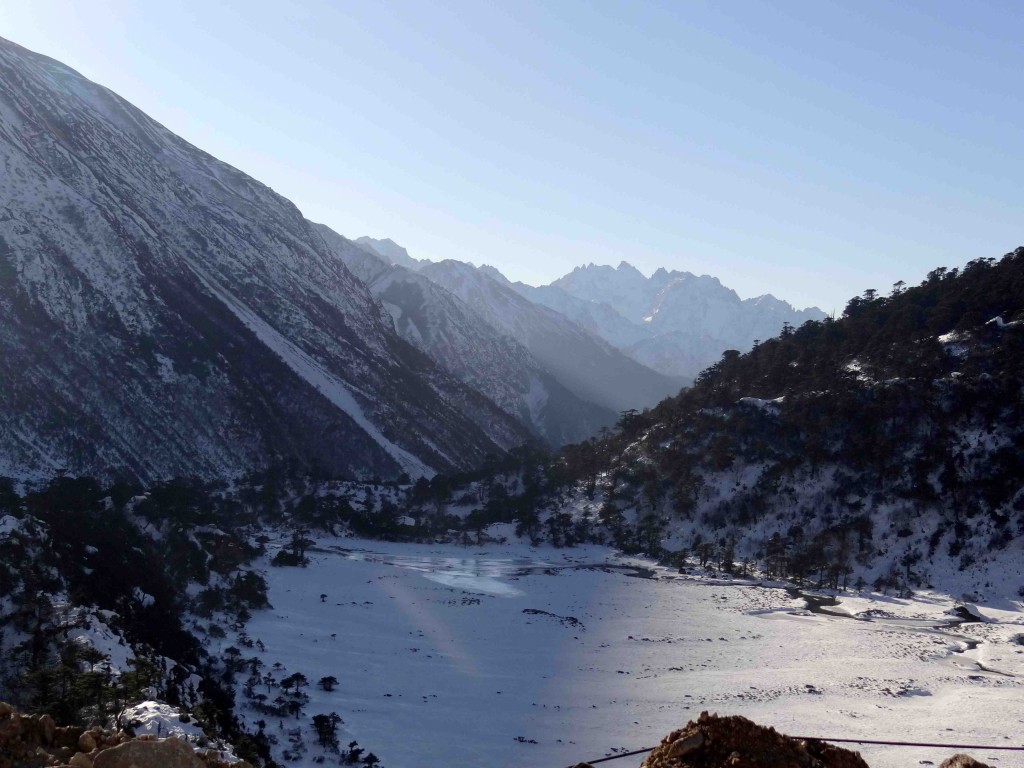 This is Chopta Valley and foreigners are not allowed beyond this point since it gets to closer to Indo-China border from here. In winter,Gurudongmar lake is completely frozen. But it is also said that at any point in time, there would be some part in the lake that would not have frozen.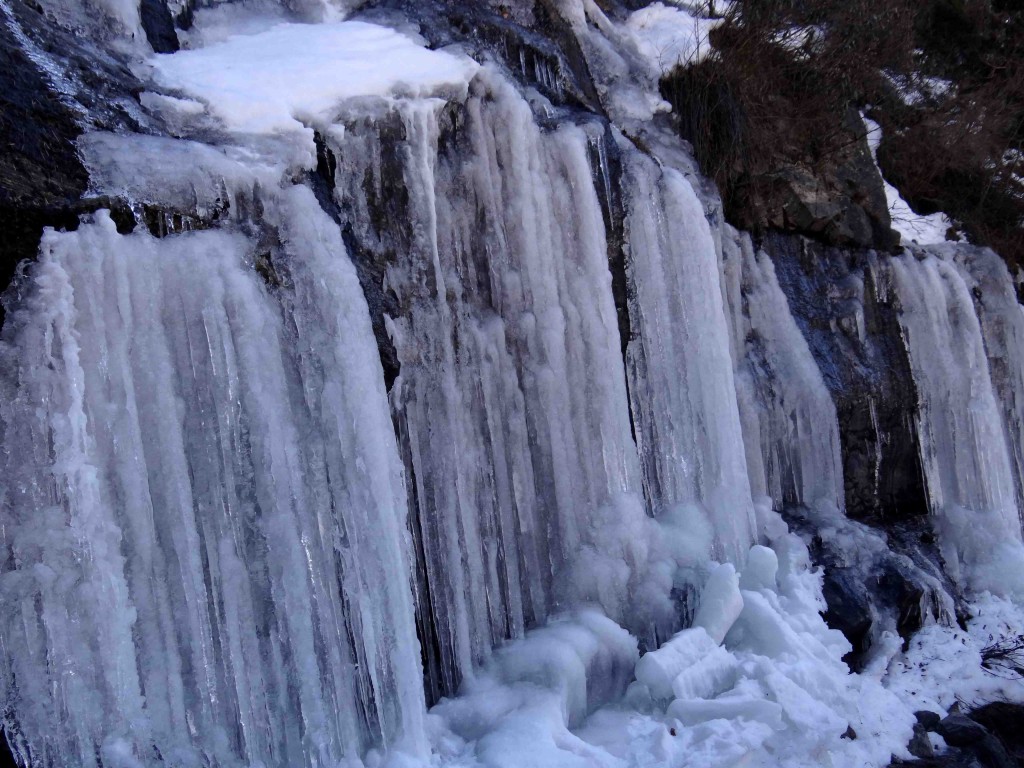 This is the water coming down from the snow capped mountains, now frozen !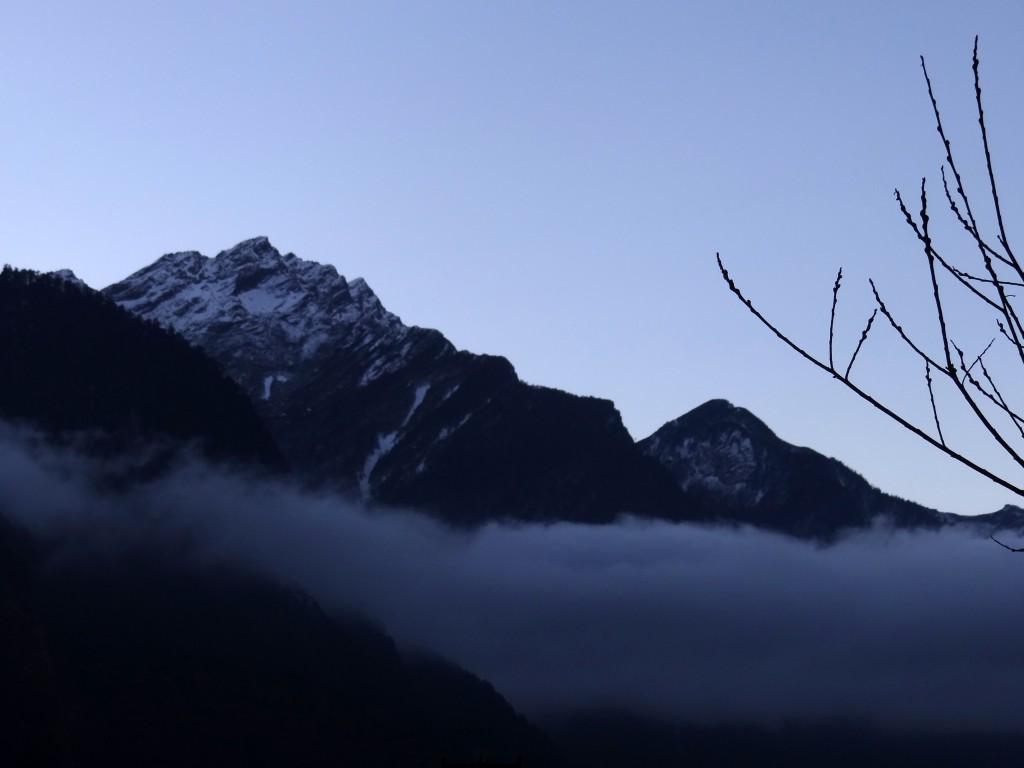 It was now time to head towards Lachung, 2-3 hours drive from Lachen. This is yet again a Kanchenjunga view in the evening from our hotel in Lachung. Overnight stay at Lachung is required before you head out the next day towards Yumthang-Yumesamdong.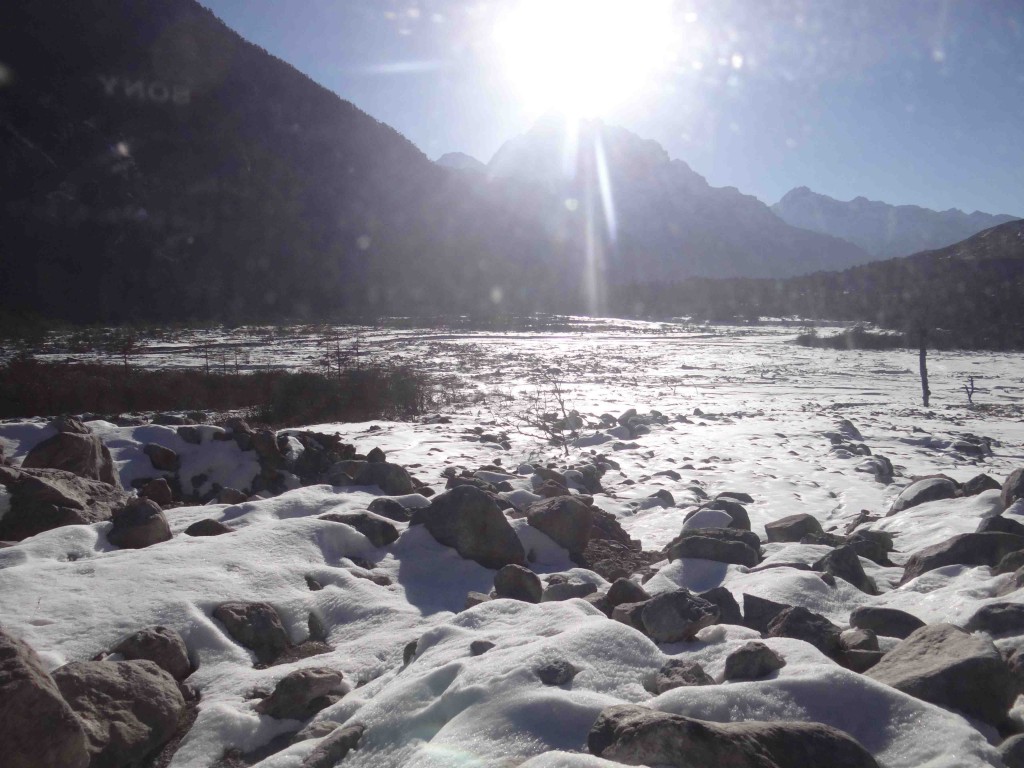 This is how it looked as we entered Yumthang Valley or popularly known as "Valley of flowers". Yumthang Valley is actually a rhododendron sanctuary. It is at an elevation of 11,800 feet.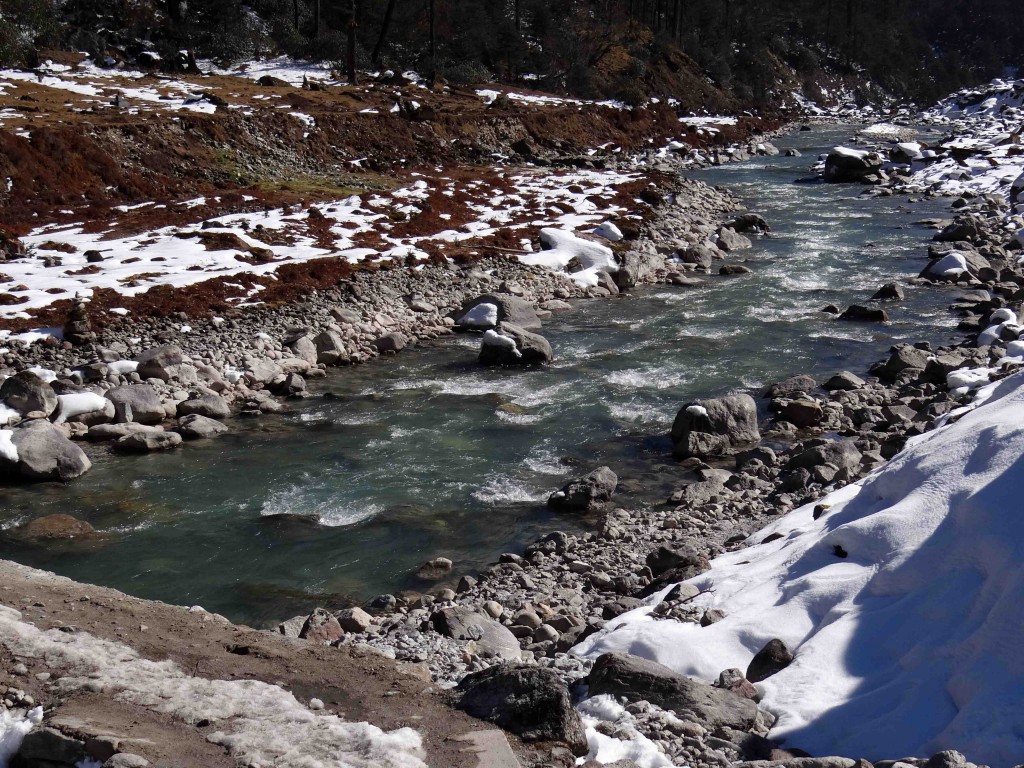 This is on the way to the hot spring present in Yumthang Valley. These hot springs are rich in Sulphur content and the average temperature is around 50 degree celsius.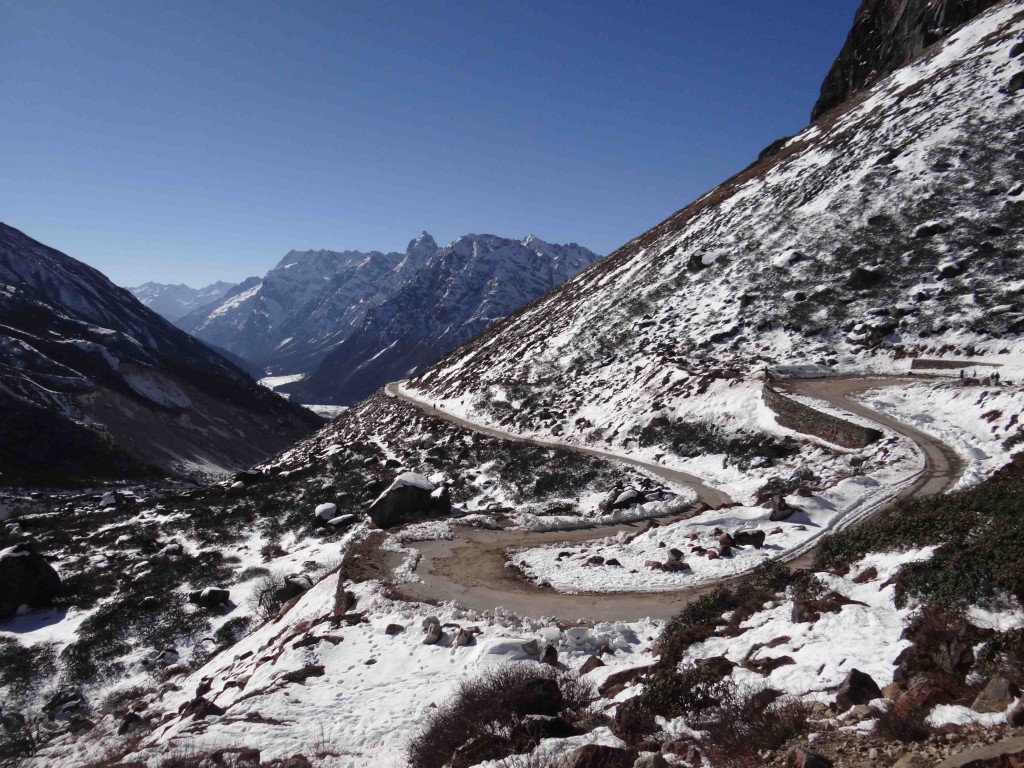 Aren't these roads absolutely stunning ? 

 En route to zero point, Yumesamdong. Some of the places are so surreal that you may end up wishing time to come to a standstill.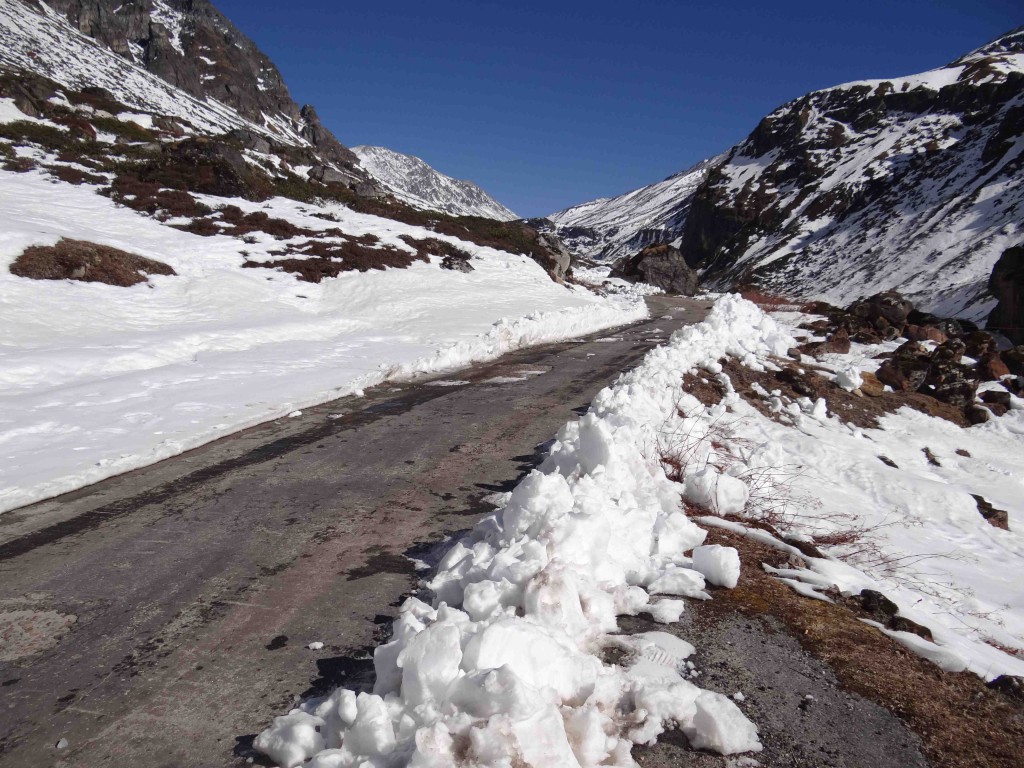 Yeah yeah reached Zero Point 

 It's called Zero Point as this is where the road ends and you would find some snow over here throughout the year.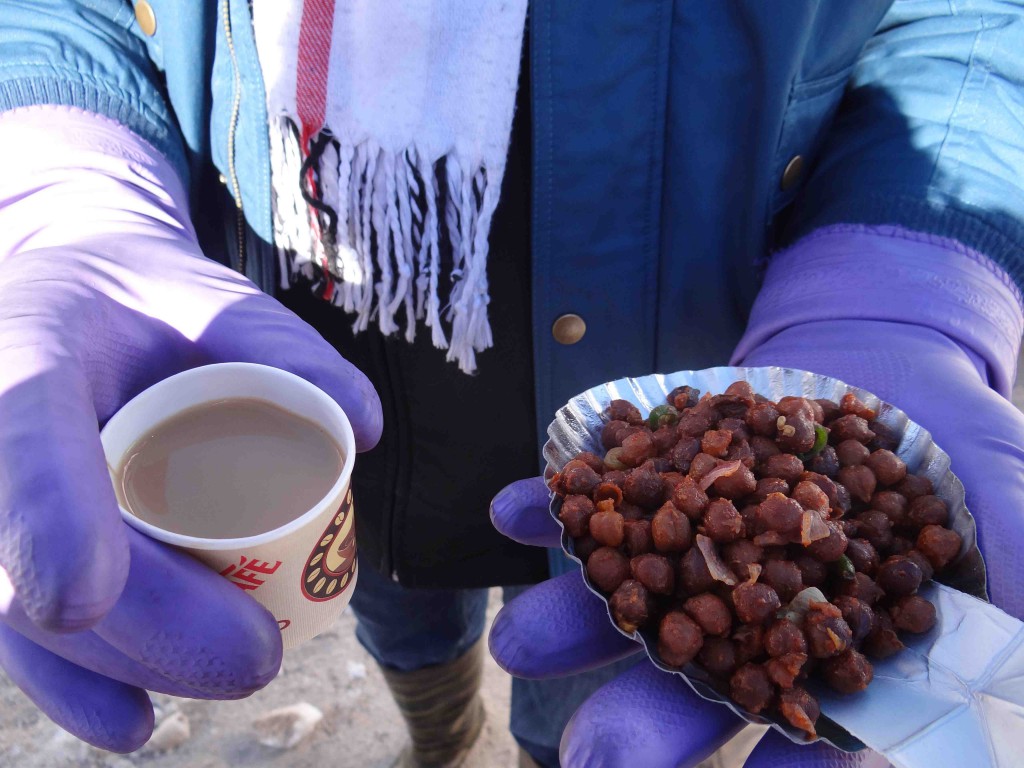 This was at Zero Point where you get to eat amazing chana,maggi and not to forget coffee and old monk !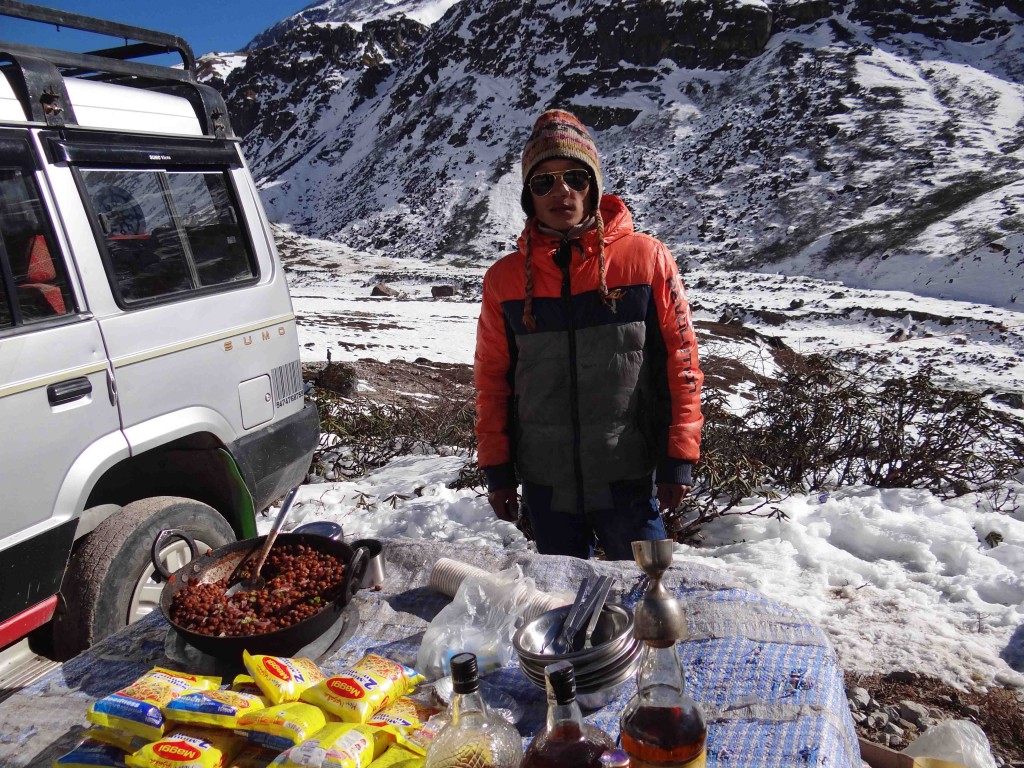 This has to be one of my best trips till date. So thankful to all the people who I could get to interact with for not only making me feel one among them but also for the amazing hospitality given to us. I already miss Sikkim ! I'm not sure when I can get there one more time, but I know I will, for sure !
Cheers,
Surya@Travelrope