Till date I clearly remember how delighted I was when I saw Leaning Tower of Pisa from the bus. From my travel experience, I have learnt that, when we take the local transport of that particular place, it adds a whole new dimension to the entire travel experience. Earlier, I used to be a lot fussier, be it food, the accommodation and I wasn't too comfortable if I ever saw any public transport filled with people. Now, I've really started to enjoy all of these things. Now I just eat whatever is available. I now need some place to crash, that's all. I now try and catch some or the public transport of the place I'm visiting.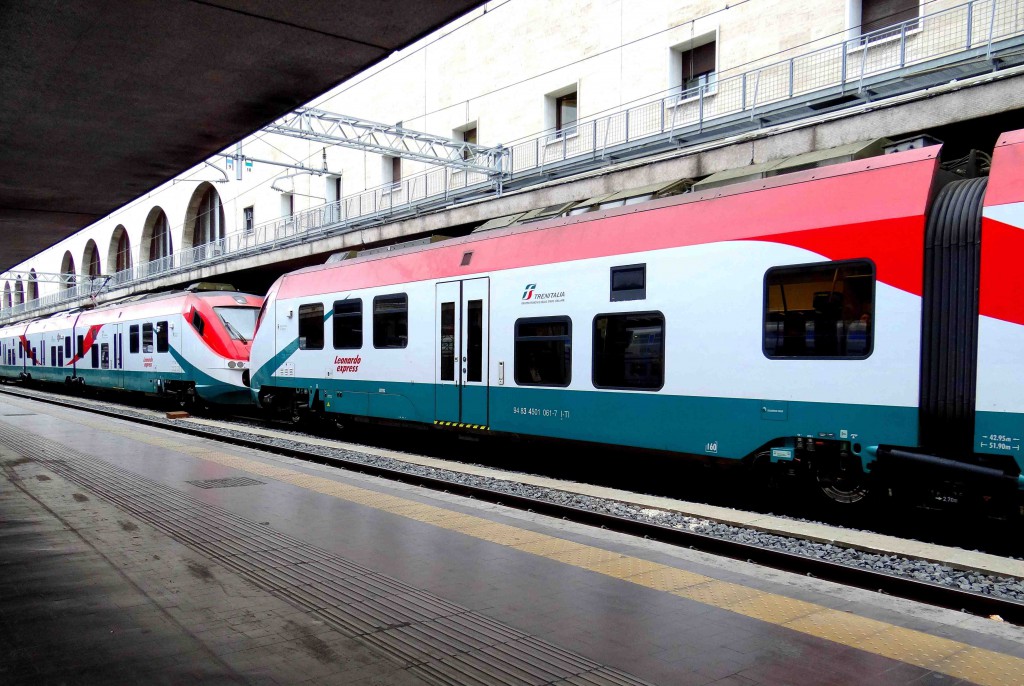 You can take a Euro rail to Pisa from anywhere in Europe. From the railway station, you can take a bus till Piazza dei Milacoli.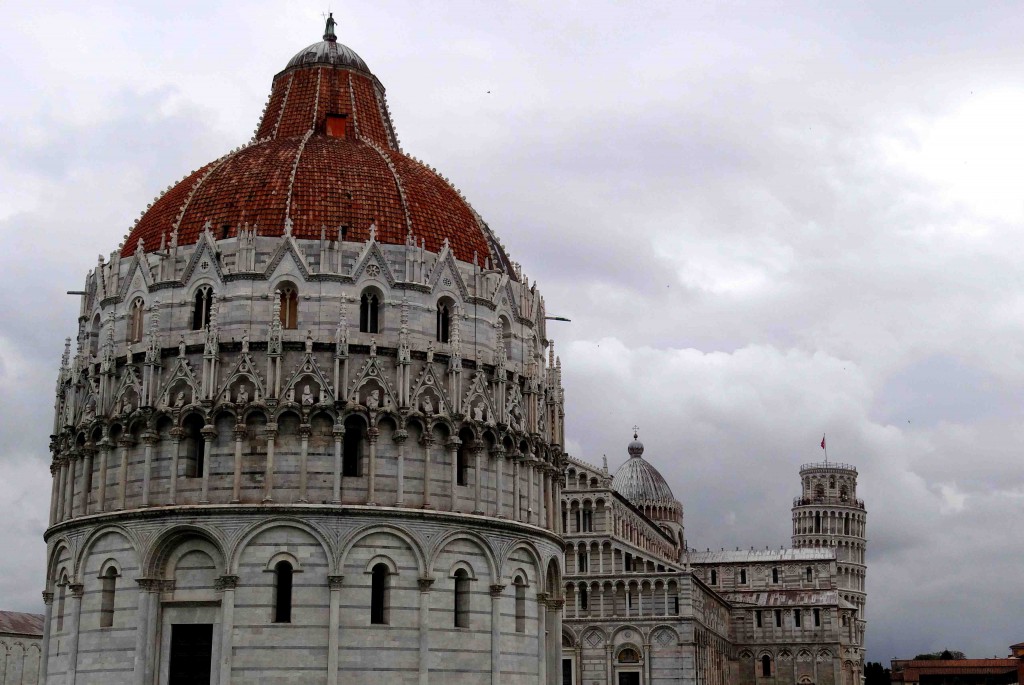 This entire complex is known as Piazza dei Miracoli. It consists of the cathedral, baptistery, cemetery and campanile. Campanile is nothing but a bell tower. Leaning tower of Pisa is the bell tower for the Cathedral present here. The dome that you see here in front is the baptistery.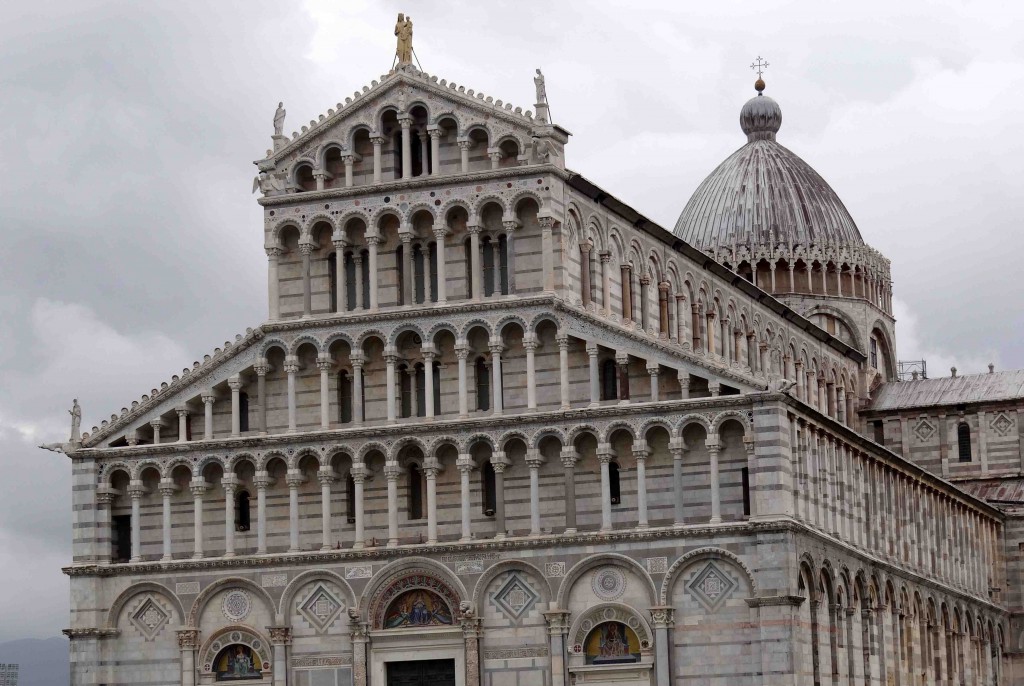 This entire complex is a very good example of Roman architecture. This is the cathedral. Leaning Tower of Pisa has apparently taken 200 years for its completion due to multiple reasons. One being the onset of wars and other one being, leaning of the tower post completion of the third floor.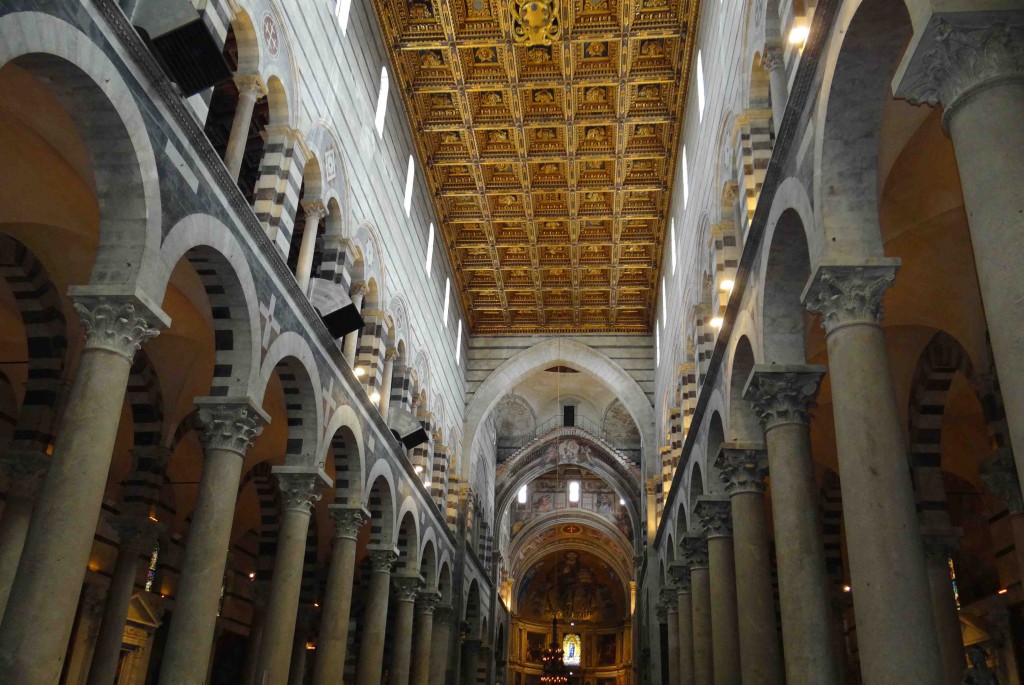 This is how the cathedral looks from inside. It houses such beautiful sculptures inside I tell you! Europe is filled with museums and I think we'd need months and years if we were to go and visit them.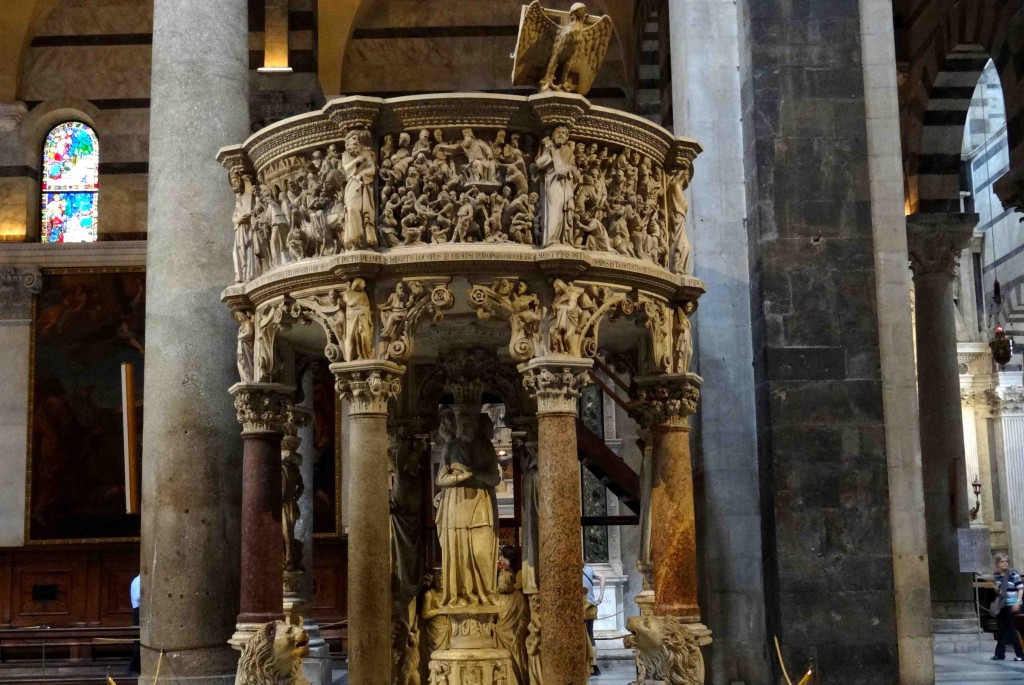 This masterpiece is known as the Pulpit and is the work of Giovanni Pisano. This is considered as one of the best works in medieval sculpture. The upper portion of this sculpture depicts scenes from New Testament. It has scenes like Crucifixion and Last Judgement. The effort spent on the details is just amazing.This is inside the cathedral. Timings to visit the tower would vary depending upon months. Best bet would 10am-5pm during any month. During summer, it is open for a longer duration.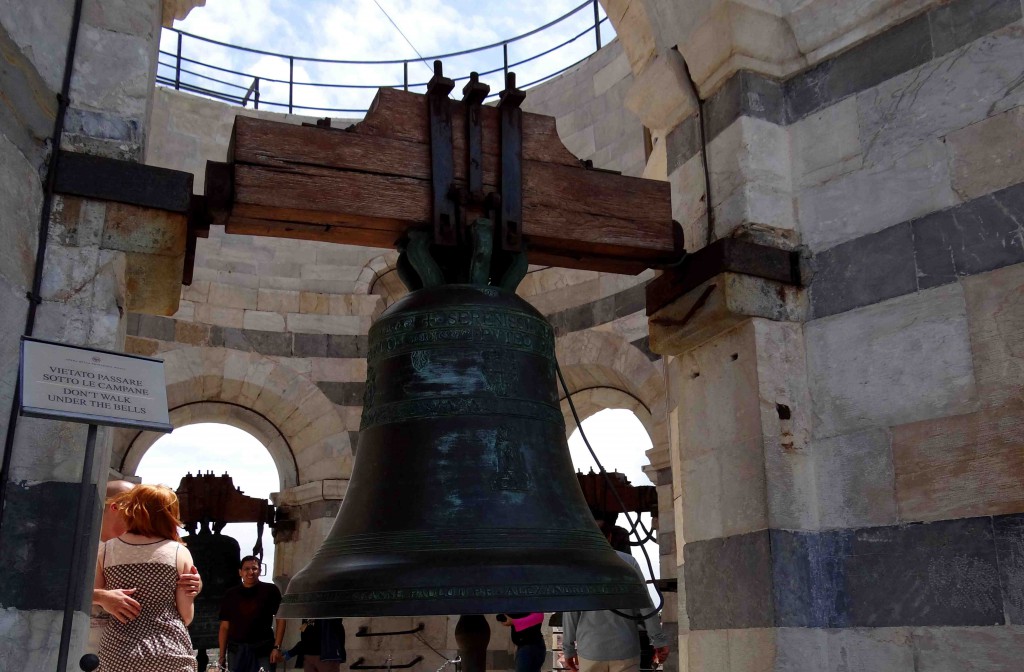 Leaning tower of Pisa is a bell tower and it houses 7 bells, one for each note of the musical major scale.Here it is – one of the seven bells on the roof top.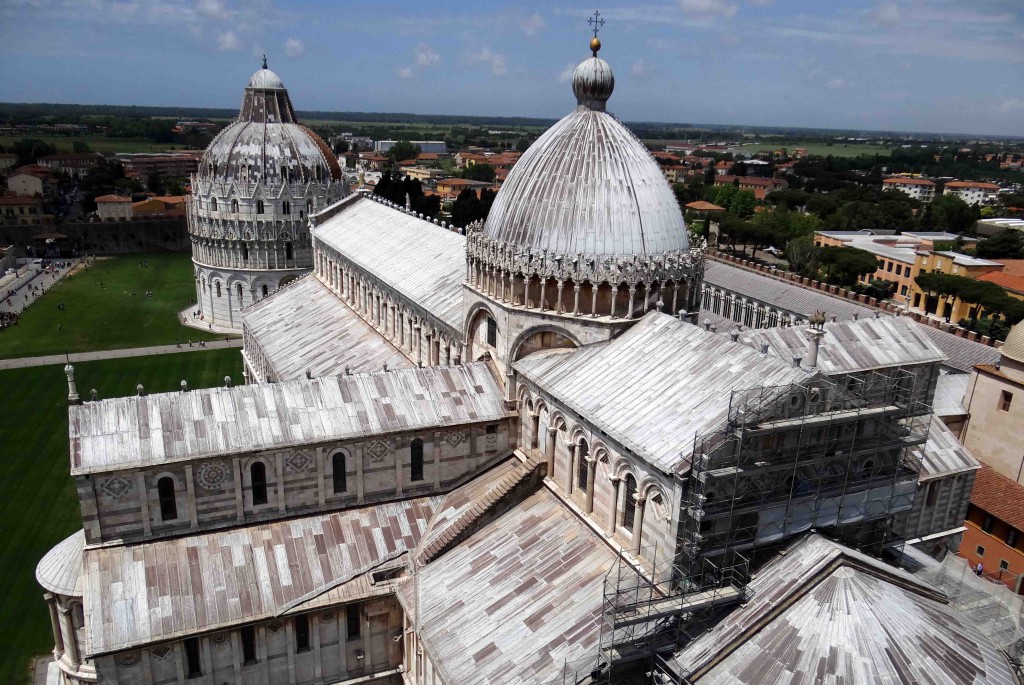 This is how it looks from the roof top of Leaning Tower of Pisa.This entire complex was declared as UNESCO world heritage site in 1987. The tower has also been declared as one of the wonders of the Medieval World.
I'm so glad that I could get inside the Leaning Tower of Pisa. Though you know it is tilted, it is only when you get inside the tower do you realize how tilted it is! The tower was closed in 1990 and it was reopened in 2001. The tickets are priced at 15 € per person to get to the top of the tower. I was full on excited as you can see [I'm smiling to a T despite having a bad hair day]. I thoroughly enjoyed being here.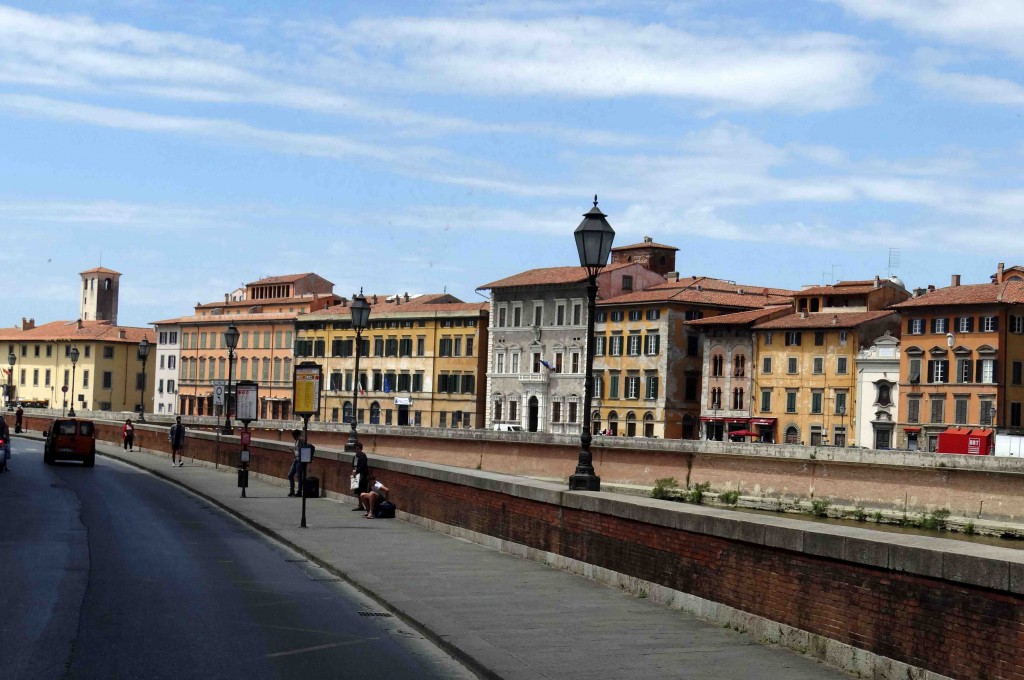 Unfortunately, I couldn't explore much of the city. But whatever little I saw was so beautiful. If you happen to visit Italy, do try to get to Pisa because this is one thing that is not to be missed!
Cheers,
Travelrope